Yeah, that's right, I'm wearing sneakers. Craziness, yes? I know, I know, you're probably thinking, "What's the big deal? Everyone wears sneakers all the time. YAWN." Well, not me. The last time I wore sneakers with any regularity was more than 20 years ago, when I had a nice little collection of high-top Converse ("Chucks" as the kids today call them). Sure, I've had a few pairs of gym-appropriate sneakers in the interim, but considering the amount of designated exercise I get on a regular basis—somewhere between none and none—I can still accurately say that sneakers are not something I'm seen wearing. Ever. Until now.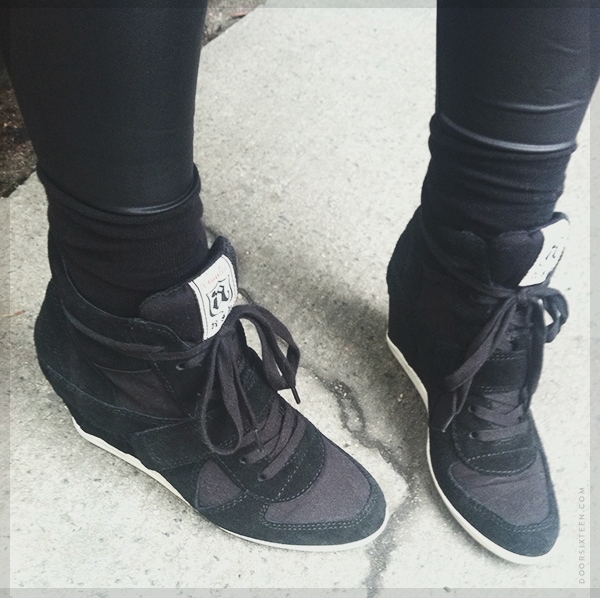 OK, OK, OK. Yes, my sneakers have a 3″ wedge heel. No, I'm not going to run a marathon in these things (or any things). But they are seriously comfy. Despite my undying devotion to not going to the gym ever, I actually do—like most New Yorkers—get an awful lot of walking in on a daily basis, usually on concrete and at a rapid pace, so it's not like I'm just wearing these to sit around in my office or anything like that. I can wear them for a full day of being out and about/running errands and not give my feet a second thought. Weirdly, I just started wearing them regularly during the past couple of weeks even though I bought them at least 6 months ago. Maybe it's the fall weather? They look good with tight jeans and giant parka, which is pretty much all I wear between late September and early December.
Because of my aforementioned parsnip legs, I always think I look a little better with a heel. I dress like a sloppy tomboy, though, and I never wear "pumps" (or whatever it is you call high heels that aren't wedges or clogs). They make me feel like I'm a drag queen with weak ankles. Regular sneakers make me feel stumpy and like I'm trying to trick someone into thinking I might be going jogging later or something. A wedge sneaker, though? Perfect.
I became obsessed with this type of sneaker when French designer Isabel Marant introduced her own wedges, including the impossible-to-find (and impossible for me to afford even if I could find them) Bekket model. Mine are the much more affordable and more accessible Bowie wedges from Ash. They owe a heavy debt to Marant's design, as do the countless other variations she inspired that have come out at various price points over the past year. Here's a little round-up of my favorites…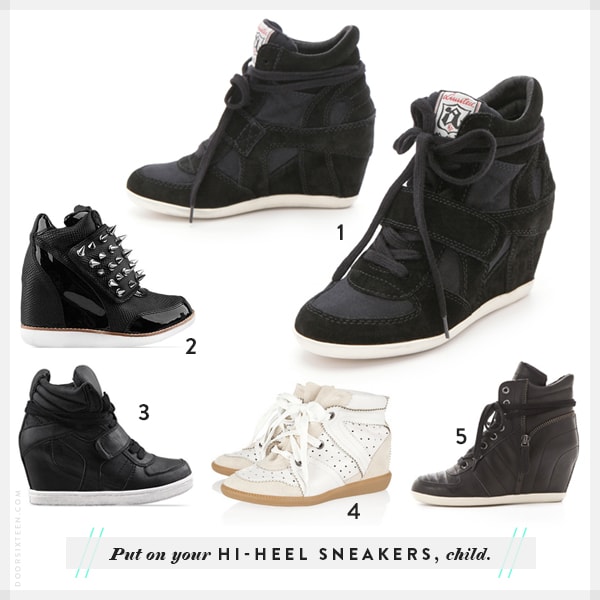 1. Ash "Bowie" (these are the ones I have)
2. Jeffrey Campbell "Teramo Spike"
3. Ash "Cool Ter"
4. Isabel Marant "Betty"
5. Ash "Brooklyn"
Ash also makes wedge sneakers in dozens of style and color options in addition to the ones I mentioned here. I like to think of myself as being the kind of person who would wear these, but we all know I'm just wearing black and that's it.
Say it, Jerry Lee…