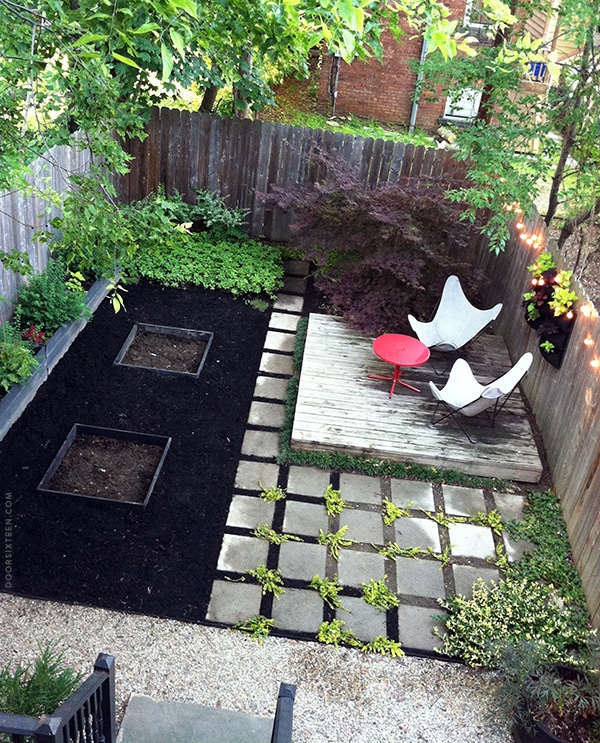 So, the last time I posted an update about progress in the garden at our house was in August. August 2010, that is. I really don't know what my problem is. I guess my hesitancy to post about it is in part because we've been living in this house for nearly 7 years now, and there's just no good excuse as to why the garden isn't DONE, already. I took these photos a few months ago after we'd finally assembled the recessed planters, and I figured I'd post them a week later since by that time we'd have actual plants in them…but yeah, that never happened. The summer was hot and hectic, and there wasn't any time to do it. Also mosquitoes.
And no, I don't know why that photo is angled. I swear I wasn't trying to be artsy. I was hanging out of a window on the second floor when I took it, so maybe I was just trying to avoid plummeting to my death and wasn't really focused on the composition.
I did manage to cover most of the exposed dirt with mulch, which was a relief. My eventual goal is to only have "living mulch" (creeping, low-lying plants) and rocks in those areas, but it'll take a while to fill in. Having to spend hours weeding that area every week was making me crazy, and the bare dirt was washing down over the paving stones every time it rained. So, for the time being, mulch is making life much easier.
I also planted lots of creeping Jenny between the paving stones, and it started spreading right away. I bought two big plants and divided them because that's much less expensive than buying lots of tiny plants. Creeping Jenny does really well in our soil, and I love the contrast of the bright yellow-green against the concrete pavers. Next summer I'll plant more in other areas, too.
I'm not sure what happened to 2011 in terms of gardening. We did spent a LOT of time carrying gravel out there to cover all of the old, broken concrete that extends about 10 feet from the back of the house. Having the concrete removed and replaced with slate or something else would have been too expensive, so the gravel cover-up has worked out really nicely instead. Anything we put in the garden has to be carried (by hand) from our car in the street down the front basement stairs, through the basement and then back up the (precarious) rear basement stairs. Our house is attached on one side and we have a "difficult" neighbor on the other side, so we have no access points to the garden that don't involved stairs and basements. So yeah, we carried all of the deck wood, the foundation blocks, the pavers, the plants and the gravel through the basement. Slowly. Which is part of why this has all taken forever.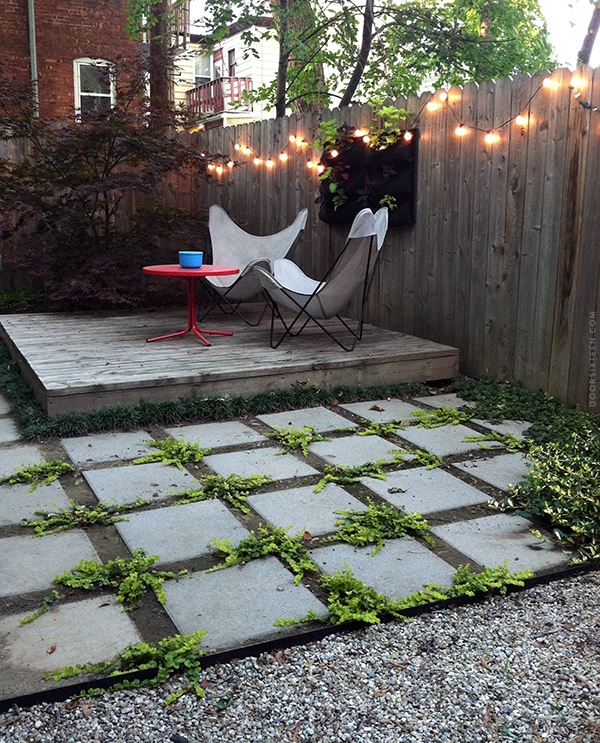 I'm very pleased that the fence has finally weathered to a nice gray, and that the deck is also looking more worn-in. We'd initially planned to stain it, but it looks like procrastination has paid off for once because I like it better looking natural. I'm sure we'll have to treat it with oil or something eventually, but for now it's fine.
FACT: Strings of lights make everything look better immediately. I bought two packs of cheap $12 dorm-room globe lights at Target and put them up back in June when Lisa, Victoria and Jenna came to visit. They're just looped around the fence tops, so (in theory) I can easily take them down this winter, but they're also rated for outdoor use, so (in reality) I can leave them up all year round. They make the garden feel so cozy at night.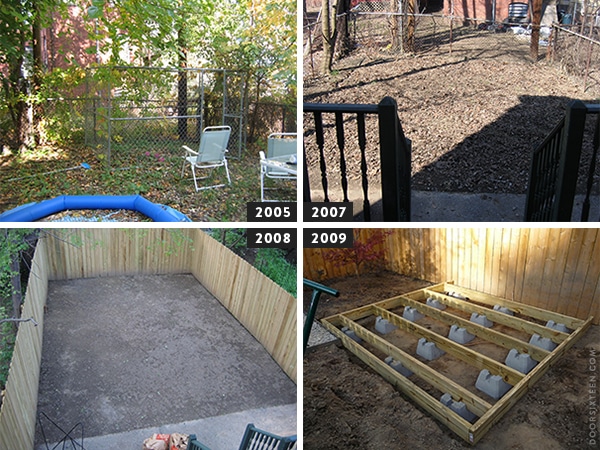 It's fun to look at these garden progress photos from over the years! It's pretty much unrecognizable from the chain link fence/dog kennel/inflatable swimming pool/weed extravaganza that was going on back there when we saw the house for the first time in 2005. Like I've said so many times before, Evan and I have no idea what we're doing. We just figure it all out as we go along. I'm glad we've somehow managed to wind up with a garden that looks approximately like what we envisioned, since we couldn't have afforded to pay someone else to do it for us.

Garden design by Susan Welti of Foras Studio for Carin Goldberg and Jim Biber of Pentagram
Bottom photo originally published in Domino magazine
I still refer to these photos often. That issue of Domino came out literally the same month we closed on the house in early 2006, and I think I should probably send Susan Welti a thank you card for sharing her design work publicly. She even provided a garden map and a plant list in the issue, which has been really helpful! Next summer I'm hoping to get some Mexican feather grass and Solomon's seal into our recessed planters.
Write it down and hold me to it: Summer 2013 is when "Door Sixteen Gardens" will officially be completed. YES. (Can you believe it's almost 2013?!?! How is that a real year that's actually in the near future and not in a science fiction movie? So crazy.)