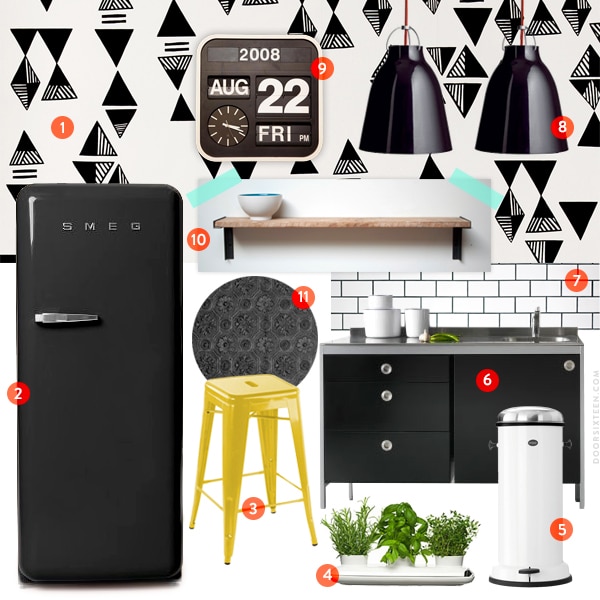 1. "Triangles" wallpaper by Lisa Congdon for Hygge & West.
As I mentioned recently, I am dying to use Lisa's new wallpaper in the kitchen. I'm planning to cover the top half of the wall opposite the sink and stove, where there's little risk of it being damaged by food or water.
2. SMEG refigerator.
Everyone in my life is sick of hearing me talk about this refrigerator, but that's just too bad. The refrigerator we bought for our kitchen 7 years ago is way too big for two people, and it's way too big for our kitchen. There weren't as many readily-available small fridges on the market back then, and I'm pretty sure SMEG wasn't even selling these guys in the US yet. Anyway, even though I've been coveting them for a while, I hadn't seen one in person until the West Elm Market (definitely worth a trip if you're in Brooklyn!) opened across the street from my apartment last month. Since then, I've been in to pet the display models regularly. I'm sure the employees think I'm a pervert. Yes, it's an expensive refrigerator. No, we don't need a new refrigerator. I'm thinking we could donate the one we have to Habitat, and then…I don't know what "and then." (And then I sell my spleen on the black market? And then find 200,000 pennies under the sofa cushions?)
3. Tolix-esque Marais Stool
We really need to have a place for people to sit in the kitchen. As much as I'm not a fan of the whole "kitchen as a hangout zone" thing, I have not been successful in trying to keep my house guests out while I cook. So, seats. I'll move the butcherblock island to the center of the room so they have some where to rest their wine glasses, too. Kind of bummned to see that the genuine Tolix Marais stools no longer come in yellow. Does anyone have experience with these replicas?
4. Sagaform Herb Pot.
I've completely given up trying to grow herbs in my garden (because trouble has a cute face and is named Haggis), but this thing will work nicely inside. I can keep it on the windowsill, and it's big enough to grow basil, parsley and mint, the three fresh herbs I need most often. Also, it's cute. Not as cute as a groundhog, but cute.
5. Vipp Trash Bin.
Consider this a "far off in the future" plan, like maybe for when Evan and I are retired? In 30 years I'll go and re-read this post and try to justify it then.
6. IKEA UDDEN kitchen units.
Sadly, these freestanding kitchen units have been discontinued in IKEA's North American market. We bought two of them 7 years ago for less than $200 each, and they've been really great. I love having a stainless steel work surface! We bought them thinking they'd be a "temporary" (HA! HA! HA!) solution until we had the expertise to install a permanent/fitted kitchen, but they've worked out so well that there's no reason to replace them. I have thought about maybe having plywood cut to replace the drawer fronts, but I'm not sure. I guess I'll see if the room feels like it needs more wood in it when everything else is done.
7. Subway tile with black grout.
We used inexpensive, standard white subway tile in the downstairs bathroom ($100 total!), and it looks great. Because we have freestanding cabinets and a lot of exposed wall area, we want to tile all the way from the backsplash area down to the the baseboard molding—around the entire perimeter of the room. That's a lot of tiling. My plan is to teach Daniel how to tile and then "supervise" (a.k.a. drink iced coffee) while he practices on my kitchen walls.
8. Caravaggio pendant lamps.
A while back, Victoria wound up with one of these lamps on her hands and no use for it, and knowing that I've had my eye on it for ages, she very generously asked if I might be able to use it in my house. How could I say no?! I'll need to fork out for a second one, but I think a pair of these over the island will look great. Or maybe just one is fine? We'll still need to do something in the way of general lighting for the perimeter of the room though—track lighting, maybe, now that IKEA has brought back the lovely and affordable SANDA series.
9. Karlsson Big Flip clock.
OK, the bad reviews for this clock on Amazon are killing me. It's been on my wishlist from afar for a while now, and after seeing it in person over the weekend I can't stop thinking about how great it would look in the kitchen. Maybe all three of the people who left reviews are just lying? Hah. Ugh. There's one hanging in a store near our apartment—I'll start keeping an eye on it to see if it has the right date. I really want it to work!
10. Reclaimed wood shelving.
It definitely doesn't make sense to have these shelves shipped to me from California, but I wanted to link to Etsy seller Blake Avenue anyway because the design of the brackets is so simple and beautiful. In addition to realizing we don't need a large refrigerator, we've also come to see that we don't need upper cabinets because the pantry holds everything—so more open shelving is in order. I love IKEA's GRUNDTAL shelves, but they're not good for small jars and bottles. I need to look into local resources for reclaimed wood and brackets. There's a lot of that kind of stuff in upstate New York, so I'm sure we'll be able to find what we need. The current shelves can be moved to our basement, where they'll be perfect for storing paint and gardening supplies.
11. Embossed wallpaper.
I've been wanting to use this pressed tin-style wallpaper painted black since I saw it in a sneak peek of the Brinsons' kitchen on Design*Sponge. We have a giant, inoperational, curvy hearth smack dab in the middle of the longest wall in the kitchen, and I think using something like this on it might be the best solution. We've struggled to come up with a way to frame out the hearth so that it would be tile-able, but because of the depth of the curve above the stove I'm not sure if that's possible. I'd just need to figure out where the wallpaper would end and the tile would begin. That hearth is kind of my nemesis and it adds nothing to the room, but I am extremely hesitant to strip out any of the original details of our house. The hearth stays. I do want to incorporate this wallpaper somehow, somewhere—I love the contrasts between it, the graphic triangle wallpaper and the smooth white tiles.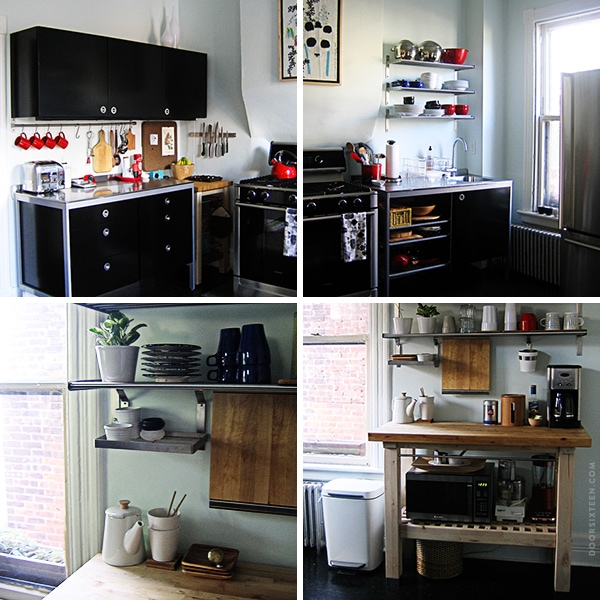 Here's the kitchen as it looks right now, more or less. Can I tell you how DESPERATE I am to have a tiled backsplash? Wiping food spatters off of a painted wall was OK for the first year or two, but now things are just looking nasty. I'm also really sick of that pale blue paint, which would be lovely in another kind of room but is just depressing and sad in the kitchen. Overall, this should be a pretty straightforward renovation. All of the hard work (plumbing, electric, plastering) is already done, so it's really just cosmetic. I know once I get going it'll all take shape at a good pace. Getting started is the hard part.