I've been told by several friends (you know who you are) that I need to stop leading off all of my posts by saying, "I know these photos are bad, but…" I'm going to try not to do that anymore. Not because I expect my photos to improve in quality, but because nobody likes disclaimers — including me. Let me just say that I only have one camera (a tiny Leica point & shoot that I love dearly, but it's not an SLR) with one lens, and I am super impatient when it comes to cameras. I am photo-deficient. OK? OK. I'll just put the best photo first and then hope nobody notices how cruddy the rest are…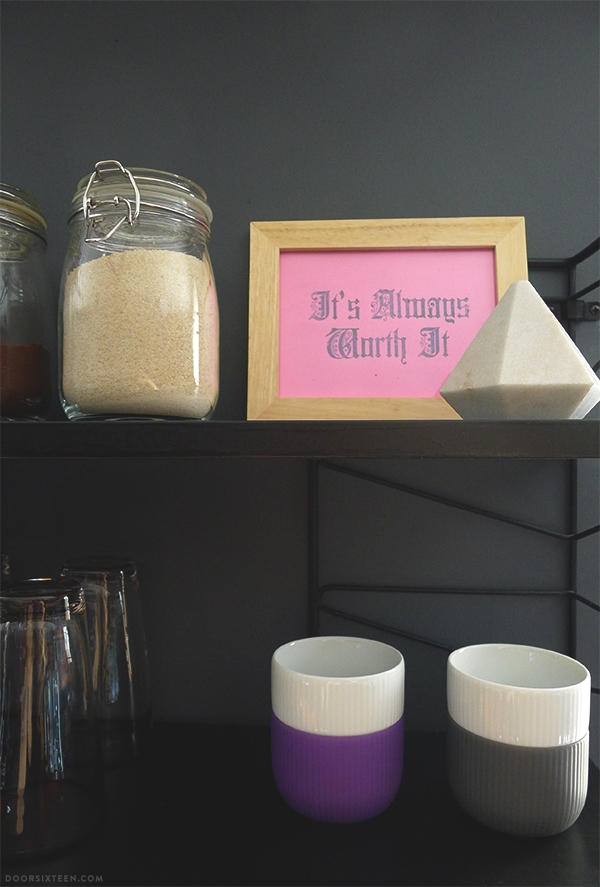 Before you ask, the "It's Always Worth It" print is by Lisa Congdon. Sometimes I think about writing "Well, Almost Always" underneath, but it's not worth it.
In 2006 (pre-this blog), I was in the early throes of my ongoing obsession with Nisse Strinning's String shelving system. It was hard to get them in the US at the time without paying a billion dollars for VAT and shipping from Sweden (these days we can order them in a number of color/wood configurations from A+R and, soon, the MoMA store), so I was really excited when I happened to spot a run-down set of knockoff String shelves at a used furniture store in Beacon (I'll never stop missing you, Iron Fish). They were in seriously rough shape, but they were cheap — I think less than $20 — and fixing them up looked like an easy enough project.
And then I put them in the basement. If you look carefully at the photos in that post, you can actually see the faux-String brackets wedged between a dog gate and a vacuum cleaner. And there the shelves sat, more or less forgotten, for the next 7 years.
The day we decided to rent this apartment, my mind went to the big space between the two windows in the kitchen…and then it went to the shelves! THE SHELVES! THE ONES IN THE BASEMENT! So I finally did it — I fixed 'em up, and put 'em to work.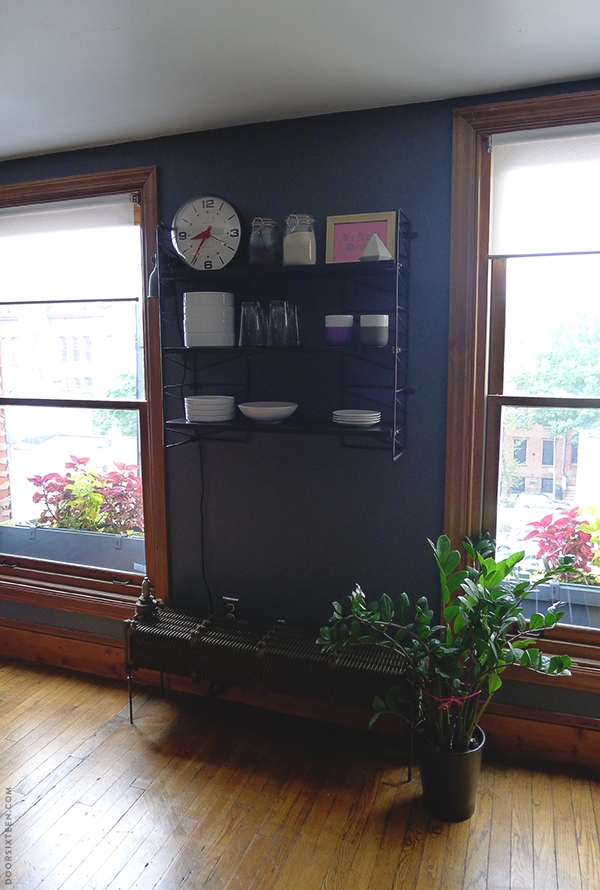 PERFECT-O! I briefly considered getting nice new pieces of wood and just re-using the brackets, but this apartment is already really wood-heavy. I'm also a big fan of black on gray (yeah, that's a pretty daring combo, I know) so I figured I'd just go ahead and paint the old wood shelves and hope for the best.
Since there's always someone ready to freak out any time the words "paint" and "wood" are used together in the same sentence, rest assured I did not paint over anything worth restoring. Not all wood is precious. This is what I was dealing with: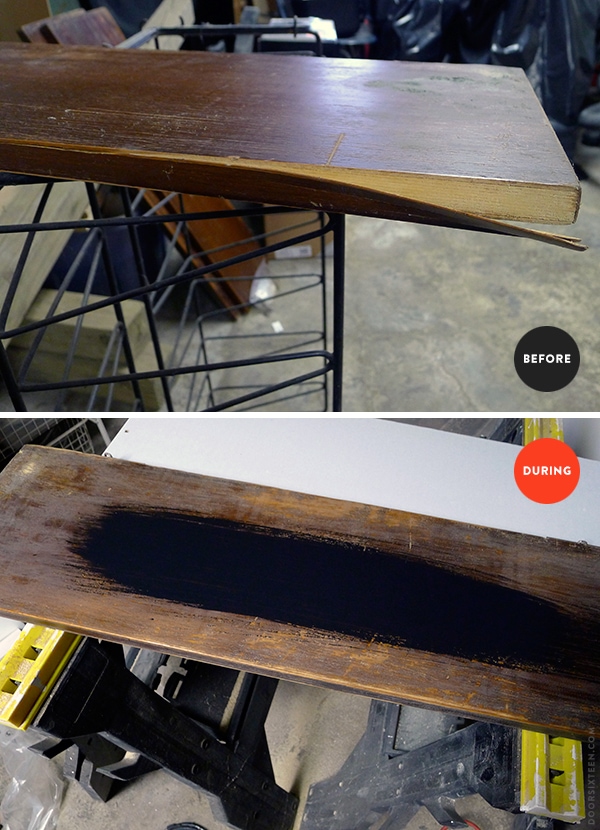 Deeply-gouged, peeling veneer over crappy laminated pine, and, if you look carefully at the back right corner, mold. No good. I peeled off the loose veneer, cleaned the wood with bleach and water, let it dry in the sun, then gave all surfaces a good smoothing with my Mouse sander (I love that thing for small jobs like this). With the surface good and porous, a single coat of black Cabot Solid Stain (seen previously on the mega-planter I built for the garden) went on beeeeeautifully. I've had that same gallon can of stain for YEARS, and it just keeps on coming in handy. The finish is so super-rich and opaque, but you can still see the texture of the wood grain. It's prone to scuffing, though, so I topped it with a coat of satin polyurethane for durability.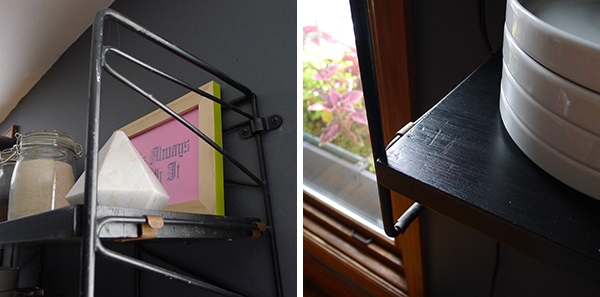 The shelves have little brass hooks that hang from the brackets — it's such a smart design. See how the damage and grain of the wood are still visible? I like that when I'm painting stuff black. Otherwise the finish can look a little plastic-y and too new.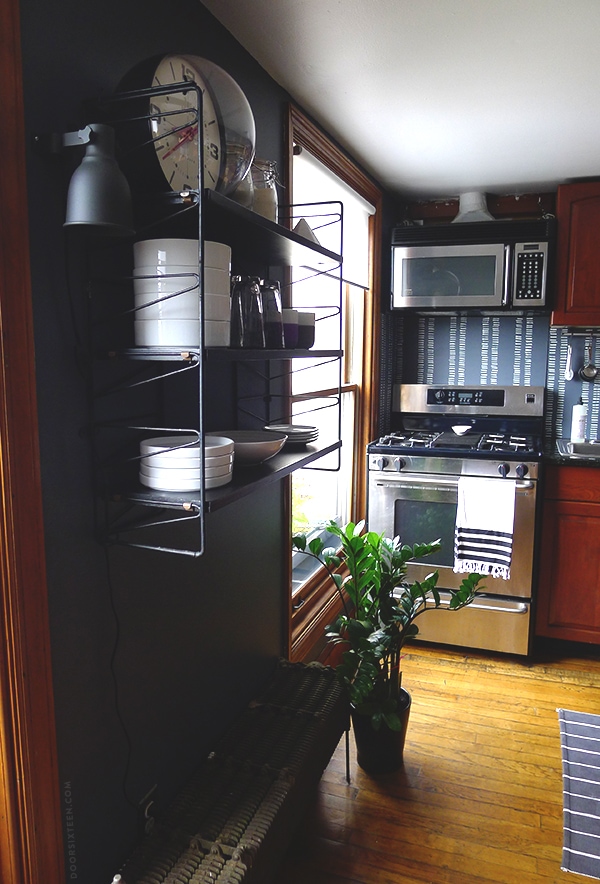 For context, here's where the shelves are in relation to the kitchen's main work surfaces and the backsplash. Yes, I still need to deal with that weird gap above the microwave where the duct is visible. It's yucky. I'll get to it eventually.
But yay, shelves! Totally worth it.
EDIT: The cute Bubble clock is from West Elm Market! It's meant to be hung on the wall, but I'm not sure where its final location will be, so it's just sitting in the shelf for now.