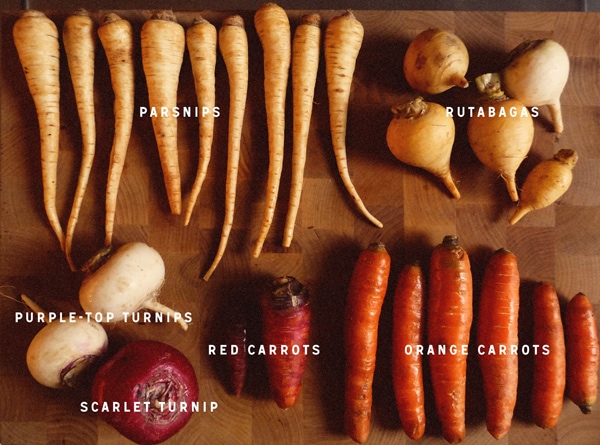 If you live in a region where the weather is cold right now, that means it's root vegetable season! Since the roots are "storage organs" (I know, ewww!) for a plant's nutrients, root veggies are loaded with vitamins and antioxidants that are really good for you. They're also easy to keep and store in the winter, and you can usually buy a whole host of varieties locally—something that can be tricky if you live in a part of the world where temperatures drop to points that are inhospitable to growing a lot of other types of vegetables year-round.
There's a pretty concise list of root vegetables here, and you can see how many options there are to choose from. You can mix and match as much as you like; I've never had a problem with root veggies clashing in a dish. It's nice to combine at least one item from each category (true root, stem, and bulb), though—for example, you might use parsnips and carrots with ginger and fennel together. Don't be afraid to try different combinations! The best and most flavorful choice is usually what you can find locally grown.
Here's a soup recipe that I made over the weekend. I used all of the root vegetables in the photo (three pounds!). It's very basic, and that's intentional—you should feel free to add herbs, ginger, greens (kale would be perfect!), or whatever you like to make the soup your own. It's lovely as-is, too, especially with a sandwich or some crusty bread and a salad on the side.
Whether or not you peel your root vegetables is up to you, but they should be scrubbed well if not. And if you get a rutabaga that's been waxed, you really need to peel it, obviously. (Try to get unwaxed, if possible!)
ROOT VEGETABLE SOUP (vegan)
Serves 6-8
Adapted from Harmony Valley Farm
1 small onion, chopped
2 tbsp olive oil
3 pounds assorted true root vegetables, cut into 1″ chunks
8 cloves garlic, minced
6 cups vegetable stock
3/4 cup soy (or almond) cream
• In a large stock pot, sautée onion in olive oil over medium heat until translucent, stirring to prevent sticking.
• Add root vegetables and garlic (and ginger, if you want). Reduce heat slightly, cover pot. Let cook for 10-15 minutes, stirring occasionally.
• Add vegetable stock and any herbs/spices you'd like. Increase temperature and bring to a simmer. Cover partially, and let simmer for 30 minutes.
• Allow soup to cool a bit until there's no risk of it burning you. In batches, purée the soup in a blender or food processor until smooth.
• Reheat soup. If you want, add greens at this time and allow them to cook until they reach tenderness. Gently stir in the cream at the very end, and heat just until the soup is hot. Serve with freshly-cracked pepper!
Feel free to share your own favorite root vegetable recipes in the comments!