As I mentioned the other day, our basement is a total horror show. It's the one part of our house that I can honestly say looks worse now than before we owned it.
I don't know what went wrong. Our intentions were good! Shortly after we closed, Adam came to visit and helped me pull down the gross drop ceiling in the basement, and Evan and I made plans for storage, shelving, a work bench…you name it.
But then we got busy doing other stuff, and the basement became a dumping ground for everything—power tools, scrap lumber, construction debris, unused furniture, scavenged stuff awaiting rehab, painting supplies, things ready for the dump, gardening tools, mulch, and so on. We just keep putting it all down there. It's gotten to the point where we dread having to look for something as simple as a tape measure, because it could be anywhere…and we don't want to be attacked by basement zombies while we're looking for it.
Aside from the mess that we've created ourselves, the basement itself is pretty terrifying. The walls are covered with a combination of efflorescence and peeling paint. The floor is a crumbling concrete covered with layers of dirt and dust. There are cobwebs thick as nylon stockings at every turn.
You'd never guess from looking at the rest of our house that we could possibly be quite so messy and disorganized, which just makes the whole thing even more shameful.
The line between sanity and madness can be crossed in a single step…
This 3×4′ area doesn't look so bad, right? It's the back of the beadboard in the downstairs hallway! Isn't it neat how the wall is just wood? They didn't nail it into a plaster wall or anything, it's part of the actual staircase structure.
Okay, the two-photo, non-scary part of the basement tour is over. Grab some popcorn and get your blindfolds ready! To avoid fainting, keep repeating, "IT'S ONLY A MOVIE…ONLY A MOVIE…ONLY A MOVIE…"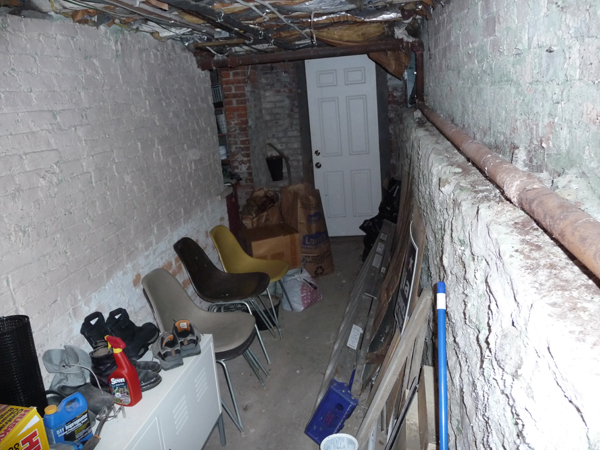 This is one of the few real improvements we've made down here—a new staircase. The one that was here when we moved in was basically made of balsa wood and dental floss, yet we continued using it for more than three years. As fun as it was to cheat death on a regular basis, I'm relieved to finally have safe stairs.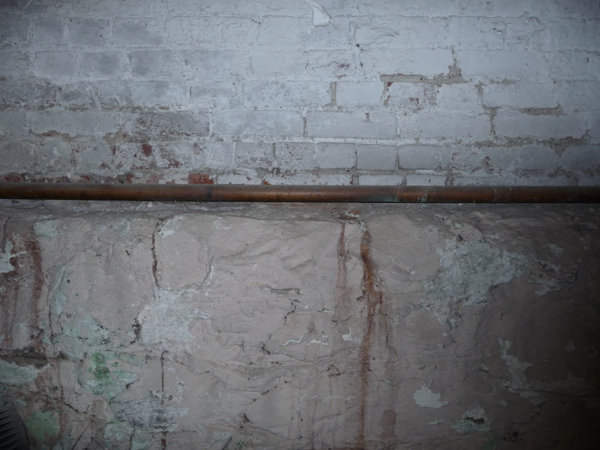 The aforementioned efflorescence, topped off with a coat of peeling, Band-Aid-toned paint. Nice! We've installed a dehumidifier so the efflorescence shouldn't continue to be a problem, but we still really need to get the existing crud off of the walls. Ugh.
Everything I've read from reputable sources says that it's best to leave the exterior walls of stone foundations in old houses unsealed and unpainted so they can breathe properly, so our goal is really just to clean up what's on the stones now, repair any leaky spots, and just let them be.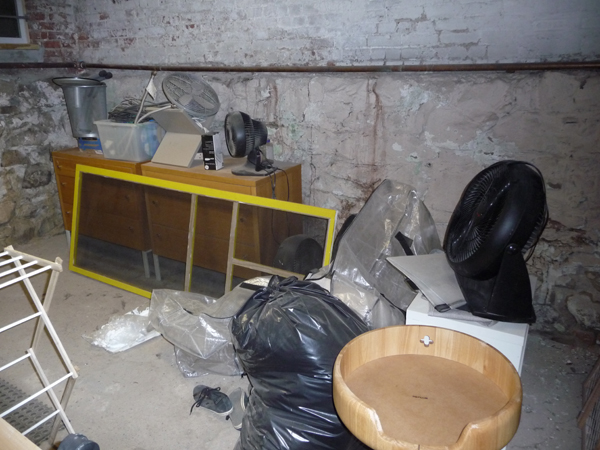 Yes, that's where I have to do laundry. If I accidentally drop so much as a sock on the floor, it has to be rewashed. Oh, and Leatherface hangs out there. I guess his clothes can get pretty gross.
Hindsight is 20/20 of course, but if I could do it all over again, I would have tried to figure out a way to put the washer and dryer in the kitchen. I really want to make this area nice. I know it'll never look like Dagny's laundry room (!!!), but I'd be happy just to able to fold laundry down there and not feel like just walking through the room is going to make my clean clothes dirty again.
Okay, here comes the really shameful part: THE DUMPING GROUNDS: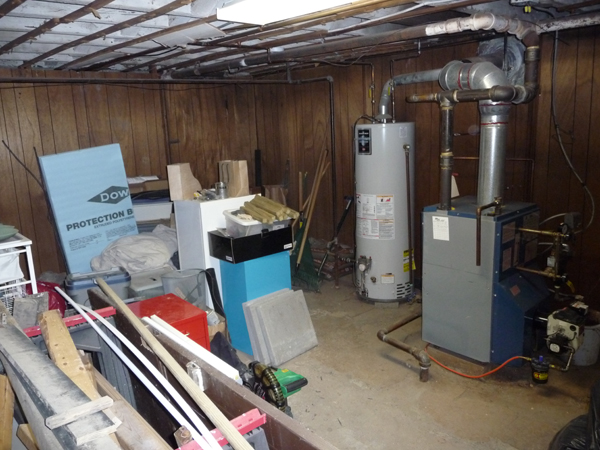 I know, I know…you're thinking to yourself, "Wow, all she has to do is paint the paneling white and it'll be like a whole new space!" Nope. The photos don't show it, but at some point there was a flood in the basement, and the bottom quarter of the paneling is pretty much ruined. I have NO IDEA what's behind the paneling (well, obviously there's brick and stone, but I mean other stuff…surprises), but it's going to have to be replaced. I really want to turn this area into a workshop so we can actually find (and use!) our tools easily, and I'd like to be able to store stuff down here without it being a huge hassle to eventually bring it back upstairs.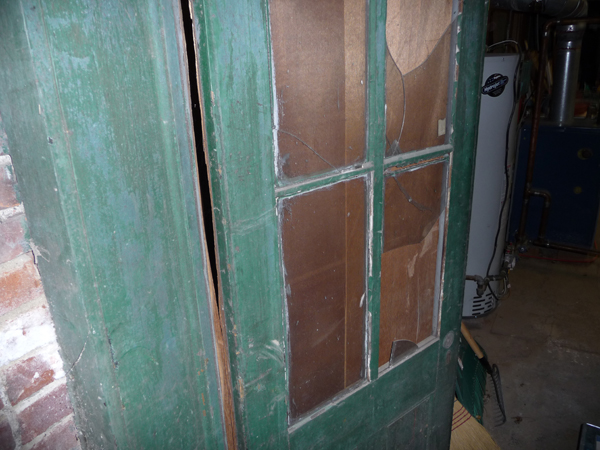 This is the door leading to the back garden. One side is covered with paneling, and the other is dangling shards of broken glass. I plan to fully rehabilitate it.
I honestly never noticed how scary the area under the stairs is until I used a flash to take this photo. Shudder.
In my fantasy world we would be able to turn our space in something resembling Martha's basement, but I don't want to get carried away. Basements in old houses weren't mean to be living spaces, and even though I'm sure it would be possible to finish the space completely, we really can't afford to (and we don't really need to). I'm fine letting the basement be a basement. There's actually something to be said for being able to see all of your electrical wiring and plumbing and stuff, and to know that there's not 2″ of mold growing behind your walls.
I just don't want the basement zombies to get me…