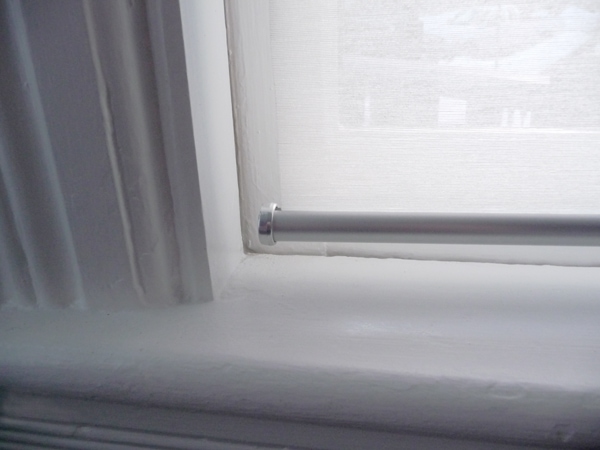 I sort of feel like this has been done already (um, probably because it has—see the links at the end of this post!), but so may of you have asked me for a tutorial on cutting ENJE roller shades from IKEA that I figured I'd try to document the whole process from start to finish as best as I can. I swear it's REALLY EASY, even though I have an unfortunate knack for using a lot of words to describe very simple things (I was really annoying in college, but you probably guessed that already).
If you, like me, have 40,985,934 windows in your house that are all odd, non-standard sizes, you've probably discovered that custom shades are ridiculously expensive. Like, $100-300 per window. Multiply that by 40,985,934, and you've got…um…empty pockets. Enter ENJE. They look really good, function well (even the ones I've opened and closed several times a day for more than a year still roll smoothly), filter light beautifully while providing privacy, and they're affordable. And you can cut them to fit, which is why we're all here today.
Supplies:
• An ENJE shade (you probably guessed that)
• A metal ruler/straightedge
• Pliers or a wrench or really strong fingers
• A sharp pencil
• An X-Acto knife
• A decent pair of scissors (preferably fabric shears)
• Painter's tape
• A jigsaw with hacksaw blade or a manual hacksaw or a Dremel with a metal-cutting blade*
*Don't fret about the saw. You can get a manual hacksaw for less than $10, and you'll use it all the time. If you already own a jigsaw, though, spring for a hacksaw blade.
When you open up the package the shade comes in, you'll find a long strip of cardboard with the product information printed on it. Don't throw it away. It's a template (see those holes at either end?), and aside from functioning as a guide for drilling mounting holes, it's very handy for determining exactly how much to trim off of your shade in order for it to fit nicely in your window.
First of all, don't take the measurements on the IKEA website and the ENJE packaging as gospel, especially if you're in the US (or another non-metric country). They're converted to inches from centimeters, and the numbers are usually rounded up or down a bit. 1/32″ isn't a big deal when you're talking about a sofa, but window frames aren't flexible! Instead of going off the printed info, measure the cardboard template yourself and make note of the number.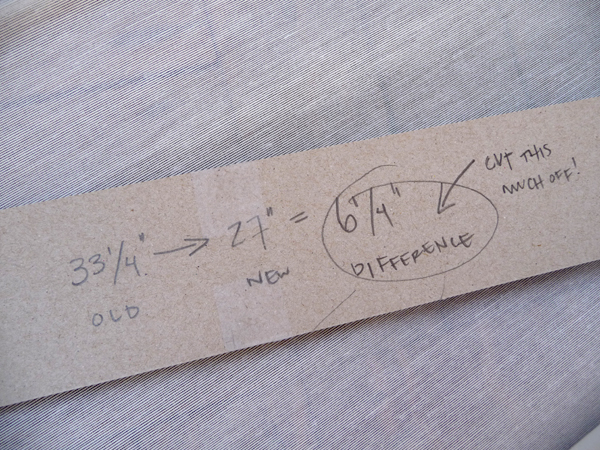 I'll bet you're wondering if I went to MIT, right?
Here's me doing basic math. Snicker all you want, but I have to write everything down (and use circles and arrows), or else I get all confused and make mistakes. In case you can't figure it out, the first number is the measurement of the cardboard template (i.e., the actual width of the entire ENJE fixture, including the mounting hardware), and the second number is the interior space of my window frame. The third number is the difference between the two—in other words, that's the amount I need to cut off of the shade in order for it to fit perfectly.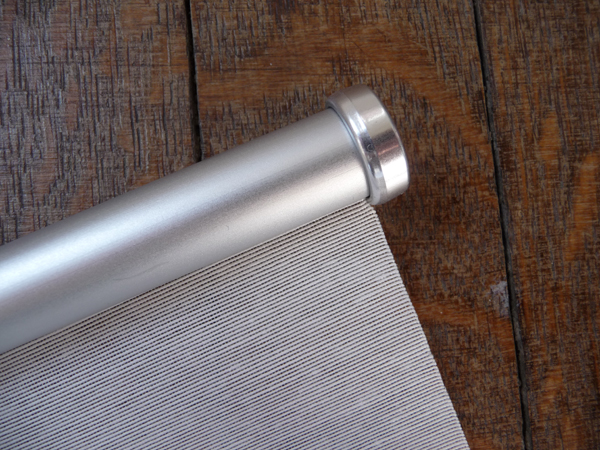 See what I mean about my tendency to over-explain? I probably didn't need three photos to show you how to remove the cap at the end of the bottom rod, but there you go. If you can't pull the cap off with your fingers (sometimes they come off more easily than others), pliers or a wrench will do the trick. Just make sure you wrap it up in some tape first, or else you'll scrape the crap out of the cap and then you'll be sad.
Also, make note of how the blind sits in the rod before you slide it out. It's not complicated—it's just a strip of plastic at the bottom that slides into a channel inside the rod—but sometimes you need to see how stuff comes apart in order to put it back together again, right?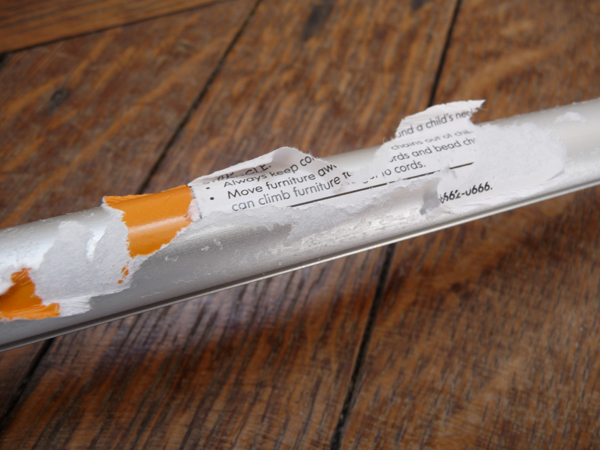 Supposedly there was a pseudo-recall on these blinds last year, but as far as I can tell, the extent of it was that they made the choking hazard warning sticker on the rod REALLY REALLY hard to remove instead of just being really hard. At this point in our project, I highly recommend that you pass the rod off to someone with more patience than you (Daniel was sitting right next to me when I was doing this, so he was the lucky de-stickerer. It took him about 20 seconds, whereas it takes me 30 minutes and half a bottle of Goo-Gone, so this was a smart choice on my part) so you can get on with the rest of the blind-trimming rather than wasting half the day fussing with these stupid stickers.
Time to start measuring! This is not a complicated operation. Yes, the blind is a little unwieldy because it's so lengthy, but as long as you don't, like, kneel creases into fabric, it's okay to roll it up and fold it in on itself as you go. Remember that 6¼" measurement I wrote down a couple of steps ago? That's where I drew my line. Just make little marks every few inches, then connect them with a sharp pencil using your straightedge. Don't worry about the pencil line showing when the shade is up—it really won't. Just don't go using a fat, dull lead or a Sharpie or anything like that and you'll be fine.
Okay, I'm going to be totally honest with you here. If you need a photograph to show you how to operate a pair of scissors, this project is probably not for you. Normally I would have left this visual out, because how do you take a photo of yourself cutting something without growing a really long, third arm? Okay, with a timer, sure, but really? Anyway, Daniel was nice enough to snap this "action shot" of me cutting the fabric (he had to take three, actually, because I was convinced my cutting motions didn't look natural enough—I'm really not comfortable being in front of the camera!), so I figured I'd post it.
Note that I am not heeding my own advice to use good fabric shears and am instead using a pair of 30-year-old, glue-encrusted Fiskars that I inherited from my mother. That's because my fabric shears are MIA (I blame Fritz), but you should do as I say, not as I do. I'm pretty good with scissors (hey, I went to art school) so I was able to get a nice, clean line, but if you're less steady, fabric shears really do make a HUGE difference when it comes to cutting textiles.
Seriously though, don't panic about the actual trimming. It's no big deal. The ENJE fabric is really stiff, so it's almost like cutting paper. Even if you waver from the line a little, it's not going to show. (I bet you could also use one of those fancy rotary cutters, too, but I don't have one, so I can't speak from experience.)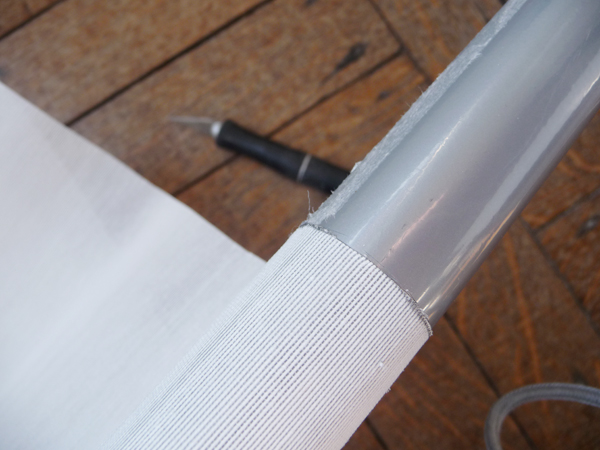 When you reach the top rod, it's time to pull out your X-Acto knife. Trim around the circumference of the rod, then peel off the excess fabric. The glue used here is much less stubborn than that used on the sticker, so it should come off really easily.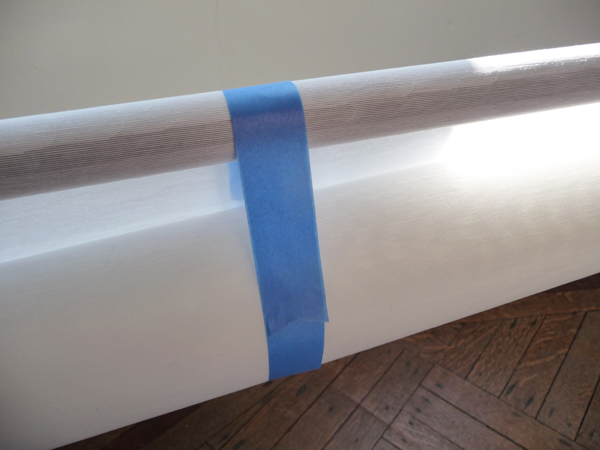 Here's a tip you'll thank me for later: Instead of just letting the shade flop all over the place while you cut the top rod (especially if your tools are in the basement and your basement looks like this), roll it up loosely and let it hang down a few inches from the rod, secured in place with a loose loop of tape.
Measure the amount to cut off of the top and bottom rods (this should be the same number as the one you used to trim the fabric—6¼" in my case), and use tape to mask off the good side—in addition to giving you a guideline for cutting, the tape will protect the metal from getting scuffed by your saw.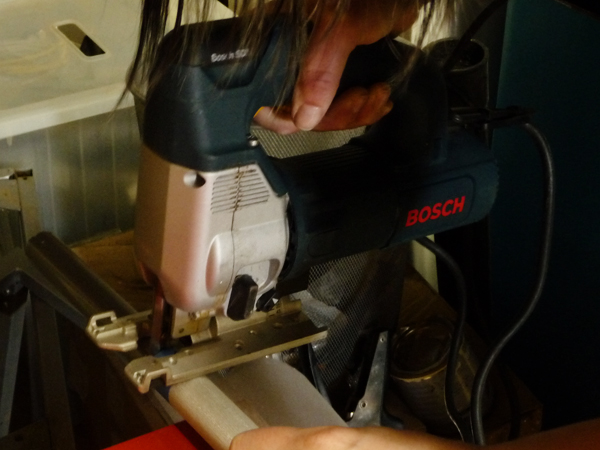 I find this photo absolutely mortifying. I tried my best to crop out the basement, but you can still see the squalid conditions in which I operate my jigsaw. Also, I'm pretty sure you're not supposed to let your hair hang down like that when you use power tools, right? Sigh. Again, do as I say, not as I do. This is why I usually don't take pictures of the process! I don't want anyone scalping themselves or losing digits.
If you're using a manual hacksaw, cutting the rods will take a minute or two. A jigsaw will go through them in seconds. You could probably also use a chop saw with a metal-cutting blade, but mind the position of your fabric!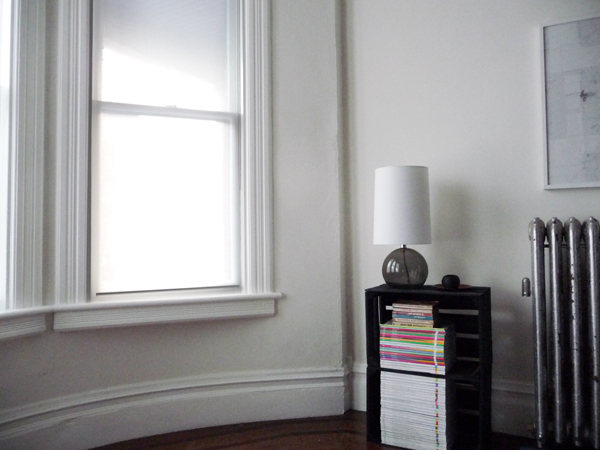 So…you're done! Put everything back together, and mount your shade. It's easy! (Really!) I know I make everything seem more complicated than it actually is, but I promise it's not scary.
See also:
1. Morgan's post from September 2008
2. My post from April 2009
3. Nicole's post from June 2010