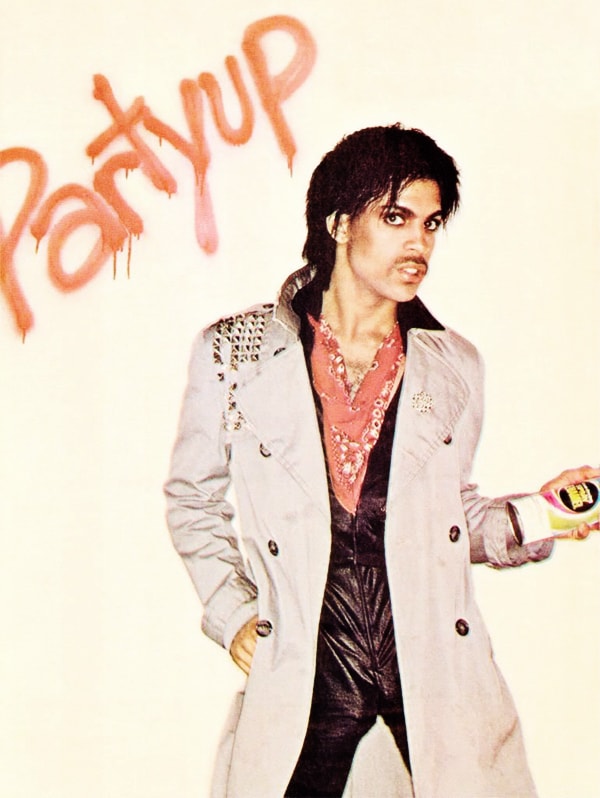 Photo by Allen Beaulieu / Ripped out of Rock & Soul magazine about a million years ago
So, about that concert I went to the other night…
I would have written up a little review yesterday when everything was still fresh in my mind, but I've been outrageously work-busy and just didn't have the time or energy. I want to make sure I document the experience, though, because it was truly phenomenal.
I know I say this every time I post a reaction to a movie or album or book, but I always feel lame writing "reviews". My instinct is usually to let the work stand on its own instead of picking it apart, but at the same time, I like to share my feelings about stuff I love. I just think I come off like a goofball (um, I'm pretty sure using words like "goofball" doesn't help…) trying to sound like I have some kind of insight but failing miserably. Honestly, I don't know how professional critics sleep at night.
So yeah, the Prince concert was AMAZING. Like, super ridiculously so.
By some miracle (probably because I was only buying a single ticket), I managed to score a seat on the floor in the front row behind the "fancy people" section, right by the tip of the love symbol-shaped stage. Given that my last eight or so attempts at buying Prince tickets have resulted in utter failure (I refuse to go through brokers), I felt like the luckiest girl in the world walking closer…closer…closer…until I found my seat number! I was even able to hang my coat and bag on the barricade in front of me. Nice!
I admit I had a wee bit of trepidation about seeing Prince in 2011. Since becoming a Jehovah's Witness about ten years ago, he's stopped playing his more sexually explicit songs and no longer swears (Cee Lo Green, who opened the show, had to let the audience sing the chorus to his big hit with the really great video—there were even signs on the stage reminding him, "NO F-WORD"), and since we're talking about someone who arguably built his career on being about as dirty as they come, I kind of had to wonder what we'd be left with.
Well, I need not have worried. Incredibly, Prince has managed to turn his decision to not play certain songs as a means to tease the audience into getting completely crazy. For example, I was sure he wouldn't play "If I Was Your Girlfriend" (one of my favorite songs ever), but he did! He started and stopped until the crowd was screaming for more, then said he couldn't continue ("You don't understand, if I keep playing this, someone's gonna get pregnant!")…but then he did continue, at least to a point—he segued into another song just as he was getting to the nasty bits. So no, it's not like he was up there playing "Sister" in a pair of bikini briefs, but it was definitely still a Prince concert. I mean, let's face it, the guy could do nothing but covers of John Denver songs and they'd still come off as being super hot. Prince can't fight the sexy. Not that he's trying.
Watching Prince play guitar is a lot like watching Michael Jackson dance. It seems so totally effortless, like the sound is just naturally coming out him and there's nothing he can do to stop it. I'm not one of those people who gets all crazy about guitar solos and stuff like that, and maybe that's why I've always loved Prince's style. He's just doing his thing up there, all natural and fluid and full of emotion. The guitar is an extension of him. Magic. No matter how many times I've watched him perform live in movies and on TV, nothing can compare to being 20 feet away and seeing it all happen right in front of me.
Oh, the setlist! Including the main set and three encores, Prince played the following (in whole or in part): Laydown, 1999, Little Red Corvette, The Beautiful Ones (with a ballet performance by Misty Copeland), Controversy, Purple Rain, Raspberry Beret, Cream, Cool (with Questlove on percussion), Let's Work, U Got the Look, Nothing Compares 2 U, Crazy (with Cee Lo), Let's Go Crazy, Delirious, Dreamer, When Doves Cry, Kiss, Nasty Girl, Forever in My Life, Sign "☮" the Times, Alphabet Street, Love Bizarre, Hot Thing, Pop Life, I Would Die 4 U, Single Ladies, If I Was Your Girlfriend, Insatiable, Scandalous, Adore, Mountains (♡♡♡!), Shake Your Body (Down to the Ground), Everyday People, and Higher. PHEW!
There's been a lot of talk about Prince giving Kim Kardashian (please let this be the only time her name is on this blog) the boot for not dancing after being invited on stage to do so, and this post on Dlisted sums up the whole episode quite nicely. I mean, I guess I feel a little badly for her, but seriously? I dance like Elaine Benes, but you had better believe I'd have been working it hard if Prince had brought me up there with him! Prince did make a quip afterward about America being a country "where a girl can get famous for doing absolutely nothing", and I guess he has a point.
As long as I'm talking about Prince, I'd like to take a minute to thank my mother for letting me listen to the music I wanted to when I was a kid. And for being cool with me having posters of a half-naked man plastered all over my bedroom. Oh, and for letting me paint ALL of my furniture purple and black. (No, really. I honestly did that.) The mid-'80s were the heyday of the PMRC and their "Filthy Fifteen" (the top two of which were written by Prince—though I could never really understand their fixation on "Darling Nikki"; I mean, he's written plenty of much dirtier stuff), and the prevailing attitude was that we were all going to be driven to Hell by the likes of Sheena Easton and Cyndi Lauper, and only Tipper Gore could save us. (Thank goodness for Frank Zappa, ever the voice of reason.) Frankly, I can't imagine my childhood being Prince-free. Those would have been some quiet and unfunky years.
Prince was my first big musical obsession; the first artist that got me interested in the idea of collecting, of seeking out rarities, of swapping bootlegs, and of looking for more than what was readily available. I also had a hardcore crush on Prince that put my earlier childhood crushes (namely Kermit the Frog and Michael Jackson) to shame. I know guys don't always get why the ladies like Prince so much, but the man is 98 pounds of fiiiiiine. Then and now. He's a freaky alien, for sure, but aren't all of the best musicians?
I'm sorry that it took so long for me to get myself to a Prince concert, but at least it finally happened. My coat pockets are still full of purple confetti—and no, that's not a metaphor.