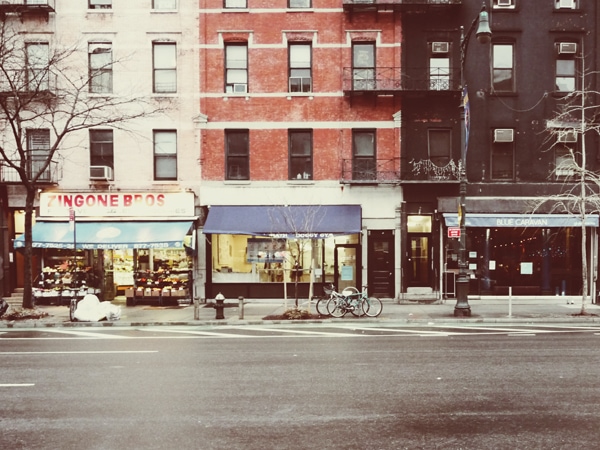 Taken on the Upper West Side last week while I was waiting to meet Evan for dinner at Cafe Blossom.
I was getting tired of seeing the same post at the time of by blog day after day after day, so this post is here to make me feel better about being a blog-slacker. Actually, I just realized it's Friday, so I might as well turn this into Stuff I Tweeted, right? Editing post title now…
There, that's better!
If you follow me on Twitter, then you already know that I'm been super-busy lately. Not bad-busy, not sad-busy, not angry-busy…just super-busy. (Super Grover?) I've been working on a bunch of design projects for people whose work I really admire, and that feels SO nice. I missing out on a lot of sleep, to be sure, but it's a good kind of deprivation.
Here's some of the stuff I tweeted in between drinking coffee and researching fonts:
+ Daniel from Manhattan Nest is in the running in the "Tiny" division of Apartment Therapy's Small Cool Home contest, and he really deserves to win. Can you believe his amazing apartment is only 425 square feet? Go here, log in, and add him to your favorites.
+ Morrissey has completed his autobiography, and it's a mere 660 pages long. Even better, it looks as though it could be published by Penguin Classics. And how!
+ Orange soda + French fries = Love.
+ I really loved this article by Melissa Febos at the New York Times website about crying in public: "In some ways, that kind of transparency is as good a defense against interference as the famous blank New York stare."
+ I designed (and printed, and trimmed, and assembled…) these wedding invitations for my big brother and his awesome fiancée. Sometimes it's fun to design printed stuff that isn't a book.
+ I'm still incapable of working at a desk. I do everything on the floor, stuff spread out all over the place. Like a 6-year-old.
+ Did you hear this story on NPR about Chuck Klosterman and "Delicate Steve"? Too funny.
+ I had a bad cold. Then Evan caught it. Now my cold is gone, but my cough lingers.
+ Dear Donald Trump: Please stop. Just…stop. You're really not fooling anyone.
+ It's alive! All vegan, all gluten-free, all brilliant and gorgeous! (via @IsaChandra)
+ I MET KATHLEEN! And Jeremy, too. You know, from the aptly-named blog Jeremy and Kathleen. And they are awesome! Totally my kind of people, just like I thought they'd be.
+ The new Beastie Boys video reminds me of how deeply satisfying it is to have been their fan for about 27 years now. They just never disappoint!
The Beastie Boys "Make Some Noise" // Directed by Adam Yauch, 2011