I'm really not so much of a jewelry person, I guess. I tend to wear the same pieces over and over again, and most of them, including this fabulous ring, came from (I'm slightly embarrassed to admit) Forever 21 or H&M. With so many talented jewelry designers handmaking special pieces and selling at very reasonable prices, there's really no reason that I should be succumbing to the allure of cheapie, mass-produced stuff made in China.
I do have to admit that jewelry sometimes makes me feel a little self-conscious, as though I'm trying to make a silk purse out of a sow's ear (what a horrible expression—and I suppose I'm the sow's ear in that equation), but as I was looking through my favorites on Etsy earlier today, I was kind of surprised to see that there's an awful lot of jewelry in there.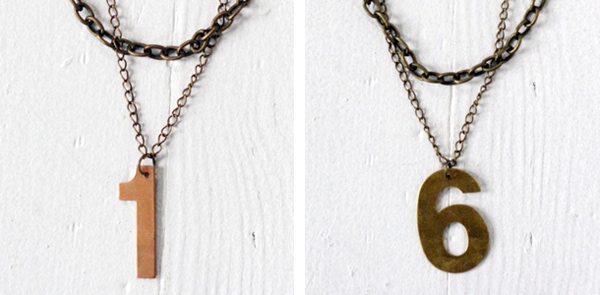 Lucky number necklaces no1 and no6 from (of)matter
Attention Major Goofball! Please report for duty! I know, I know…how much of a dork can I be? I love these lucky number necklaces from (of)matter, though, and I'm really tempted to just go for it and order the 1 and the 6 and wear them with pride. Unless of course they move around and people think I'm 61 years old. Or worse, that they stay in place and it looks like I'm trying to pretend I'm 16. (I'm over-thinking this, right?)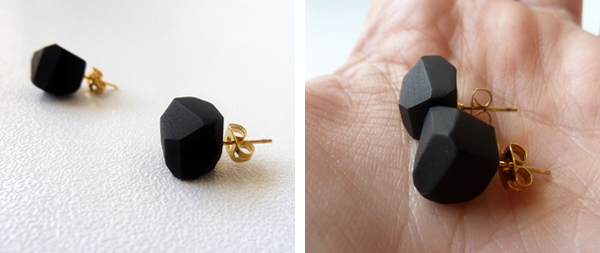 Coal geo earrings from A Merry Mishap
I actually just bought these like five minutes ago. I've had my eye on them forever, and they're so inexpensive and simple and really just perfect. Can you believe they're made out of polymer clay?! I tend to wear dangly earrings that are on the large side, but I've been wanting something a little more subdued every now and then. I'm excited. (ARE THEY HERE YET?) A Merry Mishap has them in a bunch of other colors, too, in case you need your own pair.

Medium Python Hoops and Quartz Stud Earrings from Alana Douvros
This stuff is a little more fancy-pants (anytime something smaller than a hamster crosses the $50 mark, I automatically consider it fancy-pants). Alana Douvros specifies that all of her python jewelry is cruelty-free, and that "all pythons died of natural causes". For me, this conjures touching scenes of snakes gathered around an elderly loved-one's bedside, holding hands…oh wait, not hands, um…tails entwined as they say their last goodbyes. I imagine the reality is much more mundane, but it's nice to know that nobody is dying just to be made into a pair of earrings. (She does also offer sterling and bronze cast python earrings if the idea of wearing bone weirds you out, though.)
I have no interest in diamonds, and these quartz earrings come dangerously close to being TOO fancy-pants for me (those of you who like real diamonds are probably rolling your eyes out of your heads right now), but I love them anyway. They look like Real Jewelry to me. I'm not sure I could pull them off, but I aspire to do so.
Stay tuned for part two…