There are certain things that come up over and over again in my (very small) wardrobe: Geometric shapes, black, white, grey, saturated colors, heavily textured knits, furry stuff, golds…and, of course, scarves. I have a lot of scarves. It can be 95° out, and I'm in a scarf.
My Bookhou bag and I continue to be best buddies. I'm also wearing my most favorite scarf of all here—it comes from the amazing Martha McQuade at the aptly-named Scarf Shop (GIANT size; mustard). I've had this scarf for a little more than a year now, and I've definitely worn it in every season!
And yeah, that's a new watch I've got on. It's from the Issey Miyake men's GO line (I always wear men's watches), and it's the first non-Swatch watch I've owned. I still think Swatches are the best watches around (I have about a dozen of them that I've acquired over the past 25 or so years—and they all still work!), but it's fun to have another option that's a little bit more elegant. I've very very brand loyal when I like something a lot, though, so my heart will always belong to Swatch in the end.
(Is it weird that it never occurs to me to check my phone for the time? I always wear a watch.)
Oh, and? NEON PINK NAIL POLISH. I've had a bottle of this stuff for ages (it's some weird generic brand), but I'd never tried it until last week. I wasn't sure if it would look too garish or weird, but I wound up loving it. I don't think I'd feel the same way if my nails were really long, but on stubby talons like mine, it's pretty nice.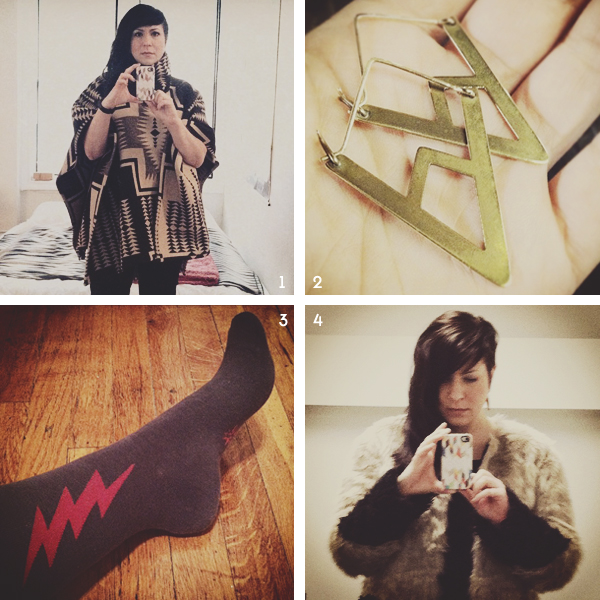 1. That totally incredible cape/poncho was a birthday present from Jen, and it's from Pendleton's Portland collection. It's kind of the greatest thing in the world—thick and warm and beautifully made. I've worn it at least three times a week since October, and it's one of those things I'm sure I'll have forever.
2. My favorite favorite favorite earrings! They were a Hanukkah present from Evan a couple of years ago, and I've worn them almost every day since receiving them. They're made by Lila Rice in Brooklyn.
3. Those rad superhero lightning bolt socks were also a present from Jen (clearly the girl knows how to give a gift), and they come from Sock It to Me. She got a red pair for Evan!
4. Ahhhh, yes, the Wookie coat. This thing is totally ridiculous but I also completely awesome. It's basically like going out in a Chewbacca costume. (It's surprisingly warm, too! Too warm for this Global Warming Winter™ we're having in New York this year.)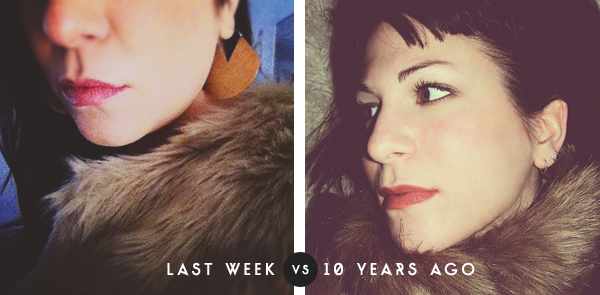 OK, this is just silliness, but when I was thinking about the textures I love most, I realized that I've been a fan of superfake fur for a while now. The photo on the left is on my Wookie coat (earrings by Fay Andrada—Brooklyn ladies make nice jewelry!), and the photo on the right was taken almost exactly ten years ago. I was modeling my "nylon squirrel" muffler, which I still have and wear. And I had no bags under my eyes.