Yes, that's right—it's mix tape for making friendship bracelets to.
About a year ago, I was talking to Jenna and Sara on the Twitter about…well, probably about Doritos or iced coffee or something like that (roughly 90% of my tweets are about snacks and coffee), and the subject of friendship bracelets came up. I vowed that night to bring back the friendship bracelet—not knowing in my uncoolness that they'd already been "brought back"—but I never actually got around to making one.
Until yesterday.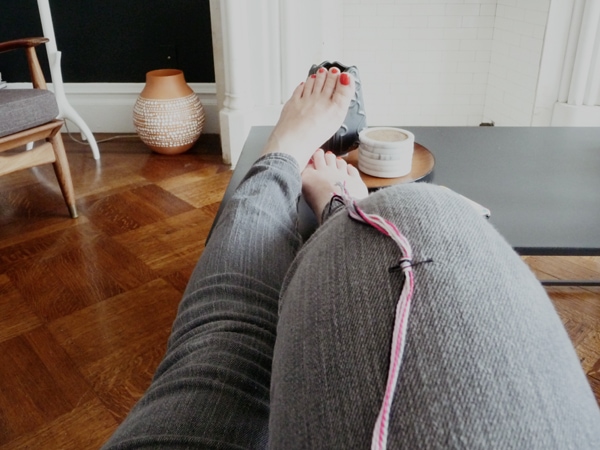 This is the correct view when making a friendship bracelet. If you see anything other than embroidery floss safety-pinned to denim, you're doing it wrong. Binders and tape are for cheaters. And don't even breathe the word "yarn".
Now, this is a view I hadn't had in a long, long time. Like…probably about 25 years. The last distinct memory I have of making a friendship bracelet is from 1986. I was sitting on my friend Melissa's bed, knotting away (I'd like to say I was wearing Guess? jeans, but I wasn't that cool), listening to INXS, when a frantic phone call came in from our friend Terrill to TURN ON THE RADIO because something REALLY BAD had happened.
Yes, that's right: It was the sad, sad day that Wham! broke up. Tears were shed. Bracelets were exchanged. Andrew Ridgeley filed for unemployment.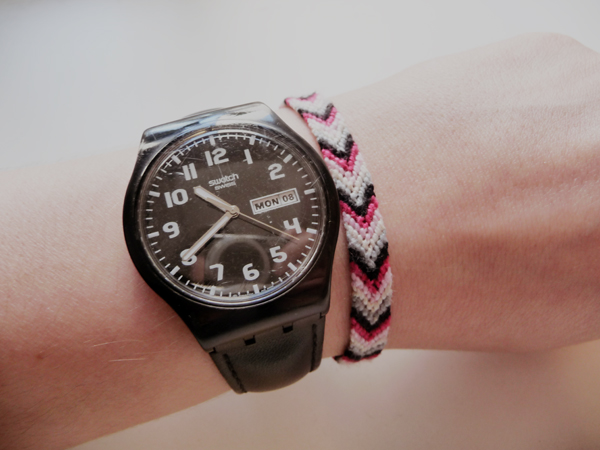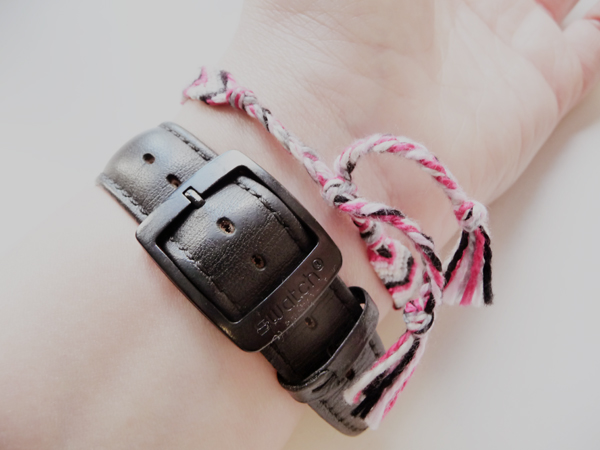 Friends, I am not the knotter I was when I was 11 years old. At a distance my bracelet looks alright, but up close it's kind of a mess. I had a lot of trouble getting my knots even and tight-but-not-too-tight. Either my pre-teen fingers were just way more nimble, or I've become more discerning in my old age. Probably a little of both.
I'm kind of proud that I did this FROM MEMORY, though. Okay, I forgot about making a loop at the top before tying my knot (Evan reminded me about two hours in—oh well), but aside from that, I'm pretty pleased with myself. I can't imagine ever having time to make another one (apparently I had a LOT more free time when I was 11—go figure), but for now I'll just wear this one and be my own best friend.
There are already 9 bazillion friendship bracelet tutorials on the internet, so I won't bother repeating the steps here, but rest assured anyone over the age of 6 or 7 should be able to make their own bracelet in a few hours. I highly recommend taking the time! It was pretty relaxing, and lots of fun. Plus, now you have the right soundtrack to accompany your knotting.
p.s. The Swatch watch is not there for effect, I swear! I've been wearing Swatches since…well, since the last time I made a friendship bracelet, and they're the only watches I really like. I still have all of my old Swatches, and yes, they all still work. (I only wear one at a time these days, but you never know…)
p.p.s. You can find and follow me on 8tracks as doorsixteen. My first mix was Summertime Jams!
BONUS!!! I tried to find a picture of myself from 1986, but the best I can do is my 7th grade class picture from 1987 (dudes, Joyce in the front row is wearing a FRIENDSHIP ANKLET!!). I'll give a gold star to anyone who can pick me out of the group. Click to enlarge!
UPDATE!! Dee has correctly identified me! I'm in the back row, fourth from the right in the oversized cardigan, black hairbow, and body-wave perm. Yesssss. That's Terrill next to me. Rest in peace, sweet girl.