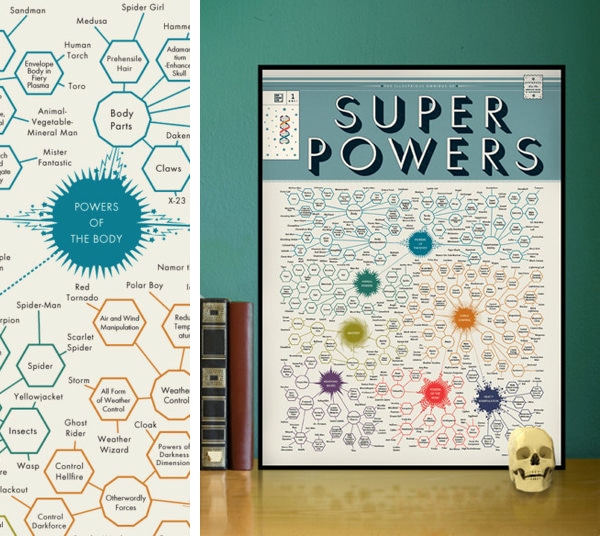 I just bought this taxonomic superpowers poster from Brooklyn-based Pop Chart Lab ("…founded in August 2010 by a book editor and a graphic designer who joined forces for one reason: to bring order to a swirling chaos, that is, to render the world as charts") for Evan. Isn't it awesome? I had no idea it's even super-possible to have prehensile hair.
We already have Pop Chart Lab's Grand Taxonomy of Rap Names poster in our hallway, and I gave my nephew the Evolution of Video Game Controllers poster (which coincidentally uses the same font as my blog header) for Christmas. Yeah, I was the cool aunt for a minute or two, believe me.
These are posters for nerds. Design-loving nerds. Like me. I'm a fan.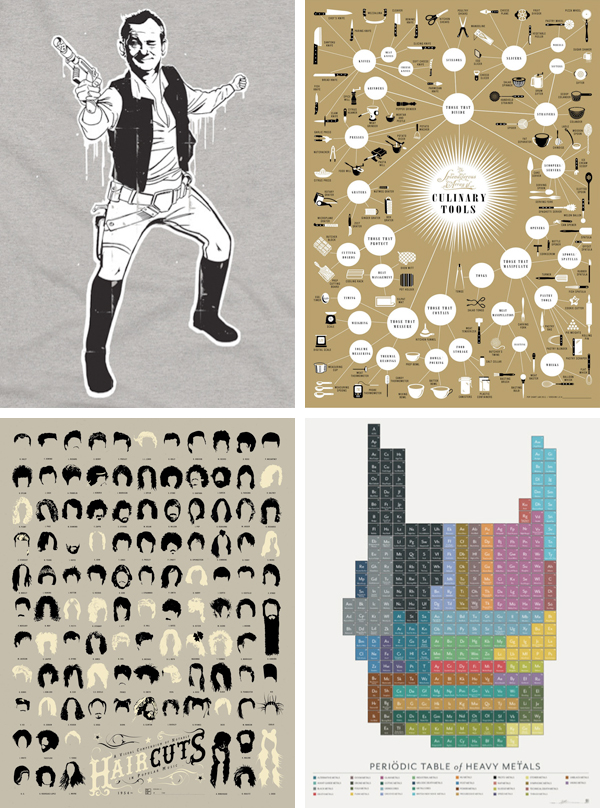 It's hard to appreciate how awesome this stuff is at small sizes, so hop over to Pop Chart Lab to check out some enlargements. The level of detail in the taxonomy charts in particular is pretty amazing.
Pictured above, clockwise from top left:
+ Bill Solo t-shirt (the only thing better than Bill Murray is…Bill Murray)
+ The Splendiferous Array of Culinary Tools poster
+ Periodic Table of Heavy Metals poster
+ A Visual Compendium of Notable Haircuts in Popular Music poster