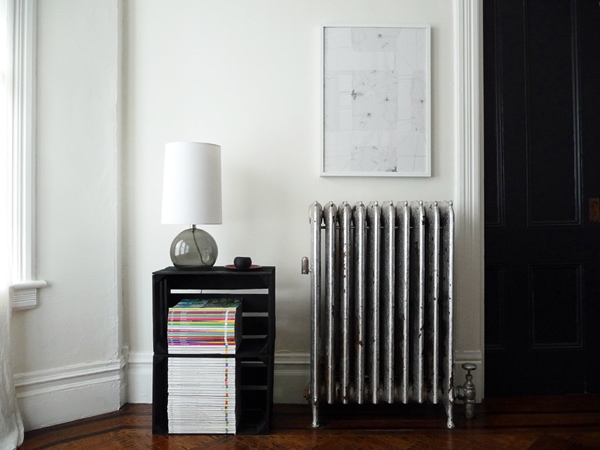 This is not a happy radiator. This is a sad, rusty radiator covered with peeling paint that's probably filled with lead. We're constantly having to sweep up the chips so the dogs don't eat them, and in the winter we have to wrap the whole thing in foil because it's such a mess when the heat is on.
We've had two other radiators in the house sandblasted and powder-coated, and as great as the results are, it's expensive. We have ten of these cast iron monsters, so there's no way we can have them all done professionally, so we have to limit ourselves to the ones that are too far gone to take care of ourselves. This one in the living room is definitely on that short list.
Let's look at some HAPPY RADIATORS instead!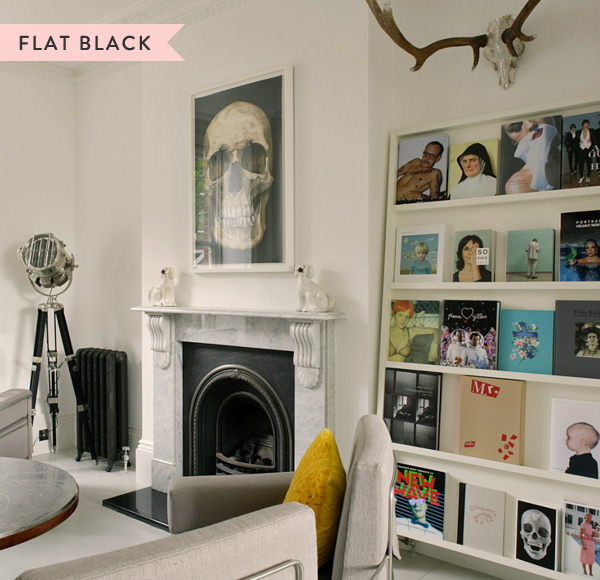 Home of stylist and interior designer Jo Berryman, as seen on 1st Option
Yeah, I know, I'm not really looking at the radiator either (why is Damien Hirst following me everywhere I go?). But see it over there in the corner, all cute and black? I love how it looks in this mostly-white room—it grounds that corner really nicely. My only concern with a black radiator is that we already have black doors and a black wall in the living room, and I hesitate to add a third shade of black to the same room.

Photo by Christopher Baker for Blueprint magazine (I still miss you, Blueprint!)
YESSSSSS. I love this bright, screaming yellow. I showed this picture to my mother (I'm sure she appreciates me linking to those photos again, hah!) yesterday, and she said that my house isn't "eclectic" enough (!!!) to have a yellow radiator. Oh, I see—it's like THAT. Huh. No, I understand what she's saying, but at the same time, I'm really not afraid of having a radiator be such an eye-grabber in what is otherwise a mostly-neutral room.
Like Tim Gunn says, though…it's a lot of look.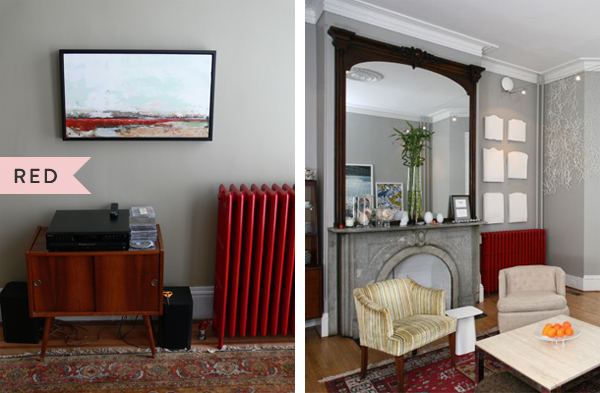 Home of J. Abbott Miller and Ellen Lupton; see more in Lupton's Flickr set
My mother's suggestion was to go with red instead of yellow, but I dunno. I really like how the red looks with all of the warm grays and the floor coverings in the Lupton/Miller house, but I don't know that red feels as nice when it's mixed with a lot of black and white. Plus, our wood floors have such a reddish tone to them already that I worry a red radiator will just look muddy and blah in our house.

Brooklyn homes on Bergen Street and in Park Slope with interiors created by Wary Meyers
I've posted the photo of the gradient radiator before, but it's too great to leave out of this post. I love love love it. Probably not right for our house (and not really suitable to powder-coating, I don't think), but still amazing. The photo on the right wouldn't work for us either for obvious reasons, but it's good inspiration. We do have seven more radiators left to contend with, after all…