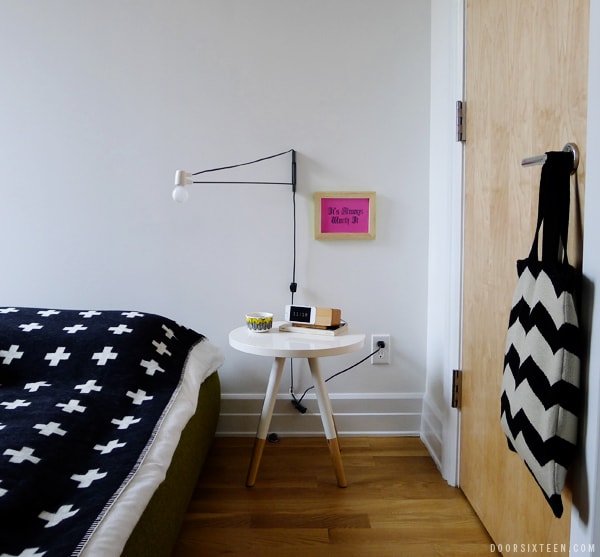 I finally took some photos of the new apartment that aren't iPhone snapshots! We rented this place three months ago, and since then I've really been struggling to make it feel right and OK. Even though the building the apartment is more than 120 years old, the interior was completely gutted a year ago. It's just such a sharp contrast to our fixer-upper Victorian house (not to mention just about every apartment I've rented previously), and it feels very hotel-like to me. I've tried to compensate by treating it like a dorm room!
I do like how the bedroom is looking, and really, even just having a separate bedroom is a wonderful improvement over our old studio. Evan and I often operate on very different schedules, so there's no telling how many humans (or dogs) will be in the apartment or the house on a given day or night. Having a distinct area for sleeping makes everything feel a bit more normal for everyone.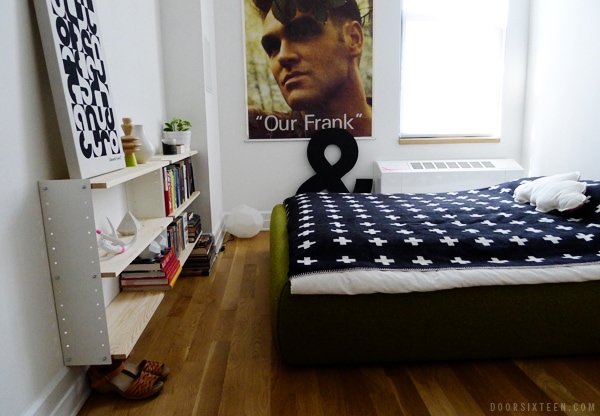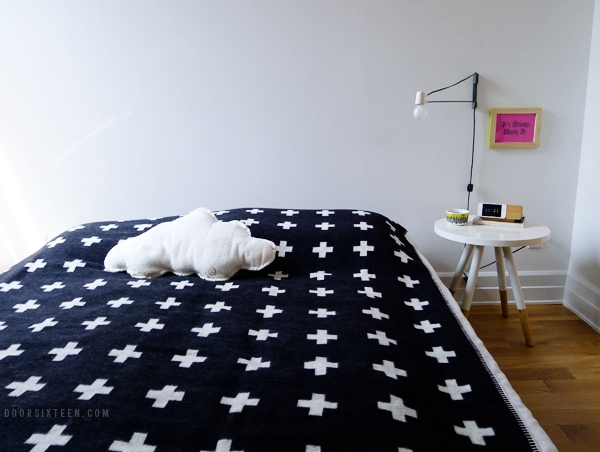 Sorry all of these photos look kind of the same! The bedroom is really only about 10'x10′, which is pretty tiny. It's hard to stand far enough away to really get good shots, but I tried my best.
The "reversed-socks" table is pretty cute, right? It's from West Elm, but I think it's discontinued because it was a floor sample clearance item. That awesome lamp is by Brendan Ravenhill, and the cloud pillow came from La Casita. The cross blanket, of course, is by Pia Wallén. Daniel and Valeria at Hindsvik made the big ampersand. Oh! And the bed itself is a discontinued model from IKEA.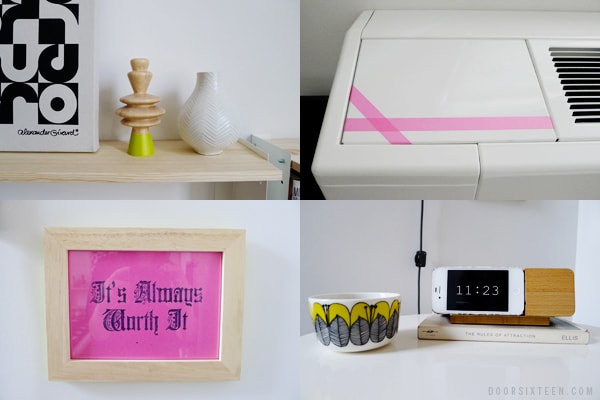 I'm in love with that acid green-footed candlestick. I rarely go into Bo Concept, but I spied this guy through the window recently and ran in for a better look. It's part of a whole collection. Don't they look great all in a row? And yeah, I did try to spruce up the ugly built-in heating/air-conditioning unit with some neon washi tape. I don't know if it's helping, but it was a fun way to spend 30 seconds! That great print was made by my friend Lisa Congdon. I was with Lisa and Victoria when I bought that little bowl at Marimekko (the new flagship store in NYC is wonderful!). I keep my jewelry in it at night.
I keep meaning to blog about that "alarm clock." It's actually just a block of wood with no electronic parts! It was designed by Jonas Damon for Areaware (it comes in a bunch of colors now, too—when I bought mine this was the only option), and it's really just an iPhone stand. You can run a cord through the back so you can charge your phone while using it like a flip clock! They have an app that you can download and everything. Very cool, especially for people like me who use already use their iPhones as alarm clocks.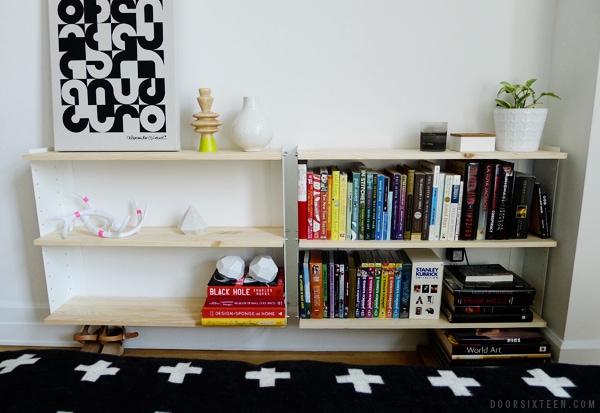 I'm really, really happy with this shelving. We only keep a handful of books at the apartment at any given time (the big "library" lives at the house), but I was getting tired of having little stacks of books and DVDs gathering dust on the floor. The shelves are comprised of two sets of steel EXBY OXIE brackets from IKEA ($20 for two) and six EKBY TRYGGVE pine shelves ($3 each). Grand total? $58 for a pretty substantial amount of shelving that looks good and doesn't take up most space. The brackets are so great. I'm sure IKEA will discontinue them soon since they're one of those "sleeper" items that doesn't get much notice, so I might have to stock up on a few more sets just in case.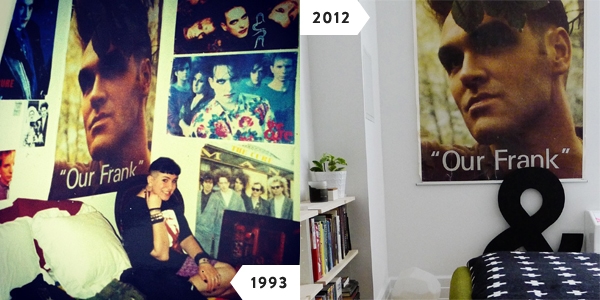 And yes, the Morrissey poster! I bought it exactly 20 years ago at Rhino Records in New Paltz. It's been hanging on my wall in the vicinity of my bed ever since. Much like the Smiths poster on the dining room mantel at the house, it's a constant. I loved these things when I was 16 years old, and I love them now at 36. I think teenagers have an inherently good sense of what makes you feel good in your own space, and I've tried not to lose that as I've gotten older. Too often grown-ups get sucked into the idea that their homes need to look "adult" or sophisticated or whatever. Not me! I say bring on the giant Morrissey heads, the over-sized ampersands, and the stuffed cloud pillows.