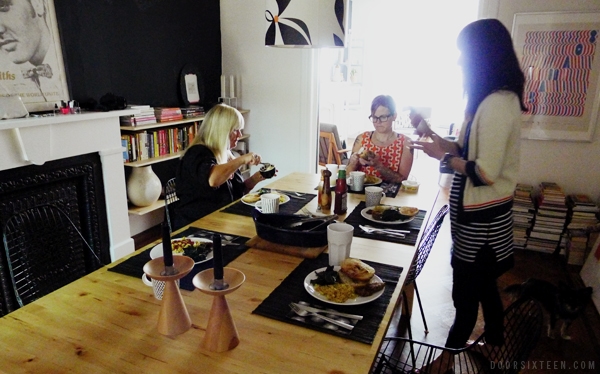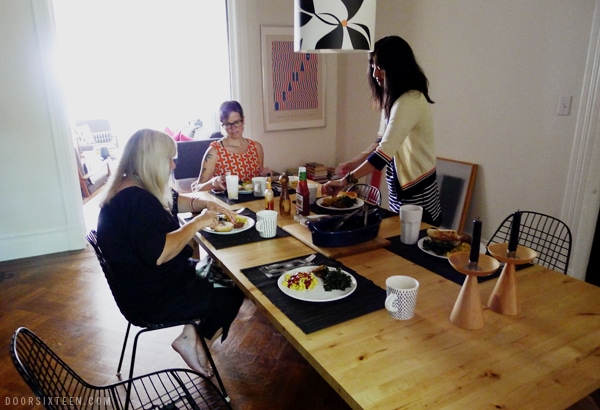 I know, this post is a bit overdue! Chances are you've already heard on Twitter or seen another blog post, but two weekends ago, I hosted a sleepover party at my house with Victoria, Lisa and Jenna. I've never had so many overnight guests before! We had such a wonderful time. I wish I had more photos to share, but for some reason I tend to not think about picking up my camera when I'm with friends. I wish that weren't the case, because it's so nice to have visual memories of time spent together.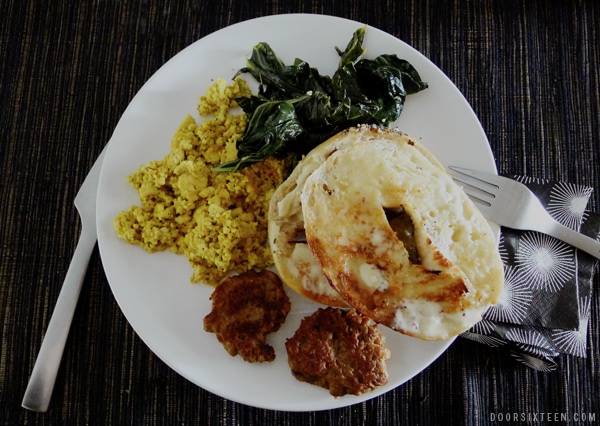 Breakfast on Sunday was exactly how I like it to be: perfect tofu scramble, collard greens, bagels from Beacon Bakery across the river, vegan sausages…and plenty of coffee, of course. There are fewer things that make me feel happier than preparing food for people and feeding them in my home.
On Saturday night, we all made ancho lentil tacos together. It was truly a collaborative effort (FYI, Lisa makes a mean guacamole!), and it felt really good to have a bunch of people in my kitchen. It's hard for me to let go on control sometimes and allow guests to help me (even with stuff like washing dishes!), but I forced myself to just let it go for the weekend—and it was soooooo worth it.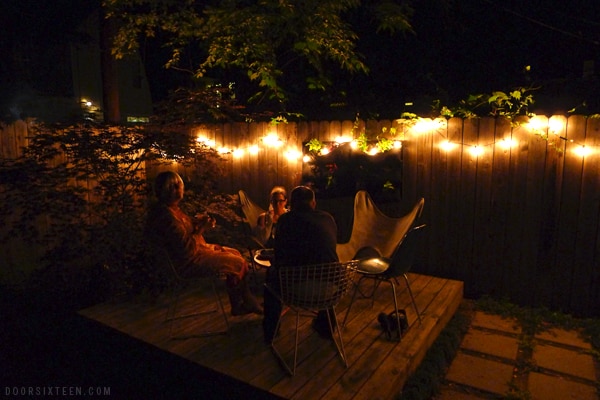 We ate dessert (coconut milk ice cream and cookies!) in the garden. VERY exciting! We've been working on the garden for years now, and a lack of time, budget and resources have meant it's been very slow going. Until that weekend, I'd never really spent any time in the garden just relaxing and enjoying myself. It's only been a place for hauling, digging and sweating. The garden is still far from being done, but I'm glad I didn't label it off-limits—something I tend to do with parts of my house that aren't "perfect."
(Hanging up those globe lights helped a lot. They're just $12 cheapies from Target, but they added so much cozy atmosphere!)
I can't say enough how much I love my friends. Having so much time together just felt right. I'd met all of them before, but being all in one place at the same time was very special. It wasn't about networking or blogging or work or any of that stuff. It was just about talking, relaxing, watching movies, eating, staying up late and being friends. I didn't want to say goodbye.
It's funny, people are so critical of Twitter and blogs and how the internet supposedly takes us out of "real life," but if I'm speaking truthfully, the internet (Twitter in particular) is the reason I actually have any semblance of a real-world social life. I've made a lot of friends online over the past 15 years, and a great many of them have become very real parts of my life—online and off. (And before the internet, I made lots of friends through writing letters with penpals.) Some of us just aren't good at getting to know new people face-to-face. I'm one of those people. And that's OK. Most of my friends are like that, too.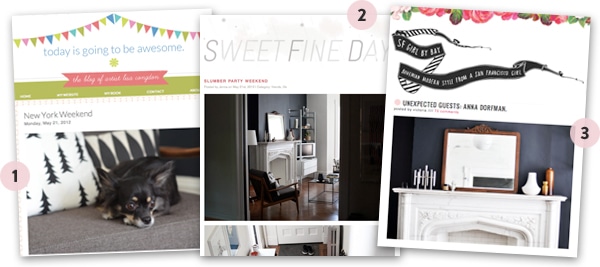 Lisa, Jenna and Victoria each wrote a post with pictures about our weekend together. They're all much better photographers than me!
1. New York weekend at Lisa Congdon's blog, Today is Going to Be Awesome.
2. Slumber party weekend at Jenna Park's blog, Sweet Fine Day.
3. Unexpected guests at Victoria Smith's blog, sfgirlbybay.*
*Victoria actually took a WHOLE BUNCH of photos from all over my house, so it's sort of like an updated house tour. I know I'm kind of stingy with photos of my house lately (I guess because I haven't been working on many projects), so if you'd like to see how it looks these days, head over! This is the first time anyone other than me has photographed my house, and I'm honored that Victoria found my home worthy of sharing on her beautiful blog.