My desk is comprised of the top of my father's huge drafting table and two pairs of steel legs from IKEA. The original adjustable legs weren't stable, and I needed it to work as a computer/sewing machine-friendly surface. The replacement legs have worked out really well, and I have no regrets about removing the old base (it's safely stored in my basement, in case I ever change my mind).
One thing I had been worried about, though, was the condition of the top of the table. My father used it for many years, and I then gave it a real beating while I was in art school—I ate my meals at it, did all of my drawing and design projects on it, and even fell asleep with my head on it more than a few times. It was dirty, and really needed to be cleaned with a stronger method than soap and water.
I had put off sanding it because I was concerned the desk would lose its time-earned patina (which really is the best thing about it), but it turned out I had nothing to worry about. I went over it with my orbital sander, and as you can see, all of Dad's pin-holes and all of my cut marks are still beautifully evident. I gave it a good rubdown with Feed-N-Wax (I'm not a fan of finishing wood with polyurethane unless absolutely necessary), let it dry overnight, and it's ready to go.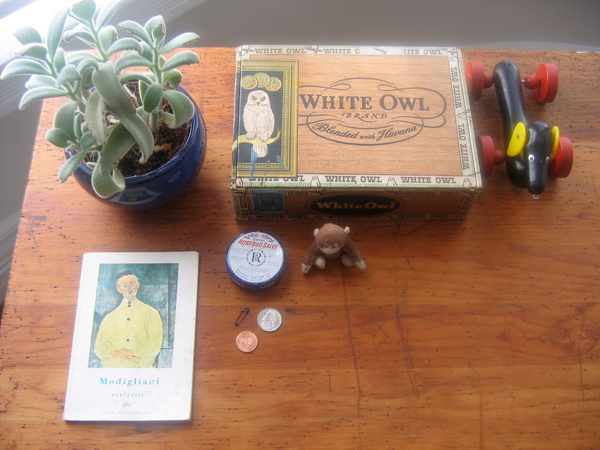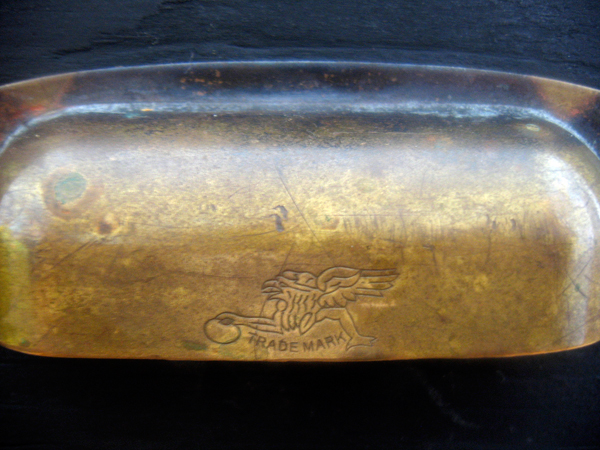 I also sanded the peeling brown paint off of the front of the drawer and coated it with an opaque black stain. While I was polishing up the handles, I discovered this pegasus griffin (wait, maybe it's just an eagle?) engraved in each one. How funny that I have known this table for literally my entire life, but I never noticed them before. Huh.