Do you inscribe the books that you give as gifts? It's a practice I think has fallen out of fashion, but I'd like to see it come back.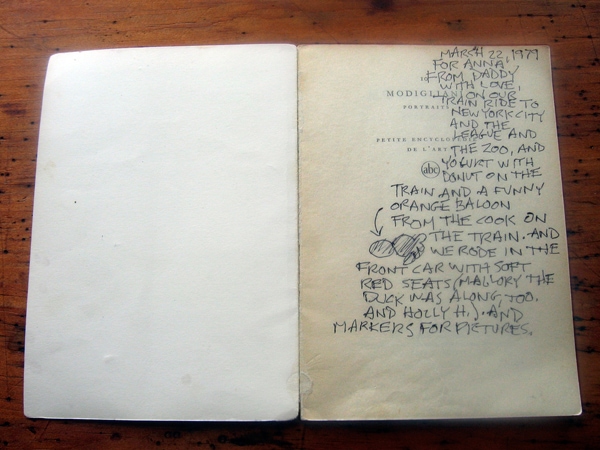 I found this little Modigliani book while I was reorganizing my work area, and I opened it to find a note written to me by my father in 1979. I was not yet four years old, and I had taken the Amtrak train from Rhinecliff to the art school in Manhattan where my father taught (and still teaches).
I'm not sure I would have remembered that day (29 years ago!) as clearly as I do now had I not found the book. Memories rushed back to me instantly—I know exactly how soft those seats were, I know that I tucked my box of markers into the pocket on the back of the seat in front of me. I can see so clearly the cook in the bar car giving me that orange balloon, too! Most importantly, I remember being at work with Dad, feeling special like you do when grown-ups are excited to meet you, even though you're only three years old.