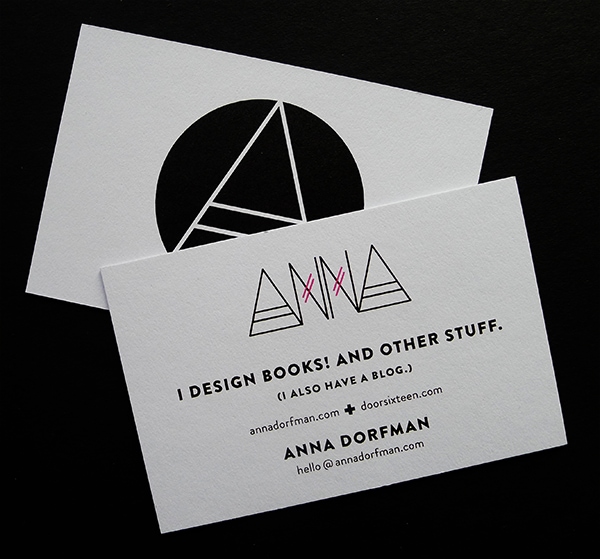 It is completely ridiculous how long it takes me to get around to doing pretty much anything. After putting off getting business cards made for, um, my entire adult life, I finally made a firm vow to do it when I redesigned my portfolio. You know how long ago I made that "firm vow"? OVER A YEAR AGO. What's wrong with me? Designers truly are their own worst clients, I swear.
Two weeks ago I had a brief moment of follow-through, though, and I actually managed to send my files off to have them printed on cards. Pretty much everyone I asked told me to use MOO* for printing, and since I'm too lazy to do any real research when it comes to my own projects, I went ahead with them before the motivation wore off.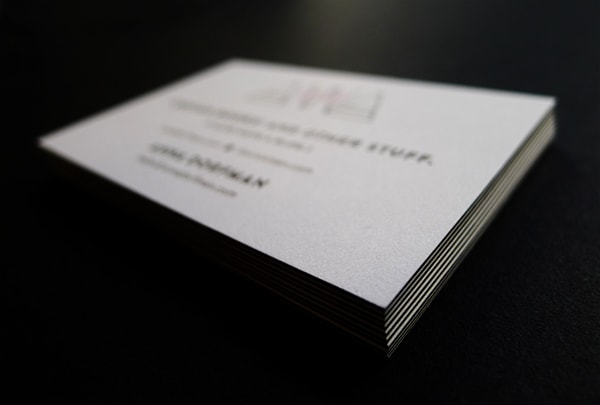 I spent a little extra to get the Luxe cards, which are nice and thick and have a colored center layer. I only ordered 100, which I imagine will last me the better part of the next decade since I'm probably going to forget to ever bring any cards with me when I leave the house, and I'll most likely just be giving them to friends and family members who happen to come over for dinner. (Hey, I'm just trying to be realistic here.)
Anyway, all kidding aside, the cards look great. They were delivered in fancy white boxes with magnetic closures wrapped in purple ribbon and a fake wax seal and everything. The paper stock is really nice, and the print quality is perfect—no registration problems at all, which I was a tiny bit concerned about since I spec'd a rich black for the type. I have zero complaints.

I've had this Pantone business card wallet (I don't think they make them anymore, or at least I can't find them online) for the better part of a decade now—obviously purchased amid a fleeting sense of ambition—and it's nice to finally put it to use. I feel so legit.
* When you order something from MOO, they give you a 10% discount link to share with friends. If you use that link to buy cards, you save 10% and I get $7.50 in credit added to my MOO account—and then they'll send you a 10% referral link to share with people, too. Feel free to use this link and become part of that magical pyramid scheme.