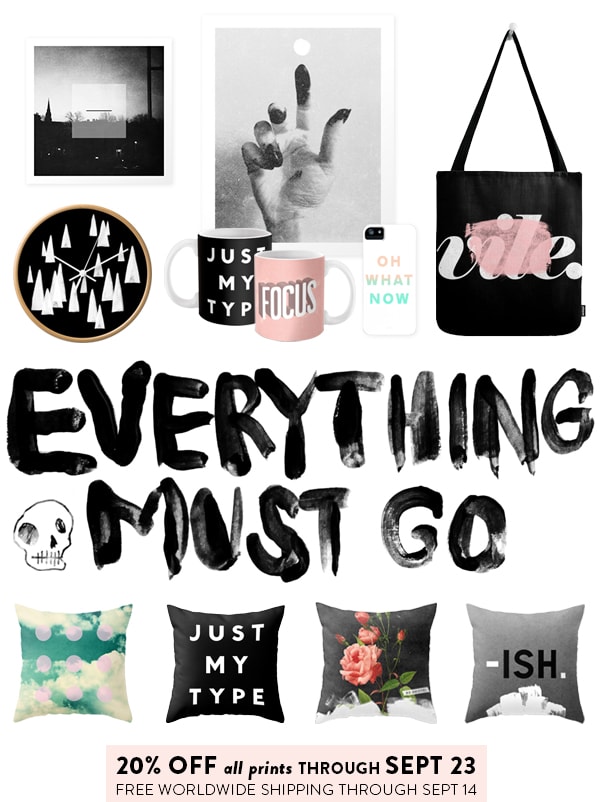 Back when I started my little K IS FOR BLACK shop on Society6, I didn't know if I'd stick with it. I was feeling very unsure about designing stuff without a client (other than myself!) in mind, and it was really a personal challenge more than anything.
Happily, I did stick with it, and I've added lots of new designs to the shop since that initial launch. It's been SO fun.
That said, I think it's a little boring to have the same things in the shop forever, and it's time for me to do a big overhaul. On the first day of fall, September 23rd, I'll be discontinuing ALL of the current designs so I can start introducing new work. Between now and then, all of the prints in the shop are discounted 20% (the discount is reflected in the listed prices). Society6 doesn't allow members to set pricing for anything other than prints, otherwise I'd make the discount shop-wide.
ALSO: Between now and September 14th, Society6 is offering FREE WORLDWIDE SHIPPING on most items (framed prints, stretched canvases and rugs are excluded), and all phone cases (including ones for the new iPhone 6 and 6 Plus) are $5 off.
That's a lot of discounts, so if there is anything at all that you've had your eye on in the K IS FOR BLACK shop, now is the time to get it. After September 23rd, none of the current designs will be available. (You must use this link to get the free shipping and phone case discounts.)
OK! Onward.