I've had a lot of design projects in the works lately, and I thought I'd share a couple of favorites that I just finished up in the past week.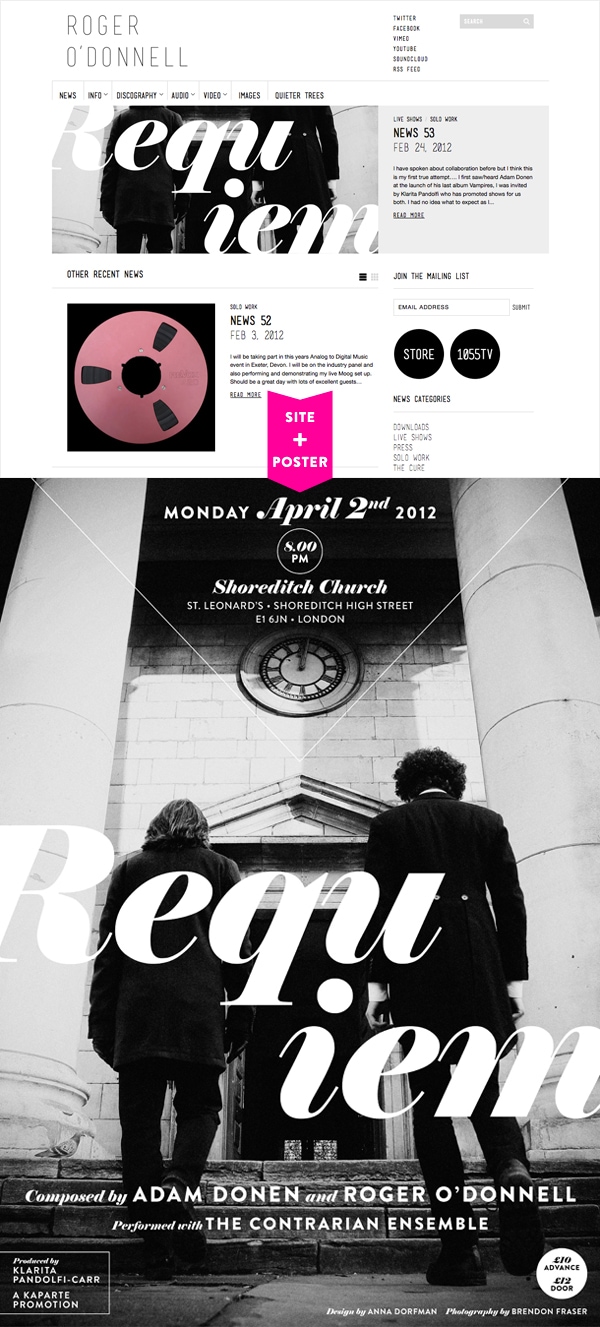 About a year ago, I convinced my friend, musician and composer Roger O'Donnell, to let me work on a complete overhaul of his website. Roger had been designing and maintaining his personal site (as well as the sites for numerous side projects he's worked on) for many years, so it was with a bit of trepidation that I made the suggestion in the first place, but Roger was completely on board. It took a long time to migrate all of those years of content from a static site (there were literally hundreds of pages all nestled inside of directories within directories—I told him it was like discovering a giant box filled with filing cabinets inside of an enormous closet you never knew was in your house) to a WordPress-based format, and it's still a bit of a work in progress, but I'm happy that Roger now has a website he can add news items to easily and keep up to date with information about all of his various projects.
Right on the heels of the website launch last month, Roger asked me if I'd design a poster for his collaboration with musician Adam Donen, which was to be a secular Requiem. I said of course (of course!), and the result is something I'm very happy with. Poster design is really still kind of an area of unknowns for me, but I'm finding that I really like thinking about how the eye moves and how the brain processes information when something is presented on a wall rather than on a table or shelf like a book would be.
I'd previously worked with Roger on two other design projects, the first being the packaging for Nothing Concrete, a CD sampler his label released in 2005, and then last year a poster for a performance of his Hockney-inspired work, Quieter Trees. I've known Roger for nearly 15 years now—the duration of my entire career as a designer—and it means so much to me to be able to work with someone whose own work I believe in and care about so much.
Roger has written more about the Requiem project on his site, and if you're going to be in London on April 2nd, you can see it performed live with an orchestra at Shoreditch Church. I wish I could be there, as I'm sure it's going to be fantastically dark and beautiful.
The poster itself is now available for pre-order. This is a rare chance to hang something on the wall that I designed, so if you're interested in buying one (£20, including shipping to anywhere), head over to Roger's store right away…it's a very limited edition that will ship in about three weeks.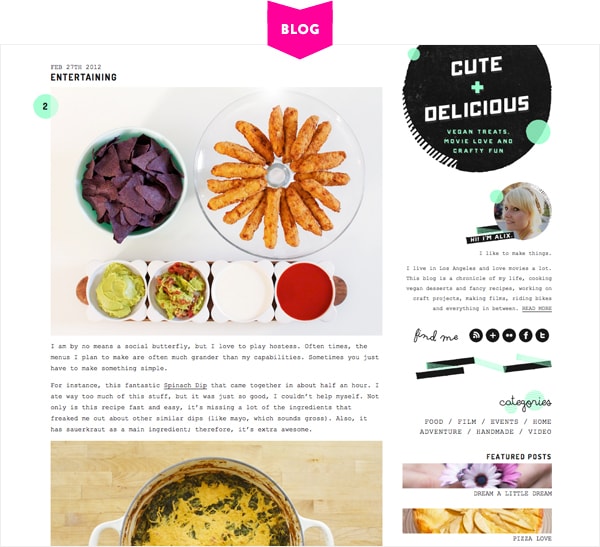 The redesign of Cute + Delicious is something I'd been thinking about for months before I actually started working on it. I love Alix's blog (vegan treats, movie love and crafty fun…what's not to love?!), and between the great photos and its fun name, it was hard to not come up with ideas for a new look. I did a lot of tweaking and adjusting and futzing before I even showed her a preliminary comp (always a nerve-wracking moment!), and I'm SO excited that she liked what I'd come up with right away. With just a few minor alterations based on Alix's feedback, I think we wound up with a blog design that is, well, both cute and delicious. Alix was a dream client for sure, and I hope I have the chance to work with her again in the future. In the mean time, I'll keep looking at this spinach dip and wishing I could coax it out of the monitor and into my mouth.
Thank you so much, Roger and Alix, for trusting me with your design projects!