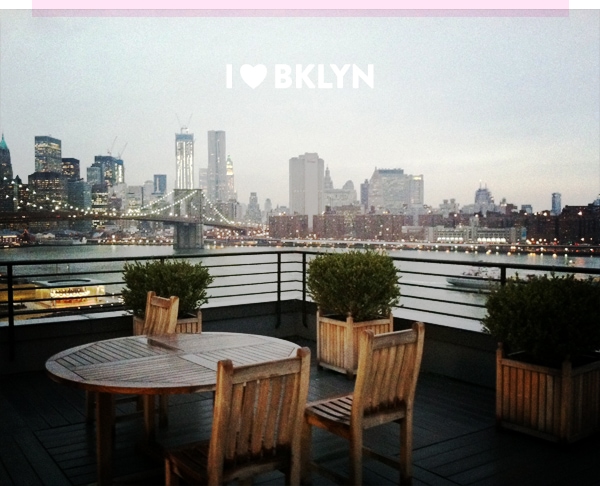 It's been eight years since I left Brooklyn, and I've never stopped missing it. I wrote a little bit about that feeling a couple of years ago, and if anything, my longing for the County of Kings has only intensified since then.
I love Brooklyn.
I've always been a South Brooklyn (not to be confused with "southern Brooklyn") kind of girl. I started off in Cobble Hill right after college, then moved to the "Columbia Street Waterfront District" (quotation marks necessary), and then finally to Red Hook…which is about as South Brooklyn as you can get. It's also about as massively inconvenient as you can get in terms of transportation and conveniences (this was before Fairway and IKEA opened, of course), and that move to Red Hook really wound up being the impetus for moving out of the city completely and buying our house in Newburgh. I mean, if you're going to live someplace inconvenient, why not make it really inconvenient, right?
Of course, if you've been reading this blog for a while, then you know what happened about five years later—we decided to also rent a little apartment in upper Manhattan. You know, for convenience.
The apartment has been wonderful. I love Washington Heights (really, it's great), I love my neighbors, and I lovelovelove the apartment itself. Stuff has changed a little, though. We're in the city a lot more than we'd anticipated, and Evan got a job in Brooklyn. Which is kind of inconvenient.
You see where this is going, right?
Yeah, we rented an apartment in Brooklyn. In DUMBO, specifically, which is decidedly not part of South Brooklyn. It's not North Brooklyn either, though—it's right in the middle. It's right on the water. It's right under the Manhattan Bridge. And it's beautiful there. The apartment is TINY TINY TINY, and it's a new renovation—totally different from anyplace I've ever lived before. It doesn't have much character of its own, but I think it's going to feel good with our stuff in it.
We'll be gradually moving our things from the Washington Heights apartment to the Brooklyn apartment over the course of the next month. We live pretty simply when we're in the city, so it's not a ton of stuff, but you know how closets and kitchen cabinets are—they're sneaky. Daniel has offered to help (and by "offered" I mean he agreed when I asked), and I'm thinking that having the Boy Wonder on hand is going to make everything go pretty fast. I'll do my best to take photos along the way.
And yeah, that's the view from the roof deck of our new building. Crazy.
Brooklyn!
p.s. We found awesome new tenants to move into our Washington Heights apartment, which makes me really happy. They're even going to keep the fauxdenza!