It's taken me a long time to accept the fact that I don't really like desks. At least not small ones that are designated for tasks that don't involve spreading out—I need space. Because of my aversion to small desks, I've spent an awful lot of time over the last few years camped out on the sofa with my laptop doing freelance work at 2AM, and honestly, my body isn't happy about it. I need to be sitting at a table in order to work (and sit) properly for any length of time, and that table needs to be spacious.
That said, you know what's not spacious? The new apartment. The entire thing corner to corner is about 450sf, and that's including a bedroom the approximate length and width of a Sucrets tin. The kitchen and living space are one open room, though, which does open up the possibility of having a decently-sized, multi-purpose table in the room—for working, eating, cooking, sewing and whatever else requires a flat surface.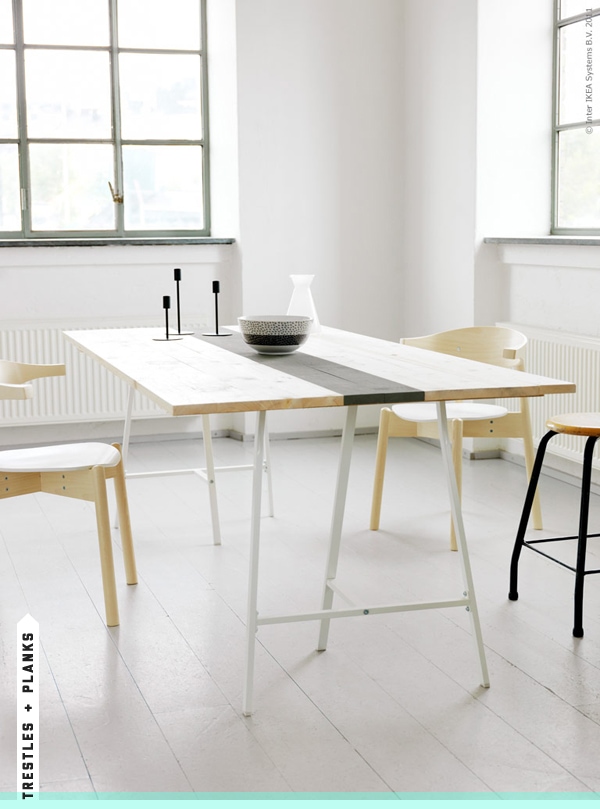 Photo: Nina Broberg for Livet Hemma
I've been keeping this table idea in the back of my mind for a while now. It comes from IKEA's Livet Hemma (Life At Home) blog, which, in case you've never seen it, is a trove of photos and project ideas that involve stuff from IKEA used in very un-showroom-like ways. To make this table, they just used a pair of inexpensive VIKA LERBERG trestles and some simple spruce planks for the top. I love the "runner" they created by painting the center boards! The great thing about the LERBERG trestles is that they're less than 16″ deep, so it's possible to make a shallower table with them to suit the amount space you have—and, of course, you can cut your planks to whatever length you'd like.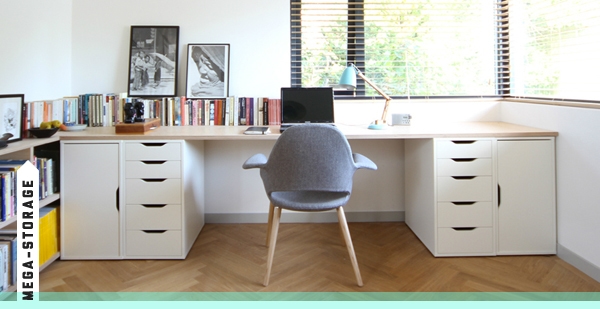 Photo: Corkellis House, interior design by Kathryn Tyler + Linea Studio
I definitely don't have enough space for a setup like this, but I do like how much storage the base components provide. The top is supported by four VIKA ALEX units from IKEA—two with doors, and two with drawers. The depth is at least 22″, so it's probably not an option to use even one of these drawer units in the new place (did I mention it's tiny?), but I can still dream.
Speaking of dreaming, take a look at the entire house that this room is at part of. It's one of those rare places I could move into fully furnished and not want to change anything.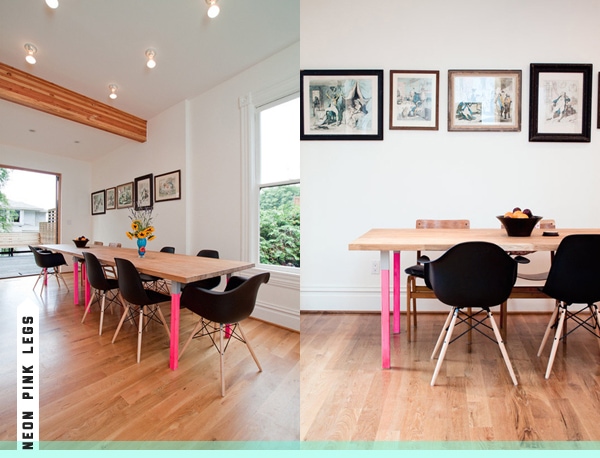 Photos: House Tour: The Dickensons, Apartment Therapy (via sfgirlbybay)
OK, now we're really getting somewhere. The second I saw this Victorian house tour, I knew I'd be needing some neon pink table legs in my future. I love the way this looks. Once again, the support for this table comes from IKEA—four VIKA FURUSUND legs—and the top appears to just be a simple piece of butcherblock countertop (NUMERAR, perhaps?). The legs are solid, unfinished pine, making them perfectly suited for painting. They're really just asking to be neon pink, right?
I keep picturing a smaller-scale version of this table in the apartment, surrounded by the dowel-leg side shells currently in the "old" apartment kitchen (I have two more stashed in the basement at the house), and it just seems perfect. Enough space to have Daniel and Max over for dinner, even!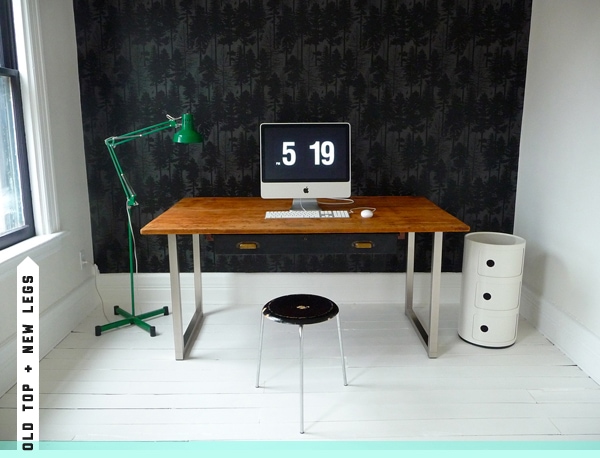 Yeah, this is my own big fat work table! It's in the room at the house that Evan is now using as a studio, and it's awesome. The top comes from my father's huge old drafting table (the original legs are in storage, don't worry!), and the legs are—you guessed it—VIKA MOLIDEN trestles from IKEA. You can see some more detailed photos of the top and the cool drawer handles in this old post. It's a special table, this one.
More than any aspect of the new apartment (yes, even more than the roof deck), the possibility of having a big space to spread out and work is exciting me the most. I'm sure I'll still spend plenty of time planted on the sofa with my laptop, yes, but for the long hauls, it's going to be great to sit like a normal person. A normal person with dogs on my lap, of course.
p.s. Please vote for Manhattan Nest in the 2012 Homies Awards over at Apartment Therapy. You need to log in to vote, but it's worth it. Daniel truly deserves to win this.