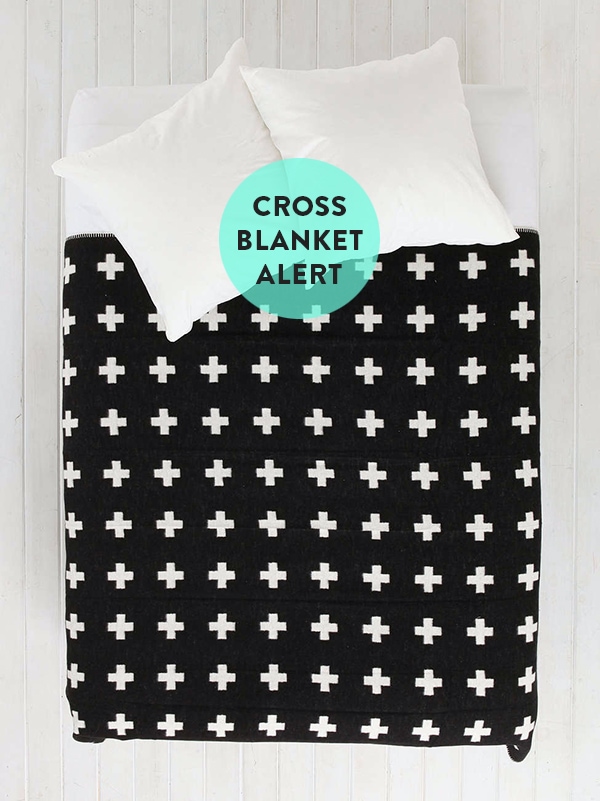 This has to be a FAST post because I'm running out the door, but I just wanted to give you a heads-up that the FULL SIZE (63×95″), large Pia Wallen Cross blanket (with which you know I'm obsessed) is currently reduced to $99 at Urban Outfitters. That's a MASSIVE reduction!!
FYI: This is the felted cotton version of the Cross blanket (the same one I have on my bed), not the wool Crux blanket that costs a million dollars and is never in stock. I love my Cross blanket, though—rest assured it's excellent quality.
I didn't even realize they stocked the large blanket until D16 reader Esra (THANK YOU, ESRA!!) emailed me this afternoon. I knew they'd been stocking the smaller crib-sized Cross blanket (31×49″) for a while, but it seems you can only get to the large-size blanket by Googling or with a direct link. CRAZY.
ALSO: Apparently Urban Outfitters is offering free shipping today, AND the code "FALL2014" will generate a 10% discount. Bananas. I wasn't able to get the discount code to work with PayPal, FYI, so I had to do a regular transaction and enter the code at the very end.
OK, go get yourself a blanket!! (Hopefully this isn't some big mistake on Urban Outfitters' part, haha.)
UPDATE: The blanket is sold out already. Sorry, guys. 🙁
NOTE: The in-stock Cross blanket that's still listed on the Urban Outfitters site for $99 is NOT the full-size! That's the crib/throw version, and it's only (31×49″). CHECK THE LISTING DESCRIPTION CAREFULLY BEFORE ORDERING. The full-size (63×95″) blanket has been out of stock since September 15th.