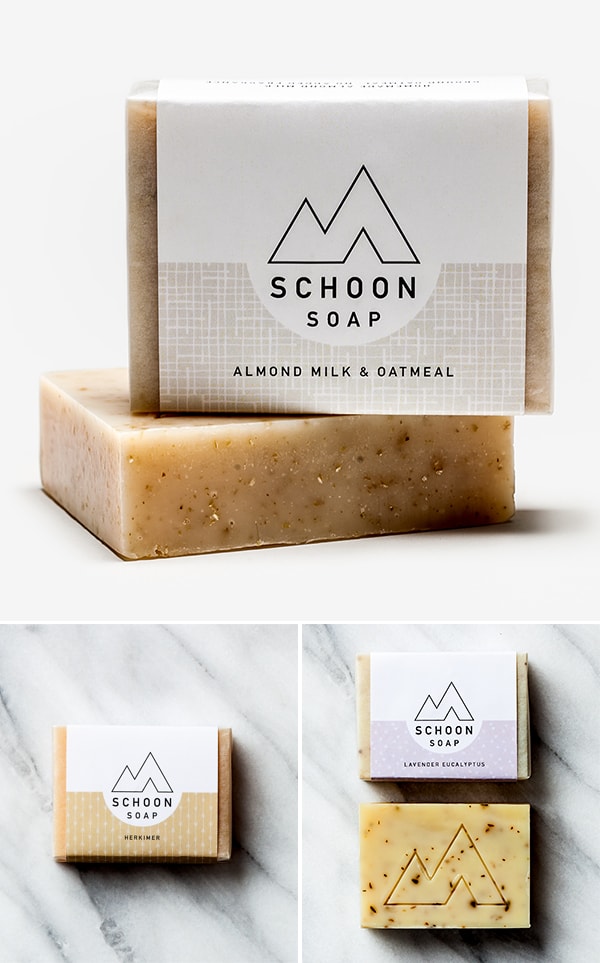 I'm SO happy and excited to announce the official launch of Schoon Soap! For the past few months, I've been working on designing the branding and packaging for an amazing new line of vegan soaps. (It's been hard to keep my mouth shut about this project, believe me!)
Stephanie Klose has been making soap since 2005, but it wasn't until this year that she decided to fully immerse herself (literally and figuratively) in the business of creating the perfect lather. After a lot of experimentation, she's come up with a initial line of 12 varieties of soaps, including fragrance-free and fragrance-ful options. Schoon means "clean" in Dutch, and the name pays homage to the Dutch heritage of the New York regions both Stephanie and I have called home: Brooklyn and the Hudson Valley, the latter of which was also my inspiration for the mountain-y logo.
One of the best things about working on the packaging for these soaps is that in order to fully appreciate their characteristics, I (naturally) had to use them. I'm usually a no-frills, unscented, liquid castile soap kind of gal when it comes to shower time, so making the switch to these truly luxurious bars was a pretty big upgrade for me. The first soap I tried was Bay Rum & Vetiver, which passed my smell test immediately: warm, earthy, spicy. The coconut oil and shea butter base felt so great on my usually dry skin, and I had no irritation at all from the essential oils used to give it its wonderful fragrance.
Most recently, I've been using the Pure/Unscented bar, which still feels fancy and luxurious even though it's fragrance-free! Great news for anyone who can't tolerate any kind of perfume. ALL of the varieties are free from any synthetic fragrances, parabens, or preservatives, and the entire line is totally vegan. (And they're all made by hand right here in Brooklyn!)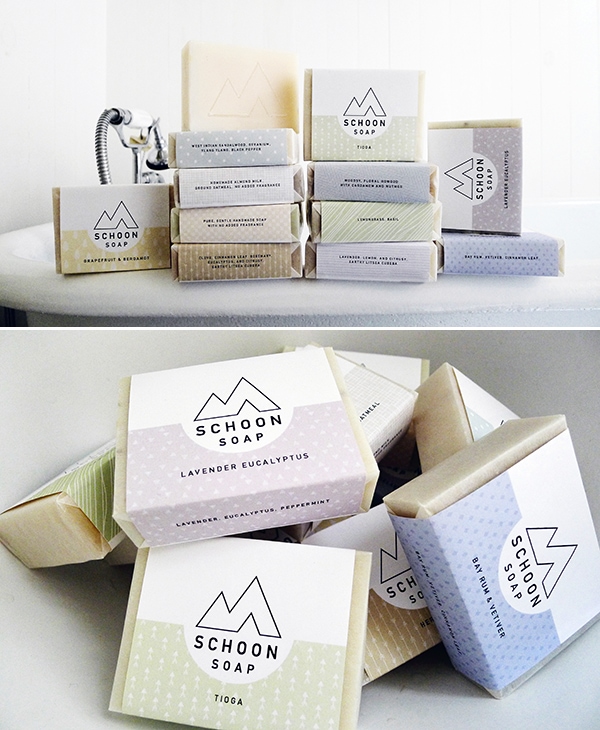 I realize I'm totally biased in saying this, but they also look great in my bathroom—wrapped and unwrapped. Each soap wrapper has its own unique pattern and color, so they feel really special and personal. That was the most important thing to me in designing the packaging—I didn't want the individual varieties to blend into one another visually (though they do also look nice together in a group!). The coolest part of the project? Seeing the logo I designed for Stephanie embossed into a finished bar. So satisfying.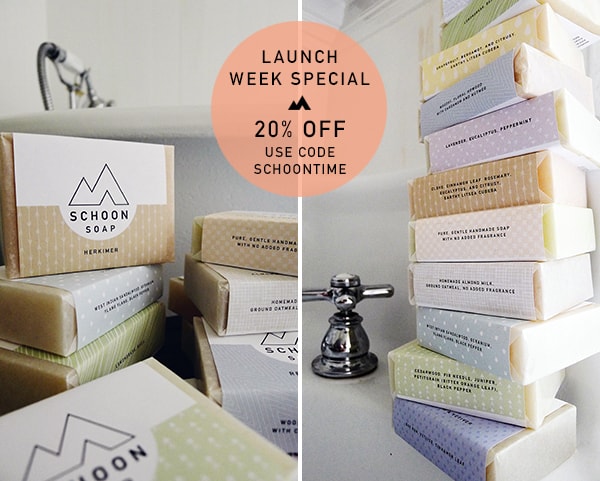 To celebrate the launch of Schoon Soap, Stephanie and her husband, Rob (who handles the customer service side of things), are offering a 20% discount on all of their soaps until October 6th! Just use the code SCHOONTIME during checkout at Etsy.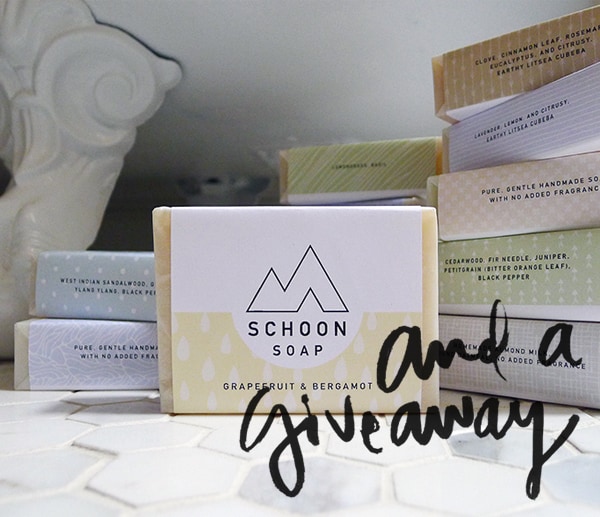 And just for extra fun, let's do a Schoon Soap giveaway! There will be THREE winners drawn at random, and each winner will receive any three bars of their choosing from Schoon Soap. Yay! International entries are welcome. Deadline for entries is 11PM EST on October 12th.
THIS GIVEAWAY IS NOW CLOSED. I'll announce the winners here and on Twitter tomorrow. The winners will also be notified by email. Thanks to everyone who entered!
Here's how to enter:
✚ Visit the Schoon Soap website.
✚ Check out the soaps!
✚ Leave a comment below letting us know which three varieties sound the most wonderful to you.
✚ That's it! Thanks for entering. ♥
Congratulations on the launch of Schoon Soap, Stephanie and Rob! It was an honor to work with you.