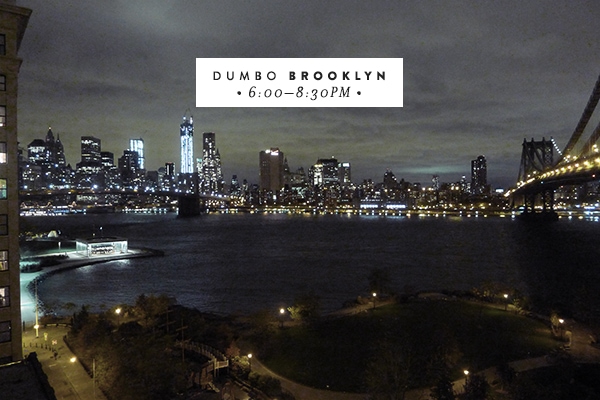 I'm exhausted, so this update will be brief! So…Sandy came. I took photos on the roof deck of my apartment every couple of hours (I stopped going out there when it got windy—I was never in any danger), so you can see the progression of the water level in DUMBO between 6:00–8:30PM. Pretty much everything from the park to Front Street wound up getting flooded.
We did lose power and wound up having to evacuate at around 9PM. An electrical fire started in building across the street from us, and the fire department was unable to put it out. Because they were concerned the same thing would happen in our building, they asked us to leave right away. The lobby and lower level of the building were totally flooded when we left—no idea what the status is now.
Fortunately my brother lives a couple of miles away in Cobble Hill, which is at a higher elevation. The walk there was pretty harrowing—the wind was insane, there were trees and debris everywhere and we were each carrying a (tiny, scared) dog. By the time we reached Montague Street, we had to stop. My brother came and retrieved us in his car! Luckily no one stopped him—no cars were supposed to be on the street.
So we're OK. We have no idea when we can get back into our apartment, no idea when the subways will be running…no idea about anything. But we're OK, and so are our friends and family. There are an awful lot of people who aren't OK, though—and right now that's who I'm worried about.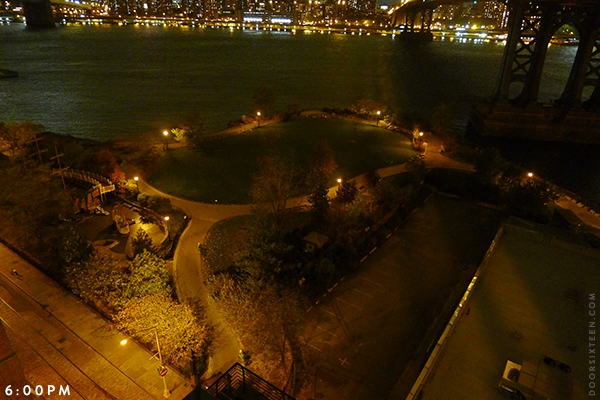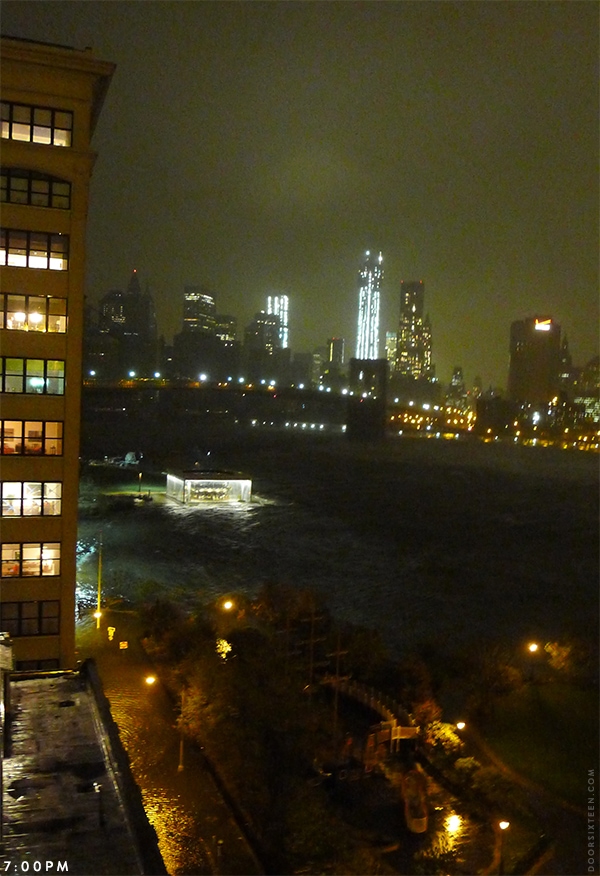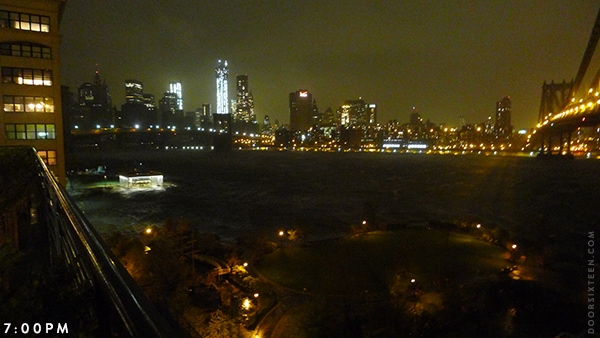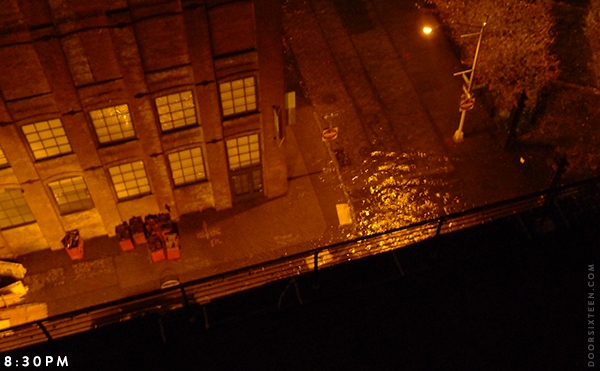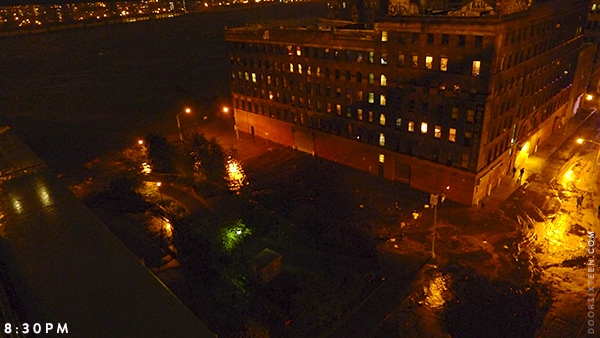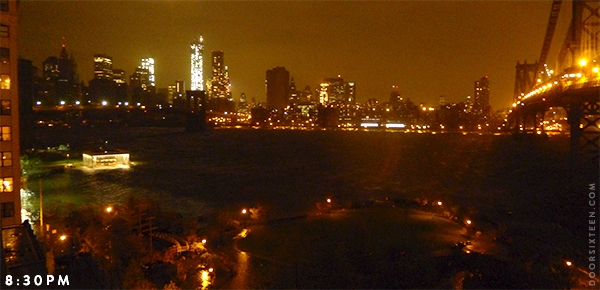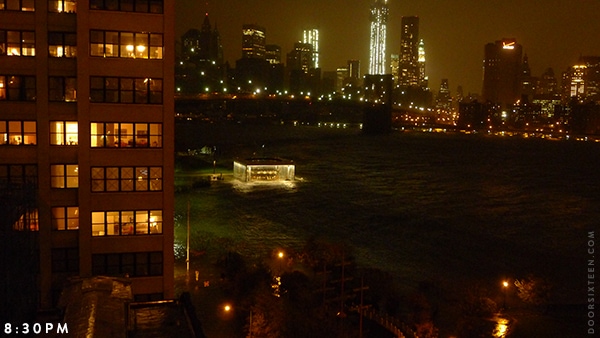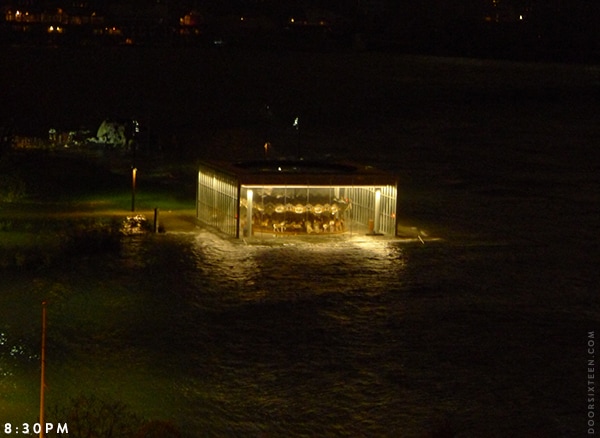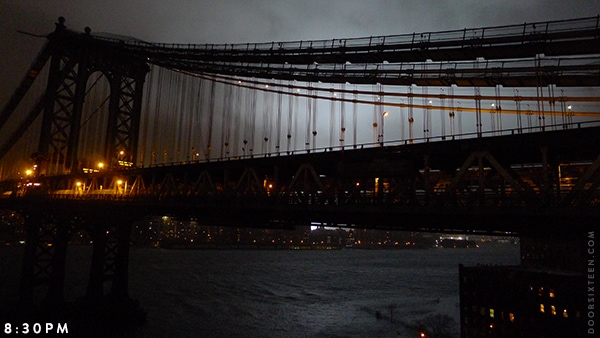 The photo above was taken during the explosion at the ConEd power plant in lower Manhattan. The light in the sky was crazy. I hustled back inside after that!
I Instagrammed the photos below last night, and the first two kind of became a "viral sensation," which was weird. They were picked up by just about every news website (hey, I got published on the New York Times front page, haha), every TV network, and every everything everywhere, all over the world. I got an interview request from Romanian Public Radio this morning. Crazy. Anyway, if you wound up here because of one of those pictures, I assure you that they are real and that they were taken from the roof deck of my apartment building, which is located directly under the Manhattan Bridge right next to Brooklyn Bridge Park. I was outside of "Zone A," the area that was under mandatory evacuation prior to the storm.
The very last photo here is the street outside my building as we were evacuating. Lots of water, but it could have been so much worse. Grateful.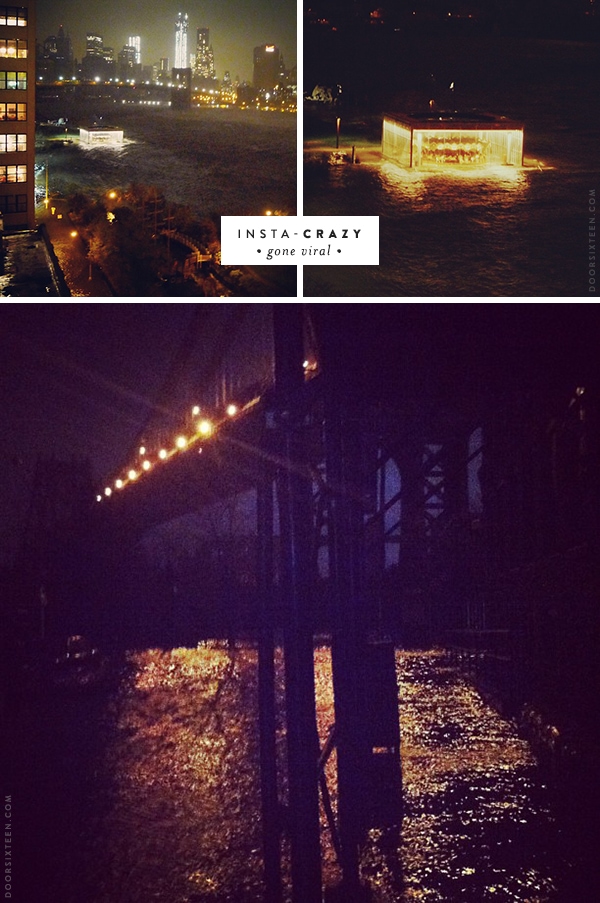 ✚ If you would like to use any of the photos in this post for any reason, please email me at anna@doorsixteen.com to let me know. Credit line must read © Anna Dorfman and link back to this post. I am happy to provide higher-resolution images, but bear in mind that they are grainy—these were taken with a hand-held point-and-shoot (and an iPhone) in the dark on a windy roof. Thanks!
SEE ALSO:
✚ Waiting for Sandy (Sunday mid-afternoon)
✚ Still Waiting (Monday, early afternoon)