Last night I was sorting through one of the many "miscellaneous" folders on my hard drive (all of which are named with various numbers and shoved inside of another folder called "MAIN MISC" so as to create the illusion of being organized—I hate a messy desktop, but I'm a digital pack-rat) and I came across a folder called "jewelry 2." Looking through the pictures inside, I realized they were supposed to have been used for a blog post about jewelry—Part Two in a series. You know when Part One was posted? April 2011. Sigh. I suck.
Happily, though, all of the jewelry designers I originally had in my post are still open for business! So I put together a new post with all of my favorites among their current work, plus a couple of shops I've discovered more recently.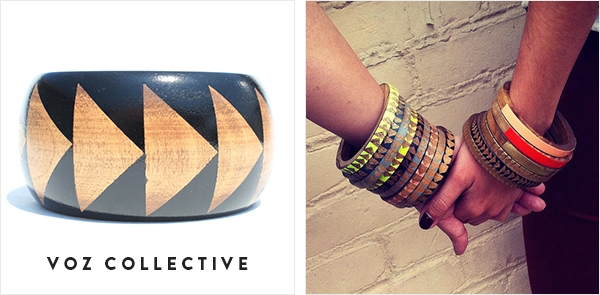 Voz Collective
✚ Black Stained Wood Bangle
✚ Custom Set of Skinny Bangles
Vox Collective is one of those more recent discoveries. I first saw their wooden bangle bracelets when Lisa was visiting and wore one with neon pink (of course!) triangles. I still have a hard time wearing bracelets because I work at a computer all day and I can't stand hearing them clunk on the desk, but I'm smitten with these. I especially like the way the skinny ones look in multiples.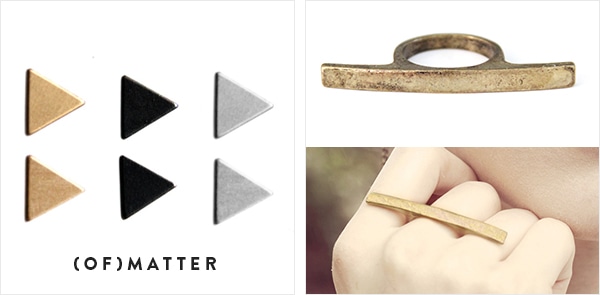 (of)matter
✚ Simple Triangle Studs
✚ Brass Bar Ring
(of)matter were featured in Part One, and I'm still a fan. I just ordered a couple of sets of the triangle studs in black and brass. Perfect for me, yes?! I have a million (OK, ten) piercing holes in my ears, but I haven't worn anything in eight of those holes for years. I want to wear a bunch of tiny triangles at once!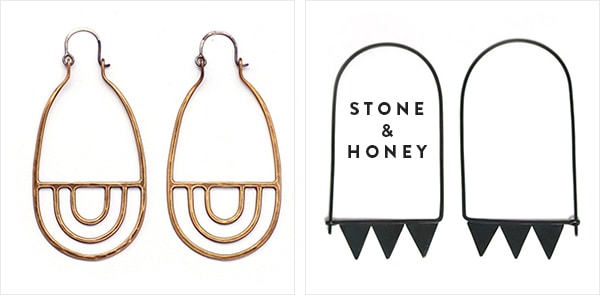 Stone & Honey
✚ Arcos Earrings
✚ Cannon Earrings
I follow Teresa from Stone & Honey on Instagram, and she shares lots of snapshots of her work in progress. Seeing how much tedious manual labor and skill goes into creating her jewelry is inspiring. I have a couple of her tiny triangle rings, and I think those black triangle earrings are next on my wish list…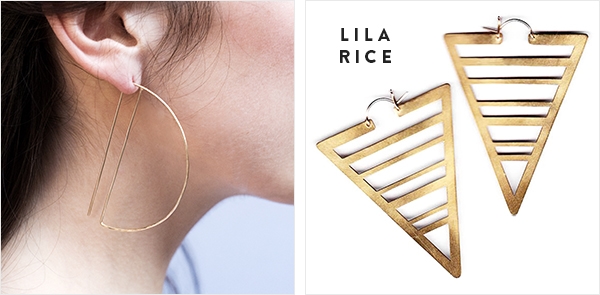 Lila Rice
✚ Deco Hoops
✚ Pyramid Hoops
I only own four pairs of earrings (excluding the triangle studs I just ordered!), and three of them are from Lila Rice. My latest acquisition are the Deco Hoops above, which were a gift from Evan for my birthday. Lila's work is incredible—large and striking and dramatic, but lightweight and comfortable to wear. I also love that she only uses gold-fill posts/hooks, since that seems to be the only metal composition that doesn't cause an allergic reaction on me.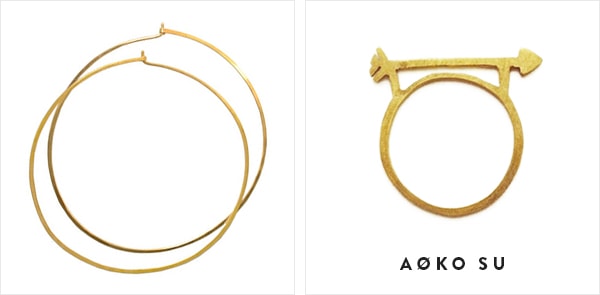 Aoko Su
✚ Hammered Gold Hoops
✚ Arrow Ring
I discovered designer Ashley Jerman's shop Aøko Su when I saw her Bauhaus earrings in New York magazine a few months ago. I love that her jewelry looks a little rough around the edges—the imperfections show the process. Whenever I get around to buying a pair of plain gold hoops, these are the ones I want. (Gold-fill, yay!)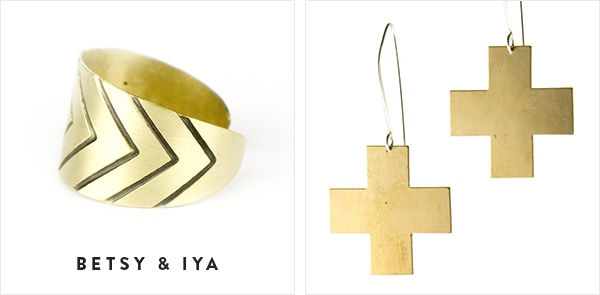 Betsy & Iya
✚ Redundant Chevron Ring
✚ Addition Mission Earrings
I had a STOP THE PRESSES! moment when I saw Betsy & Iya's Addition Mission earrings in Jen's Holiday Faves list yesterday. SO GOOD. They're Anna-earrings! I'm sure I'll be allergic to the silver ear wires, but I think I have to get them anyway. I can add my own gold-fill wires. Worth it.
Speaking of metal allergies: To those of you who suffer the same sensitivity to non-gold metals, how do you deal with earrings? The "coat it with clear nail polish" trick doesn't seem to work for me. I know these plastic covers exist for posts, but what about hooks and wires?