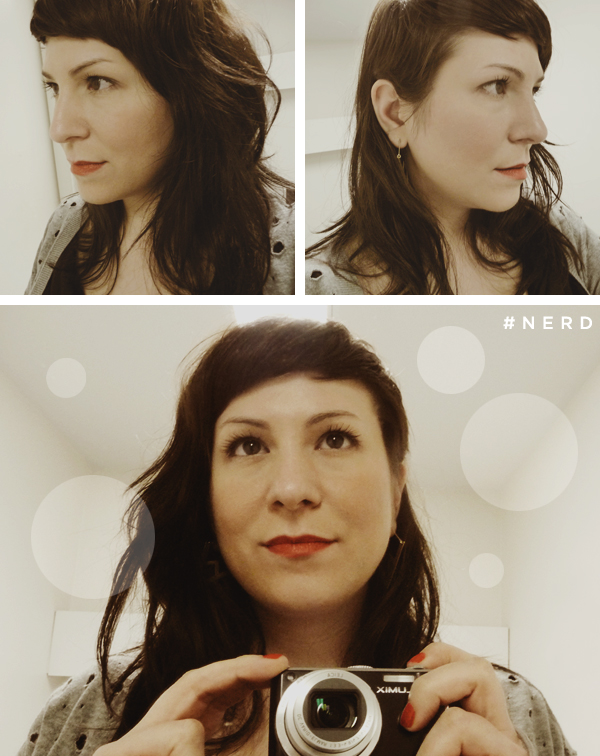 Okay, first of all, someone really needs to offer a course in "how to not look like a complete loser while taking photos of yourself for your blog in the office bathroom". I will sign up immediately and I will study hard, I promise. Seriously, I don't know what's wrong with me—the second I turn the camera on myself, I forget how how my face works and I start doing some weird smirky half-smile and looking off into the distance or up at the ceiling. And of course I'm doing this really quickly so nobody walks into the bathroom while I'm taking pictures of myself. (Can you imagine? But the lighting is so flattering in there.) Ugh. Anyway. Sorry.
So! I got this great haircut last week, and I'm pretty excited about it. It'd been almost a full year since my last haircut (I can't believe that post is from a year ago…woah), and after three stylists in a row split town on me, I was holding out until I found just the right new person to supernaturally change me. I got a recommendation by way of my friend Laurel in Austin, who has a friend in NYC with great haircuts. Sometimes these roundabout references are the best kind, and that was the case this time! Reviews on Yelp confirmed the recommendation, and I booked an appointment.
My fabulous new stylist is Mariko at Dlala Salon on the Lower East Side. Mariko spent a lot of time with me before she started cutting, talking about how I imagine my hair looking (rad!), whether it matters what my hair looks like for work (nope!), and how much time I spend styling my hair in the mornings (not much!). Before she even stuck my head under the faucet, she'd made sure she had a really clear idea of what I wanted, and told me what she thought would look best on me while keeping my vision in mind.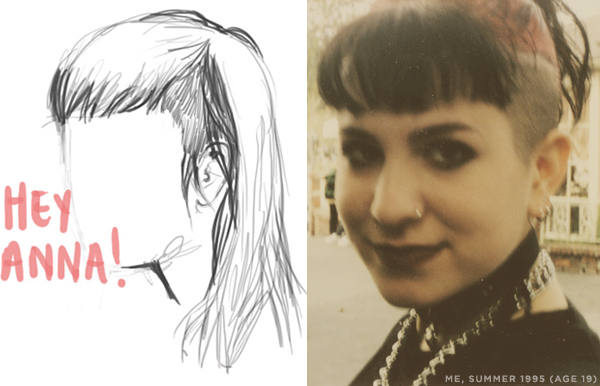 These are the two images I had in mind most when I walked into the salon. The one on the left was drawn by the wonderful illustrator Paule Trudel Bellemare (she did that great drawing of Fritz, remember?), and the one on the right is me…16 years ago. While I wasn't looking for something quite so extreme as what 19-year-old me was sporting at Disneyland that summer, I did want to keep the spirit of that haircut in mind. Paule's illustration came much closer to what I was hoping for.
(Funny to read this post now! I really have no new ideas, do I? I might as well be a teenager again.)
Mariko thought it would be better to make the short part of my hair a bit more subtle, and I think she was right. At first glance, it's easy to miss that my hair is very short on one side—it almost looks like it's just tucked behind my ear! I love that. She also managed to cut my bangs exactly the way I've always wanted (but no other stylist has ever really understood), and she cut the perfect amount of layers into my long hair so that it dries with soft, easy waves with almost no effort.
This cut really feels like me. Next time I might go even shorter on the short side! I'm still getting used to being totally exposed on one side of my face since I'm so accustomed to hiding behind my hair (I never wear my hair back in public), but I'll get there. I'm grateful to Mariko for being so patient with me and really listening to what I wanted. I'm definitely going back—I just hope she doesn't wind up moving away like everyone else who's cut my hair!