I had grand visions for my end-of-year vacation: I was going to catch up on emails, clean the house from top to bottom, watch movies, spend time with Evan and the dogs, and, of course, work on the kitchen renovation. It didn't really work out that way, though. My flu morphed into bronchitis, and I've basically spent the past two weeks being a hermit and coughing. And coughing. And coughing some more. In between coughs, though, I've been tiling! Having something to focus on actually helped me to not cough so much (seriously!), and it also kept me from feeling like my vacation was a total waste.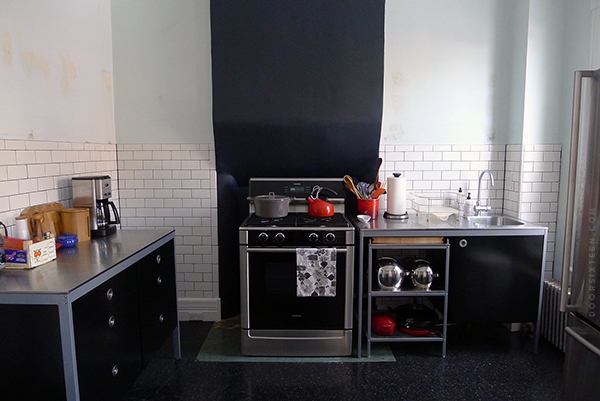 Not bad, yeah? I'm in love with the tile. I know there are people out there who don't like black grout because it "looks moldy," but I love how utilitarian and, well, subway-like it looks. It's also in keeping with the general spirit of a Victorian kitchen. And how about that black hearth?! I don't know why I didn't do that years ago. It really turns what has been a difficult architectural feature to work around into something that looks intentional and feels like an important part of the room.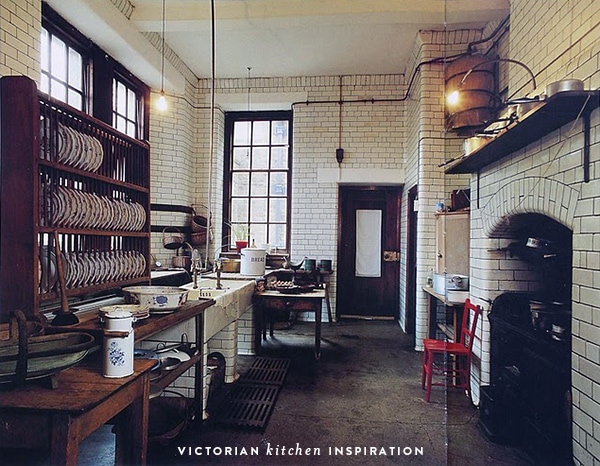 Photo via Kitchen Clarity
This is the photo I always come back to when I think about the kind of renovation work I'm doing. Obviously I'm going for something quite a bit more contemporary, but the key elements—the hearth, the open shelving, the tile work, the free-standing furniture and cabinetry, the colors—are all there. I'm very conscious of the age of my house, and of the fact that I'm not going to be its last resident. My house will outlive me, and while I am by no means a purist when it comes this stuff, I do like to think forward. That's why I'm tiling all the way down to the baseboard moldings instead of just doing the backsplash area, for example—it's about the past and the future as much as it is the present.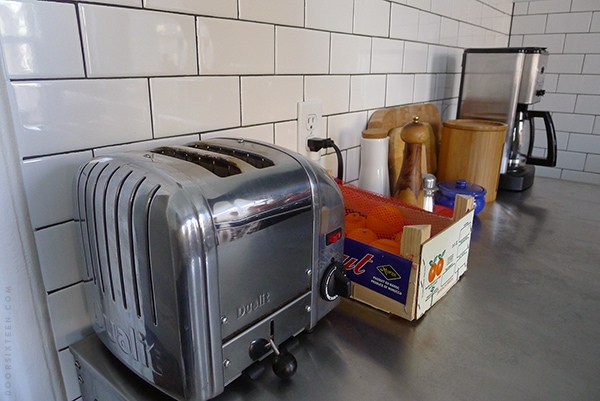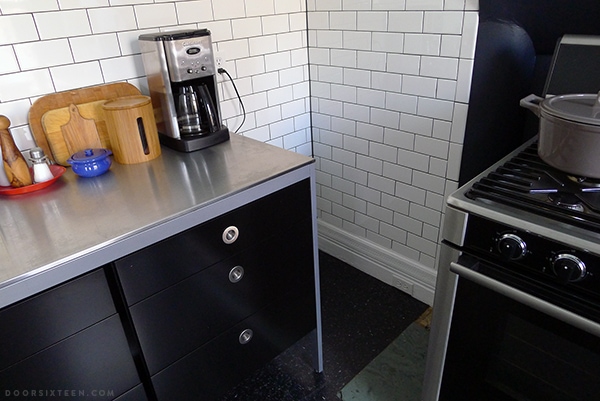 This weird corner space to the left of the stove has never felt right. I'm going to mount a length of butcherblock counter to fit perfectly there, and underneath will be a built-in dog bed! Bruno usually "sleeps" (that is, he rests with his eyes half-closed while staying just alert enough to scarf down any food items that might fall to the floor) under the counter while I cook, and I think he'll really appreciate having a warmer, comfier spot to hang out in.
Here's a tip if you want a nice, crisp caulk line in your corners: PAINTER'S TAPE. It works really well. Just make sure you pull it off immediately after running/smoothing your caulk bead—don't let the caulk dry first.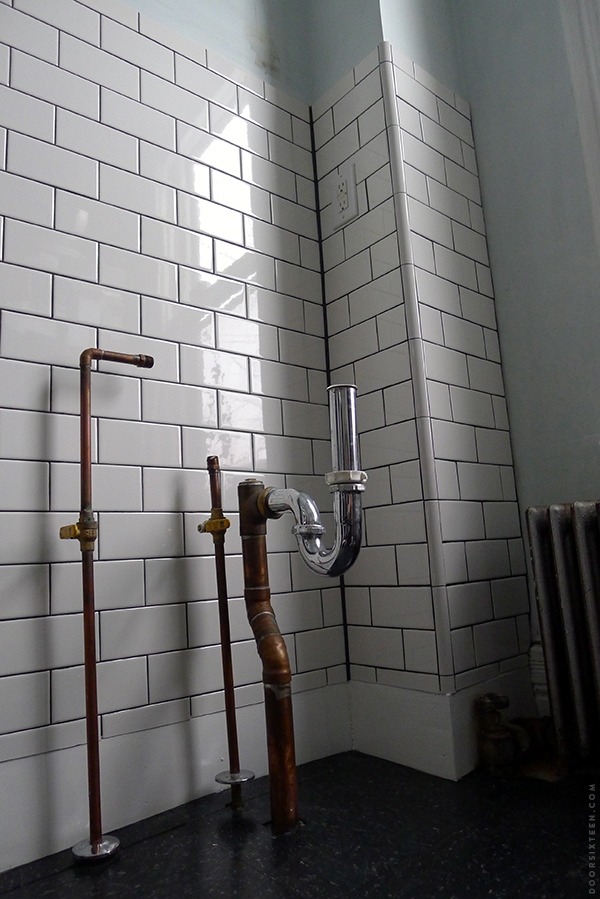 I had to take a full-length beauty shot of this corner before we reconnected the sink and covered it all up. Tiling this area took two full days, nine hours of which I spent on that outside corner alone. Since we're using cheap, off-the-shelf tiles, there aren't a lot of options in terms of curved tiles and stuff like that, so I had to get creative with trim pieces. I'm really pleased with how it's looking! I know the details will get lost once the shelving is up and the kitchen is fully stocked and operational, but for now, I'm obsessed with this corner.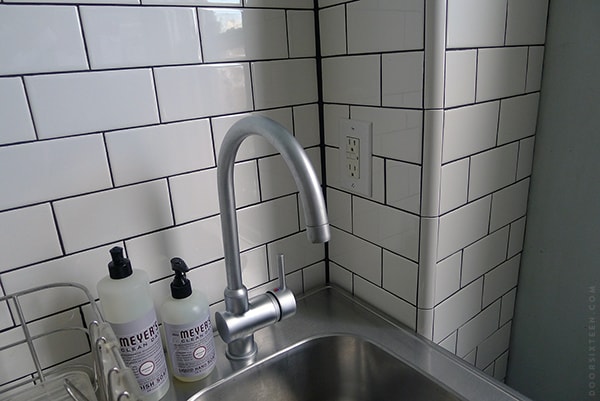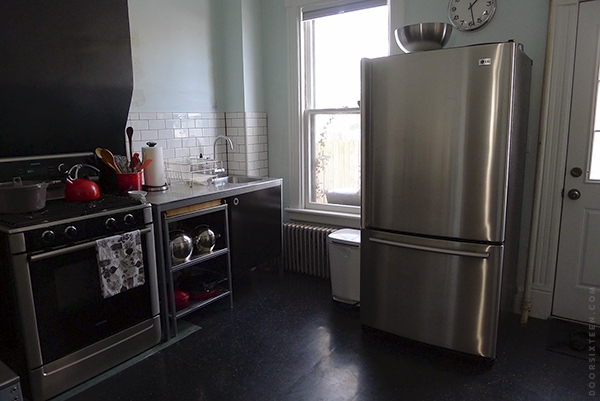 Ugh, the refrigerator is such a behemoth. I really want to get that cute little black Smeg. A smaller fridge could be moved to the wall opposite the stove, making room for the "island" to actually become a true ISLAND. The refrigerator we have is quite nice looking, but it's really too big for the space. It's the kind of thing that would look much better in a row of cabinets instead of just floating in the middle of the room.
Our dishes, tools and tiling supplies are hanging out over here for now. Once we put shelving up this stuff can all be put away, and all of the food that's currently living on the dining room floor can go in the pantry. I'm trying very hard to keep the kitchen as functional as possible while this renovation is going on. At least we were able to reconnect the sink yesterday! I'm not sure how much longer I could handle washing dishes in the bathtub. Every time I took a shower I thought about that episode of Seinfeld where Kramer installs a garbage disposal in his bathtub. Gross!
The back wall and the areas behind the radiators still need to be tiled, but that will have to wait until spring. The radiators are a mess, and we need to have them disconnected and capped before we can do anything. I'm not sure what we're going to do heating-wise in the kitchen. The radiators are both really badly rusted, the legs are weirdly short and impossible to clean under, one of them doesn't work at all, and they're just not nice enough to warrant spending hundreds of dollars having them sandblasted, repaired and powder-coated. I'm guessing they're only about 50 years old since they don't have any of the ornamentation of the other cast iron steam radiators in our house. I was hoping we could install Runtal wall panels instead, but they only work with return-pipe systems—we have single-pipe steam heat. Sadface. I dunno. Maybe wall-mounted steam radiators? All I know is that it's FREEZING in the kitchen, and the current heating situation isn't working out.
Want to see some progress shots? I'm terrible about stopping to take photos while I'm wrist-deep in grout, but I did take a bunch of Tilestagrams! Here are eight days of tiling condensed into a dozen snapshots. Yay! Tile!