I painted the kitchen this weekend, and yes, I got just as bold and crazy with my color choice as you'd expect: GRAY. Valspar's Filtered Shade, to be specific, in a matte finish. I had almost a whole gallon of it in the basement left over from when I painted the inside of a closet four years ago, so I figured why not give it a shot? The weather was cruddy and I have a sinus infection, so doing something indoors that required very little brain activity was about as much as I could handle.
At first I painted a square on the wall and thought it was too dark, but you really can't tell from a swatch or a chip, you know? So I just went ahead and painted everything.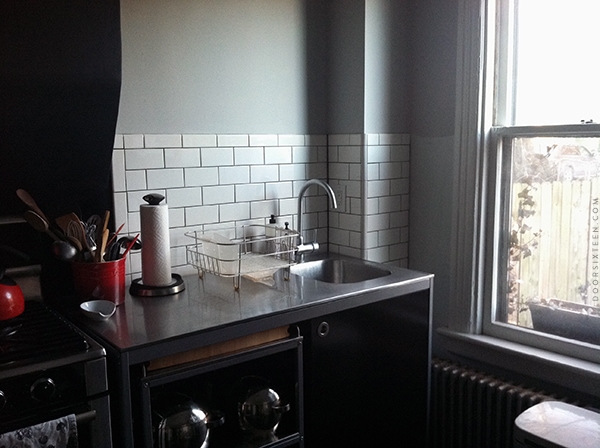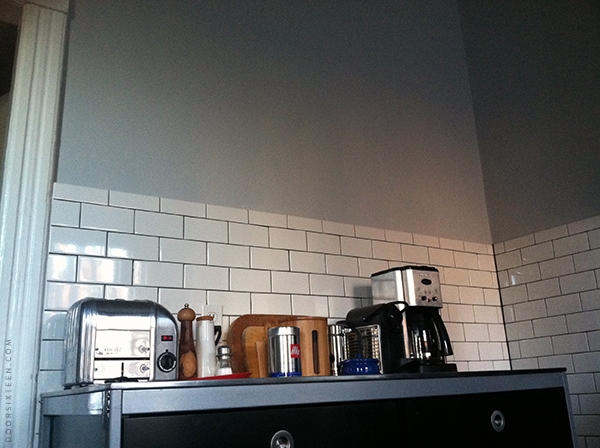 It doesn't look as dreary in person as it does in these photos, I promise (not that there's anything wrong with dreary). There was so little daylight left and I'd left my real camera in the city by accident, so these are just bad iPhone photos.
I'm really happy with the levels of contrast between the white, gray and black. It just all feels right. Filtered Shade has a bit of blue in it that really complements the inky-blue-black hearth (Benjamin Moore's Soot) nicely. It also picks up on the color of the stainless steel counters.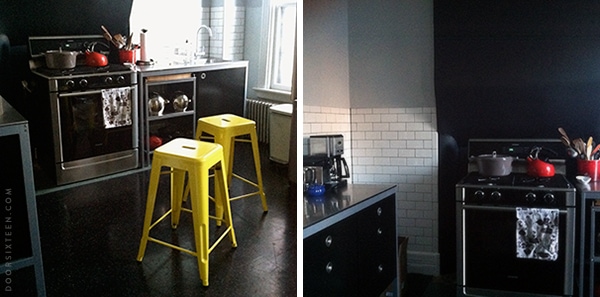 My bright yellow Marais stools from Industry West arrived, too! They look super cute in the kitchen…so bright and happy. I refuse to say "pop of color," but they really are zingy. It's pretty cool to see my whole kitchen plan coming together a little bit at a time. I'm already at the two month mark (or the seven year mark, depending on how you count) with this kitchen renovation, so every little bit of progress feels good.