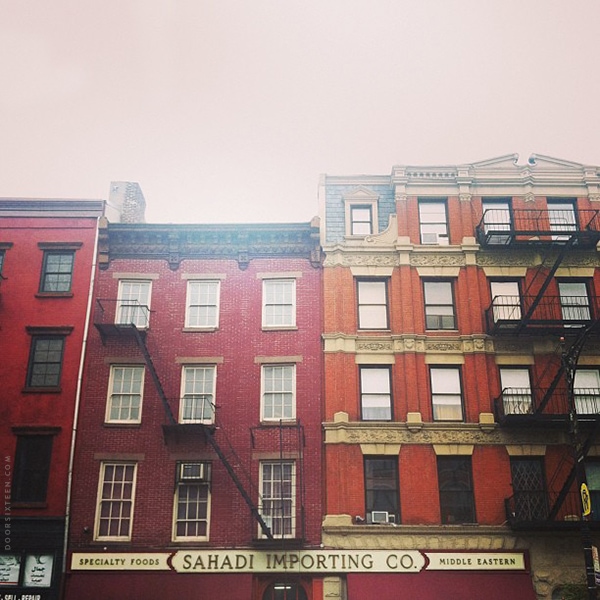 Just about a year ago, Evan and I rented an apartment in DUMBO. It was the first time we'd lived in Brooklyn since we relocated to upstate New York nine years ago, and it felt so good to be back. I love Brooklyn. My first post-college apartment was in Cobble Hill, and South Brooklyn pretty much immediately felt like home to me. We did stints in Carroll Gardens and Red Hook, too, back when there wasn't a Fairway or an IKEA (or much of anything in the way of conveniences, really!). And then we left, and I spent a bunch of years missing Brooklyn.
So, DUMBO. When we rented our little place there last year, it was kind of an experiment. Evan works in the neighborhood, and what could be better than having a commute that amounts to little more than walking across the street? As I've mentioned way too many times, I was never really sold on the idea of moving into a gut-renovated, brand new apartment, and no matter what I do with the place, it just doesn't feel like our home. Now, we are extremely fortunate to also have a wonderful old house that feels more like our home than anywhere I've ever lived, so I know it's a little silly to care so much about the apartment, too, but…
OK, let's cut to the chase: We're moving. To Cobble Hill. Yes, right back where I lived when Evan and first met, my favorite neighborhood in Brooklyn.
We hadn't really been planning on moving, but right after our current lease came up for renewal, my brother and his wife bought an apartment…and, as a result, decided on a date to end the lease on the Cobble Hill rental apartment they've been living in for years. Guess what? That date just so happened to be exactly the same as the end of our lease! I know there's no such thing as "fate," but that's a pretty happy coincidence. My brother's apartment is in a great location, it's at least double the size of our current place (!!), the landlord is friendly and kind, and it's a lot cheaper, too. Cheaper is good. It's also on high enough ground that it won't flood during the next hurricane—in fact, it's where we evacuated to when Sandy struck.
And did I mention how much I love Cobble Hill?
The apartment itself is a 4th-floor walkup in a converted attic, so the bottom half of it (meaning from mid-wall to the floor) is original to the building (which I'd guess was probably built around 1880-1890ish), and the top half is an addition that was put on to make the ceiling higher. I'm not sure what year the addition was put on, but it's got to be at least 30 or 40 years old. The kitchen is new-ish, the bathroom is old-ish, and absolutely nothing is my style. Hah! That's OK, though, because all of it has potential. I like potential. I like a challenge. I have a vision. I can see right past that tan bathtub and those unpainted moldings. Just you wait. This is a place I can see Evan and I holding onto for years.
The move is probably happening in mid-February, and I'm really excited. I've been dreaming about paint colors and sofas (we're finally going to have room for something bigger than a loveseat!) and light fixtures and floor tiles. It's going to be so good!!