It's been a while since I wrote about my daily cosmetics routine, and now that I have my skin under control (or at least as much as it's ever going to be), I feel like it's much less of a struggle to figure out what products I like and what I don't. I doubt I'll ever be the kind of person who goes out bare-faced (I don't even stay in bare-faced), but I also don't like to look really made-up…at least not when it comes to my skin. I save the color/drama for my eyes and lips, and I'll get into those products in another post. This is really just about what works to make my overall complexion look a little brighter and fresher.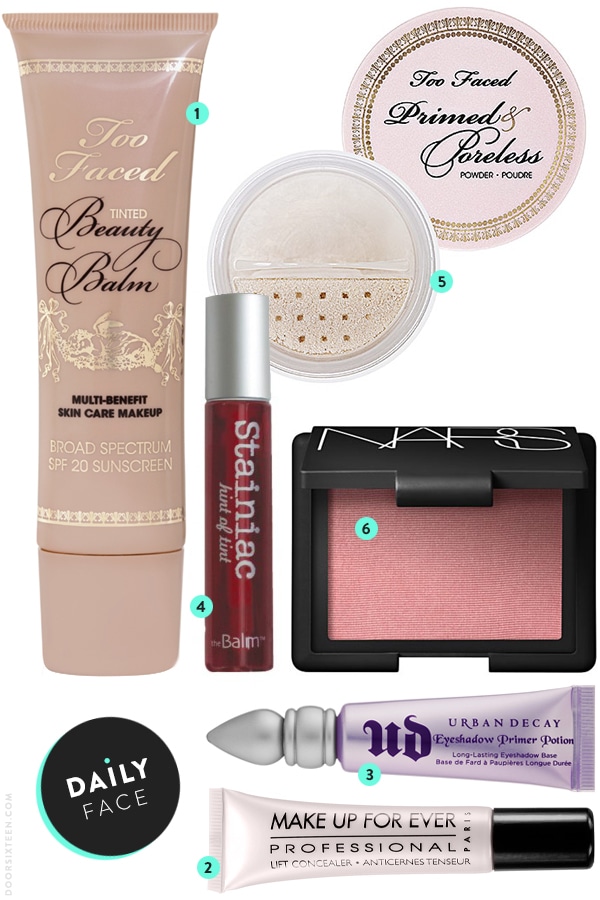 Presented in order of application…
1. Too Faced / Tinted Beauty Balm (Vanilla Glow)
Judging by the reviews I've read, this is one of those products that people either love or hate, and I think it all comes down to expectation. Here's what it's not: A true beauty balm or a foundation. Here's what it is: A very sheer tinted moisturizer containing broad-spectrum SPF and miniscule light-reflecting particles. If you want a full-coverage foundation, this is not the product for you. I used Laura Mercier's Tinted Moisturizer for years, and while I still think it's a great product, I found myself wanting something even lighter weight. This Too Faced cream is perfect. It evens out my complexion while still letting my skin show, and the color it provides is very forgiving. My skin tone is very difficult to match, but this goes on imperceptibly. I apply it with my fingers.
2. Make Up For Ever / Lift Concealer (Pink Beige 1)
I recently ran out of my holy grail undereye concealer, Bobbi Brown's Creamy Concealer Kit (which I previously reviewed at length), and since I've been making an effort to use up leftover products I already own before buying anything new, I pulled out this tube of MUFE concealer to give it a go. I can't remember why I'd rejected it initially, but now I love it. The key is to pat it on under your eyes very lightly with your ring finger — I find that works much better than using a brush, which tends to move the product around too much. I also use it to cover up any minor blemishes and dark areas around my nose.
3. Urban Decay / Eyeshadow Primer Potion (Original)
Yeah, everyone uses this stuff, including me. It's great. I've always had a problem with eyeshadow sliding around and creasing in the past, and this primer does an excellent job of keeping lid oils at bay and helping my eye makeup stay put all day long. I can't put it under my lower lash line so I still get some little smudges there from my mascara, but that's really not a huge deal. I highly recommend this stuff if you have problems with your eye makeup wearing off or looking cruddy after a few hours!
4. the Balm Stainiac / Tinted Gel Blush (Prom Queen)
I bought this with the intention of using it as a lip stain, but the color didn't work well for me. Rather than toss it I tried dabbing a bit on the apples of my cheeks. Perfect! It doesn't give a deep stain or anything, just a little bit of a flush. I like to layer a light stain under my powder blush — that helps the pinkyness last all day.
5. Too Faced / Primed & Poreless Powder (Translucent)
This is the best face powder I've ever tried! I has NO color whatsoever and provides no coverage, but it does an amaaaaaaazing job of keeping other makeup in place and of stopping any oiliness without drying out my skin or accentuating tiny flakes. I use a small brush to apply it in under my eyes (no creasing or crepe-y skin!) and around my nose, and a big fluffy brush to dust it lightly all over my face. The package says you can also use it under your makeup as a primer, but I've never tried that. I find that a very light layer on top of everything is enough, and I don't have to touch it up unless I'm going out at night. The finish is silky-smooth and very, very natural-looking.
6. NARS / Blush (Deep Throat)
Oh, NARS and your stupid color names…sigh. I used Orgasm for years, but switched to Deep Throat on a whim last time I needed a refill. It's very similar, but with less sparkle and a tone that leans just slightly more pink than coral. NARS blushes are all very highly-pigmented and long-lasting, so you do need to use a light hand. I lightly swipe my blush brush in the pan, tap off the excess on my back of my hand, and ever so gently stipple it onto my cheeks. Very natural, very pretty.
Does that sound like a lot of stuff? I guess it does, but it doesn't seem like it when I'm putting it all on! After all of this comes eye makeup and lips, so there's still more to come. Stay tuned!