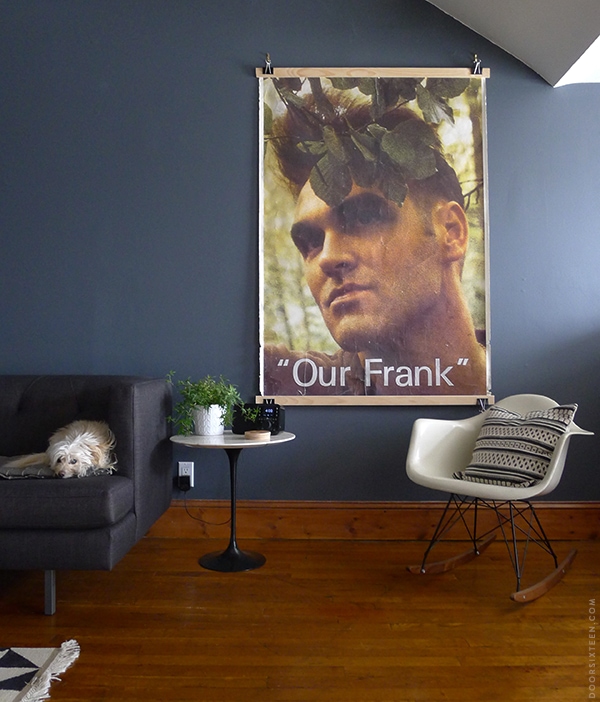 For the past 22 years, I've been dragging this giant Morrissey poster around with me everywhere I've lived — and I've lived in a lot of places. It's done a few stints rolled up in a closet (not for any loss of love for Morrissey, mind you), but it always winds up back on the wall again. One of the first things I thought about when we rented the new apartment was, "Where is Morrissey's head going to go?"
I've never had it in a frame, and the damage it's incurred as a result is really starting to show. When you're 15 years old and sticking up a Morrissey poster with Fun-Tak and pushpins and taping the back when it inevitably falls a million times, you're not thinking about someday being 37 years old and still having that same poster on your wall. At some point I made the switch from tape and tacks to Jørgen Møller's Posterhanger, which did work well for a few years. It's a good design, but I think this post is just too big and heavy — it's about 4×5′, which is pretty darned large and unwieldy. Morrissey started falling again, so I rolled him up and vowed to be a REAL GROWN UP and get him framed properly once and for all.
There's a very well-rated frame store right near the apartment, so one evening Evan and I popped in to get a quote. I had braced myself for it to be around $600, thinking that if I prepared for the worst I'd be pleasantly surprised when the quote came in lower.
Well, the quote did not come in lower. For the most basic framing option in the simplest frame, the quote was — wait for it — $1300. Yes. I guess I've been spoiled by years of cramming stuff into cheap RIBBA frames from IKEA, but I was totally caught off guard. I glazed over immediately and tried to politely listen to the rest of the spiel from the framer before I apologized for wasting her time and left. The other thing I learned was because my reckless teenage self fixed the poster's tears by putting tape all over the back, it's not a candidate for reinforcement options like dry-mounting or linen backings. Boooooooo.
At that point, I figured I had four options: (1) Learn how to frame stuff, buy the necessary tools and materials, and frame it myself; (2) Become really good friends with someone who owns a framing shop and then put them in a horrible position where they owe me a huge favor; (3) Order a cheap framing kit online that I'll never really be happy with; or (4) Slap something together with spare parts and call it a day. I chose option #4.
So here you have it! A couple of lattice strips cut to size, two thumbtacks (inserted through the back of the poster and into the lattice — one at the center top, and one at the bottom) and four binder clips. Done! No, it's not fancy, and yes, someday I'd still like to have the poster framed by a skilled framing professional who knows what they're doing, but for now this is totally fine. It's not going to fall, rip or sag, and that's all I really care about.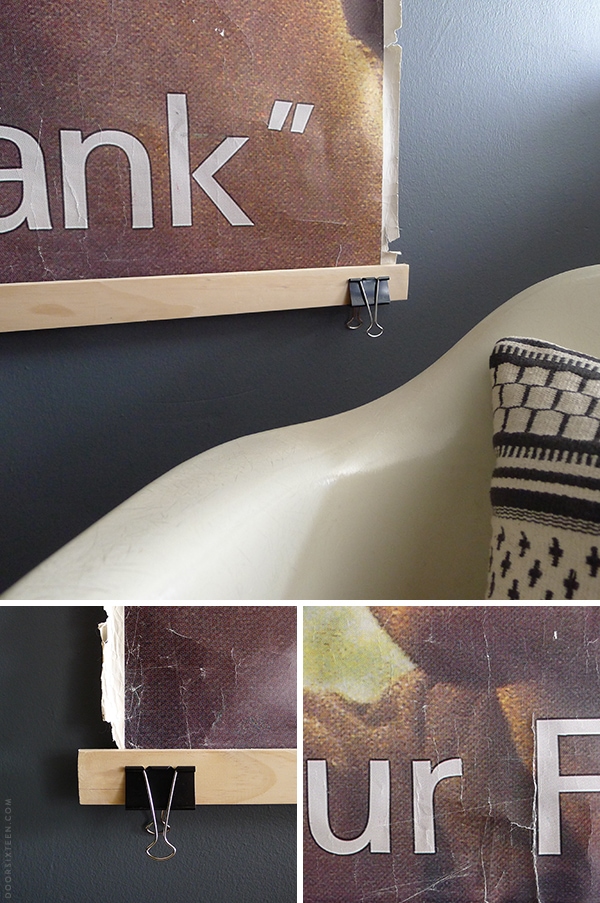 Side bonus! Here's a quick review of me and "Our Frank" over the years. I wish I had more pictures of my bedrooms in the '90s, but such are the realities of life before digital cameras and iPhones. Despite the passing of years, my love for Morrissey remains as strong as the cut of his 30″ jawline. (He's even in my bio now!)