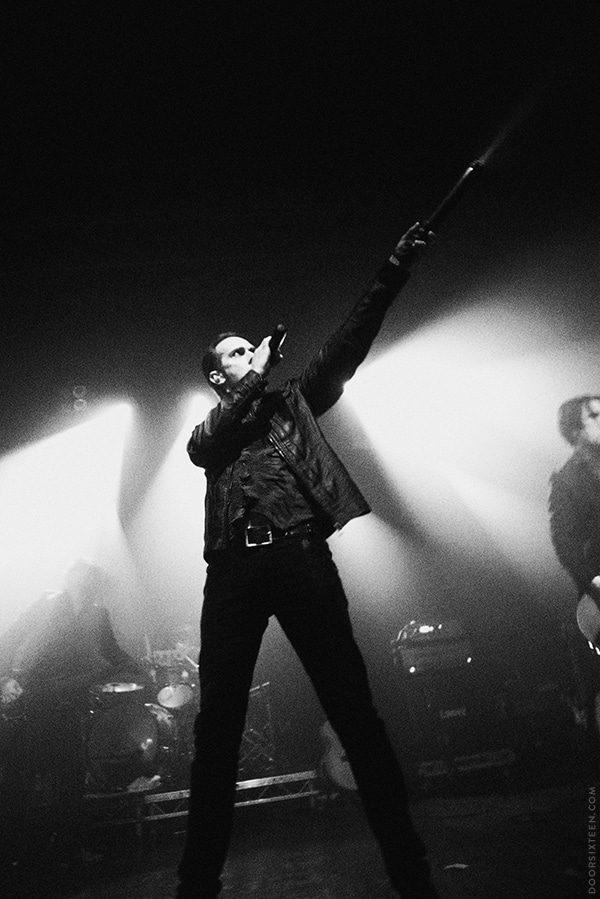 On Tuesday night I went to see Peter Murphy at Webster Hall. It's maybe the 7th or 8th time I've seen him live, with Bauhaus and solo. He's an incredible performer, and while last night's show isn't going to take top ranking in my personal list (that honor will always go to the Bauhaus reunion show at Hammerstein in 1998 — have fun spotting me in the front row with my little black bob and a big grin on my face), I'm always happy to have another opportunity to see one of my favorite artists live.
Peter (hello there, first-name basis) is currently touring in celebration of "35 years of Bauhaus" with all-Bauhaus sets, which I guess is kind of gimmicky since he's never had any aversion to playing Bauhaus songs live in his solo shows, but hey — it sells tickets, and everyone gets to have a good time. It's amazing to me how many complaints I've seen on music blogs about how this is all just a "money grab," blah, blah, blah. PLEASE. He was the front man of one of the greatest rock bands ever, and his solo career is nothing to sneeze at either — how do those naysayers want him to make money? Bauhaus have already had three reunions since their initial disbanding in 1983, and none of them stuck.
If you have any sense of my taste in music, then you know that most of what I listen to was either recorded between the mid-'70s and early '90s or is a contemporary recording by an artist who began a career during that era — in other words, between when I was born and when I ceased being a teenager. That's not because I don't think there's great music being recorded now, it's because those are the years when I was receptive to forming that kind of emotional attachment to songs and the people who write them. I never got to see a lot of my favorite bands live because I was born a few years too late (or in the wrong country). I'll take any chance I can get to make up for it! Considering I was only 8 years old at the end of Bauhaus's first run, I feel very, very lucky to been able to see them perform as a full band not only in 1998 but again in 2005…and every time Peter Murphy is in NYC, I'm there.
Here are some photos I took of Peter Murphy; after that, a few tips for a successful concert-going experience.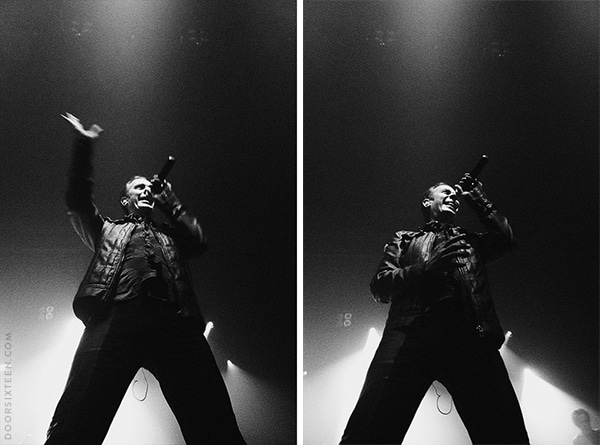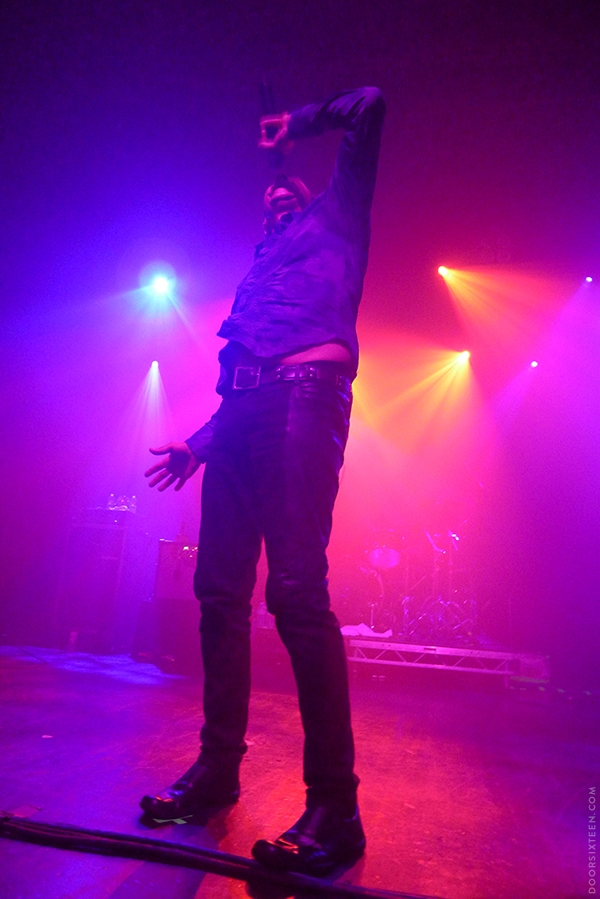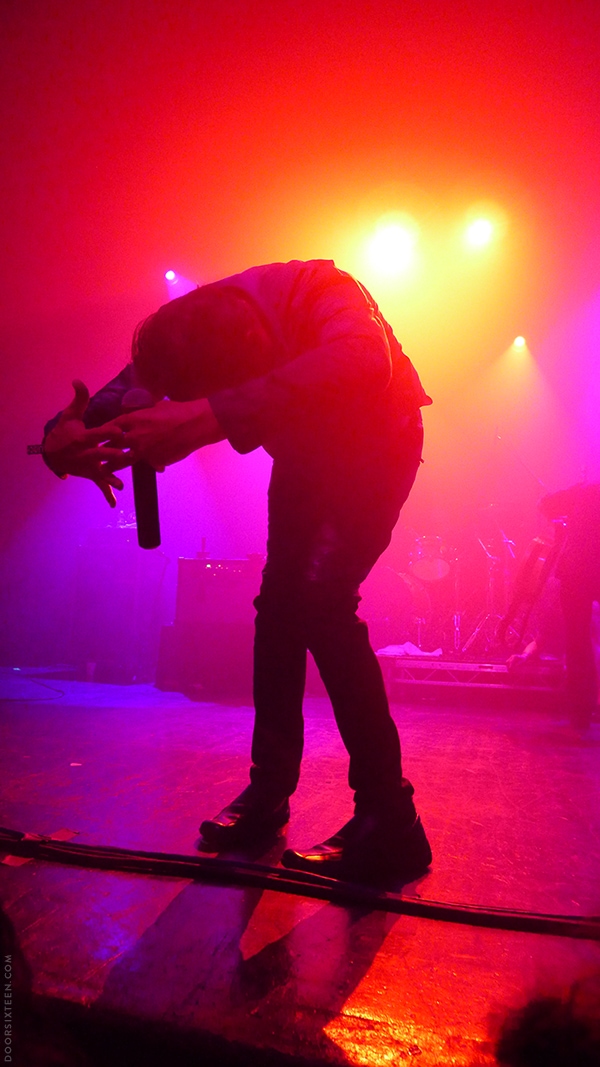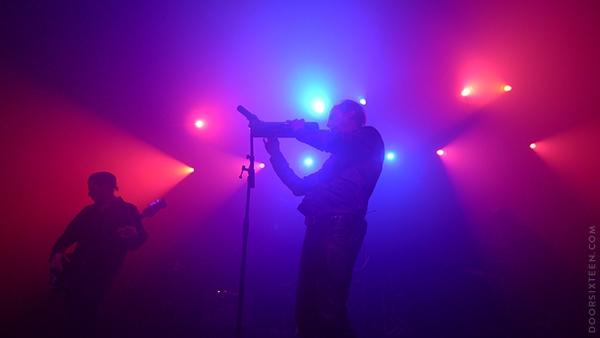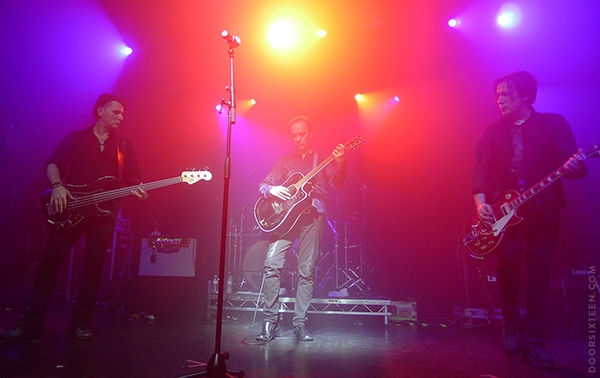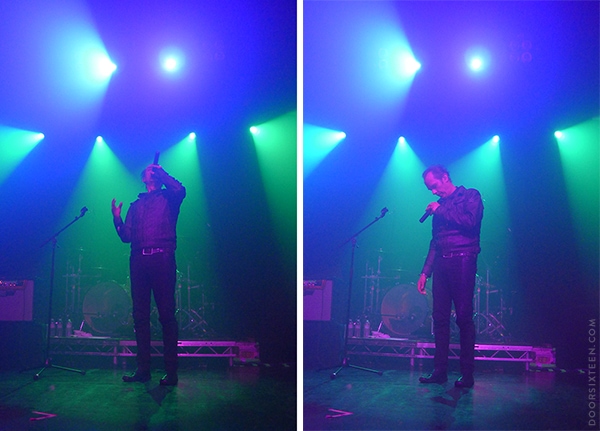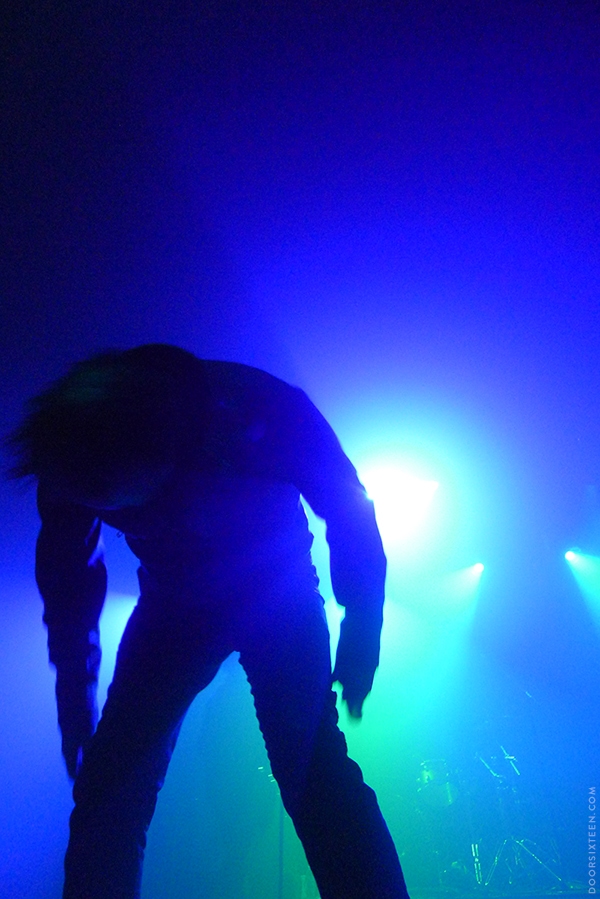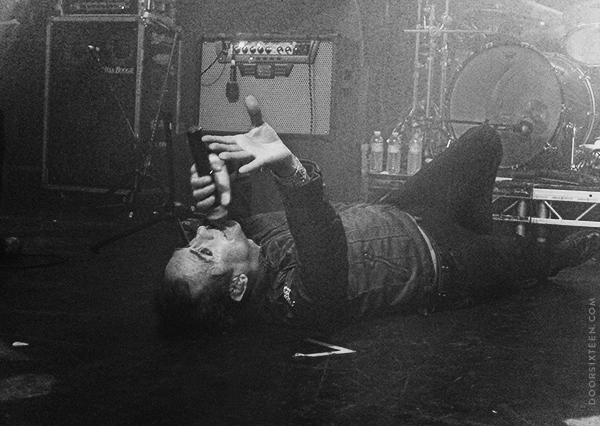 Concert-going, Anna-style.
✚ Know what's going on. I follow my favorite artists on Facebook and Twitter when possible, I subscribe to alert emails from the major ticket vendors, and I read blogs like Slicing Up Eyeballs and Brooklyn Vegan. As soon as a tour or specific show I'm interested in is announced, I add it to my calendar. If an on-sale time for tickets is available, I create an alert on my iPhone to remind me the morning of and 5 minutes before. I don't trust my brain to remind me.
✚ Buy tickets right away. As in the minute they go on sale. Especially if you're in a "destination" city like New York, since you're competing for tickets not only with residents, but with people from all over the world. Really. In the old days this meant waiting on line for hours (or days — I slept on the sidewalk for two nights for Morrissey tickets in 1994), but now it just means making sure you can remember your Ticketmaster password. Yes, Ticketmaster is horrible, but it's reality.
✚ General admission will always trump assigned seating, at least in my world. Yeah, I complain about my back hurting and stuff like that, but the truth is I don't really enjoy myself much at concerts if I'm not standing up and dancing like a fool ("like a fool" = casually bobbing my head and occasionally hopping a bit), preferably within the first few rows. I realize that this isn't really possible when it comes to bigger artists since they tend to play seated venues, but good ol' GA will always be my calling.
✚ Get to the venue early. The number one comment I get when people see my concert photos is, "Wow, you're so close!" Yes. I am so close. That's not because I shove people out of the way or because I have some kind of special hookup, it's because I understand that if the doors open at 7pm, I had better be waiting on line in front of the venue at LEAST an hour before that — several hours before if it's someone with ultra-rabid fans (like Morrissey). It doesn't matter if there are two awful opening bands and the headliner isn't going on until 10pm, you still have to get there before the doors open if you want to be up in front. And for Pete's sake, once you have your spot, DON'T MOVE. Prepare your bladder accordingly.
✚ Don't bring a big bag. Aside from being annoying to carry all night, it's also going to annoy everyone around you. I have a little pouch-type thing that I got from MUJI specifically for going to shows. I can either wear it cross-body or like a hip-pack, and it's just big enough to hold my ticket, ID, a little cash, a MetroCard, lipstick and, of course, a comb. The comb is essential because my bangs always get sweaty during shows and I want to tidy them up afterwards.
✚ DON'T WATCH THE SHOW THROUGH YOUR PHONE. This is a huuuuuuuge pet peeve of mine. It drives me crazy to look around and see a quarter of the audience holding up their phones continuously. Yes, I usually take 2 or 3 iPhone photos during shows, but I'm quick about it — and I don't post them to Instagram until after the show is over. Holding your phone up and watching through its monitor is so disrespectful to the artist (and to the people around you). It's also just plain LAME. Why pay for a ticket to see someone perform if you're going to spend the whole night focused on something else? You might as well just watch YouTube videos instead if you don't really care about the live experience.
✚ And speaking of photos… Most venues allow non-professional cameras with fixed lenses these days. I use an ultra-compact Leica D-Lux 5 at concerts. It does really well in low light, I can hang it around my neck, and it's non-intrusive. I leave the settings on auto, and I'm very quick about my shooting. Up, focus, snap, down, off…and I never use the flash. Again, think about the artist's perspective! When you're up in front there are a lot of opportunities to make direct eye (and hand) contact, and those can be really special moments. The more an artist is engaged with the audience and can sense positive reaction, the better a show they're going to put on. They don't want to look down into a sea of faces covered by cameras and iPhones, believe me.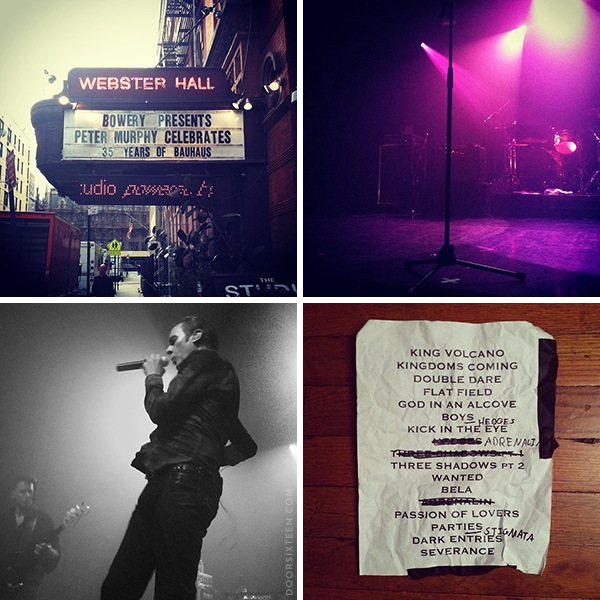 Full setlist:
King Volcano / Kingdom's Coming / Double Dare / In the Flat Field / God in an Alcove / Boys / Silent Hedges / Kick in the Eye / Adrenalin / Three Shadows Pt 2 / Who Killed Mr. Moonlight / All We Ever Wanted Was Everything / Bela Lugosi's Dead / The Passion of Lovers / She's in Parties / Stigmata Martyr / Dark Entries / Severance / Burning From the Inside / Telegram Sam / Ziggy Stardust