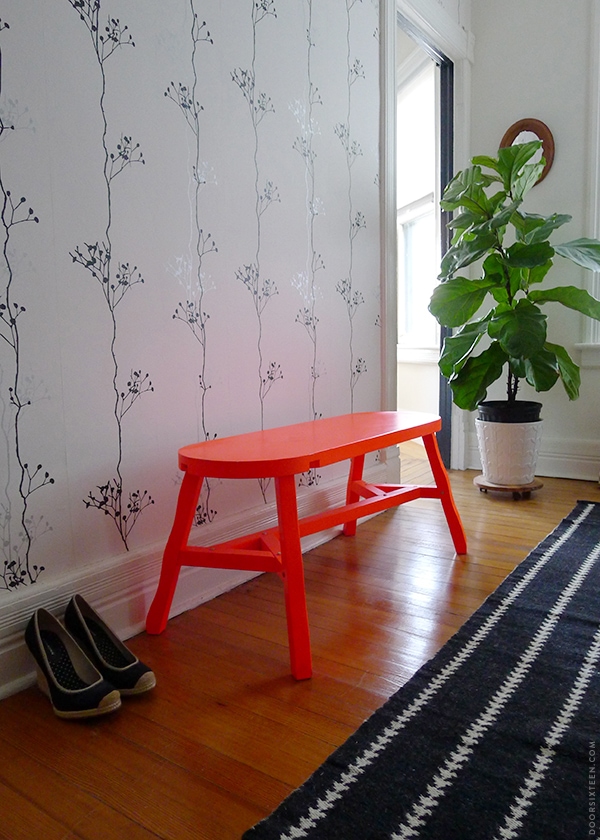 Even though it's one of my favorite spots in the house, I've been really bad about documenting the (slow, as usual) progress I've made in the dressing room over the years. I didn't realize it until I was asked to contribute to a story on another blog about fiddle leaf fig trees and I was only able to find a single photo of the room that was less than four years old — and it was taken with an iPhone! Over the weekend I got my act together and took a few decent pictures. Unfortunately it's still a little hard to tell what's going on in the room because it's so small (about 6×12′), but I did the best I could.
I need to re-pot my fiddle leaf ASAP. Considering my reputation as a plant-killer it's doing really well, but that white pot isn't big enough and its roots are growing out the bottom of the black plastic starter pot it came with, so it's time to size up. Ideally I'd like to keep it in a lightweight pot inside of a basket (much like Emma's), but I can't seem to find the right one. Baskets are always way spendier and smaller than I think they're going to be.
✚ Flashback! Here's how the dressing room looked when we started working on it in 2006. A small reminder that even the ugliest, messiest renovation projects will eventually pay off!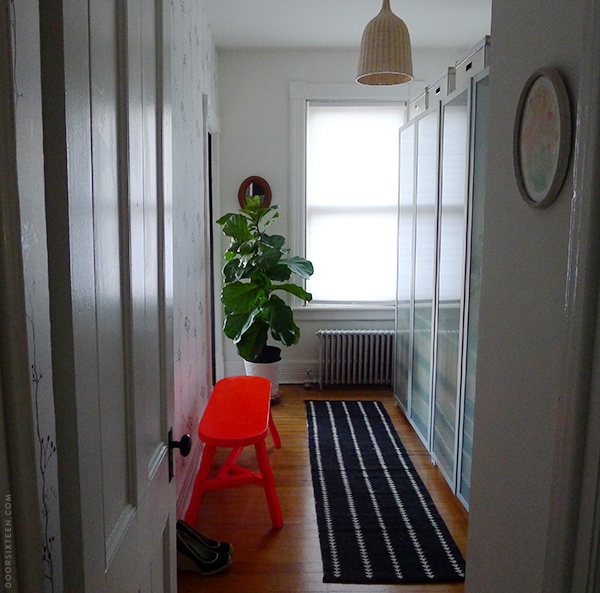 A little dark, but you get a sense of the space. The family who lived in our house before we bought it used this room as a bedroom for their son — complete with bunk beds! Considering how minimal I am when it comes to clothing, it's kind of funny to have a dedicated dressing room…but hey, the space is there, so why not?
The latest addition to the dressing room is the Arrowhead rug (this is the 22×84″ runner) from Target's new Nate Berkus collection. It wouldn't have occurred to me to look at Target for a rug, but a couple of weeks ago Max excitedly texted me an picture of this one while he was in the store, and I was immediately smitten. I was originally thinking I'd put it in the upstairs hallway, but as soon as I saw it on the floor next to that orange bench, I knew where it was meant to be! It's a great rug, by the way — really nice quality, and it's even reversible. I might have to buy the smaller one for the bathroom at the apartment. (Max loves his so much that he wrote a post about it for Design*Sponge!)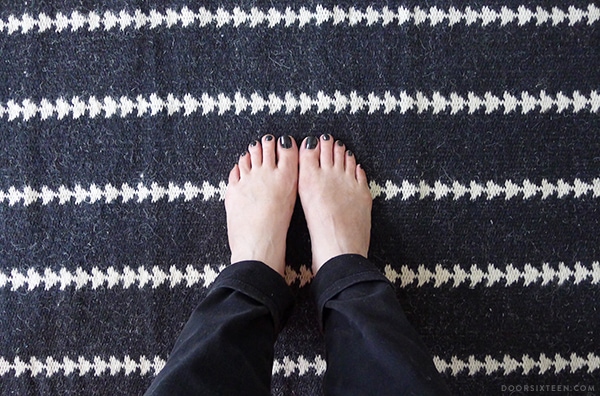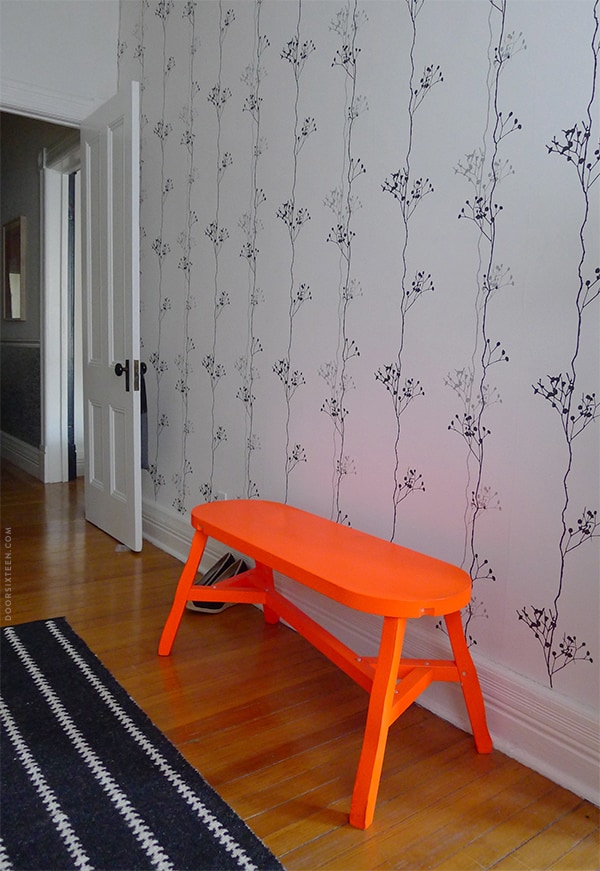 I still can't get over the insane brightness of Tom Dixon's Offcut bench. There's no way for it to come through in a photo, but it's like the most electric-looking fluorescent orange you can imagine. BLINDING. I love it so much. I was extra-excited over the weekend when I noticed that my nails match it perfectly right now! It's the little things, right? By the way, if you're looking for a great fluoro orange nail polish, the shade that FACE Stockholm made for J.Crew is really nice. Good quality, too. Plus it'll match your bench.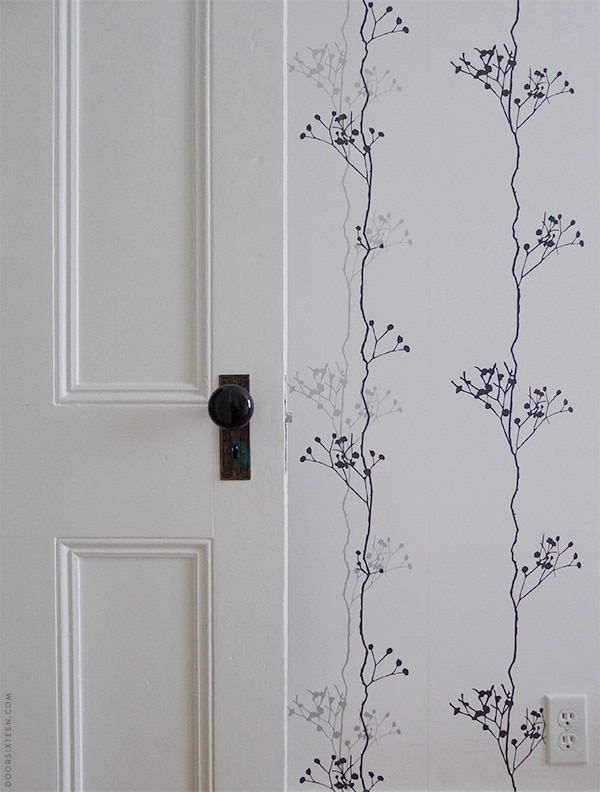 Oh, wallpaper. How I love thee. This is the Berry Black pattern from Ferm Living. I put it up in an afternoon about 4 years ago. I know I've said this before, but if you're hesitating to put up wallpaper because you think you'll get tired of it, stop worrying and go for it. If you choose something you really, really love, there's no reason to think you won't love it 4, 5 or 10 years later. Even if you do wind up wanting to get rid of it eventually, there are primers specially formulated for coating walls pre-wallpaper that will facilitate its removal down the road. It doesn't have to be a nightmare if you plan ahead. Wallpaper is just so satisfying! DO IT.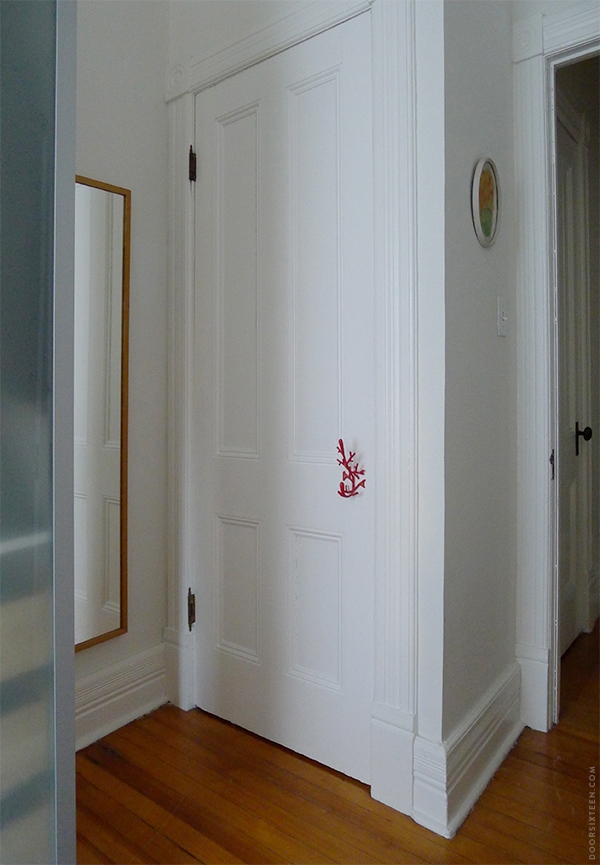 The coral hook-handle on the closet (we keep linens and shoes in there) is a "temporary" thing I came up with years ago. At the time it was a way to quickly deal with a very old door that was missing its lockset, but it's really grown on me! The magnet holding the door shut still works fine, and I honestly can't foresee installing a real knob at any point in the near future. The hook is here to stay!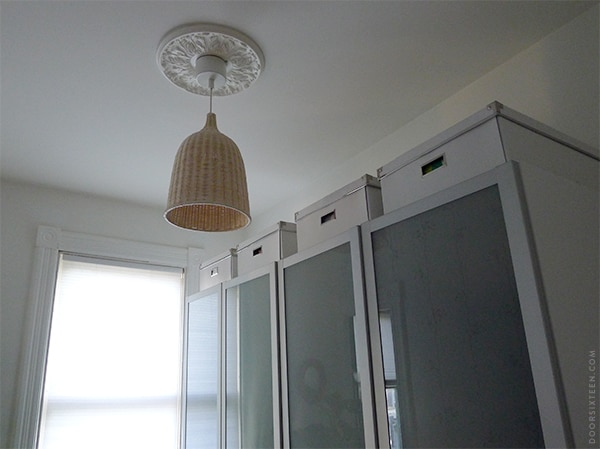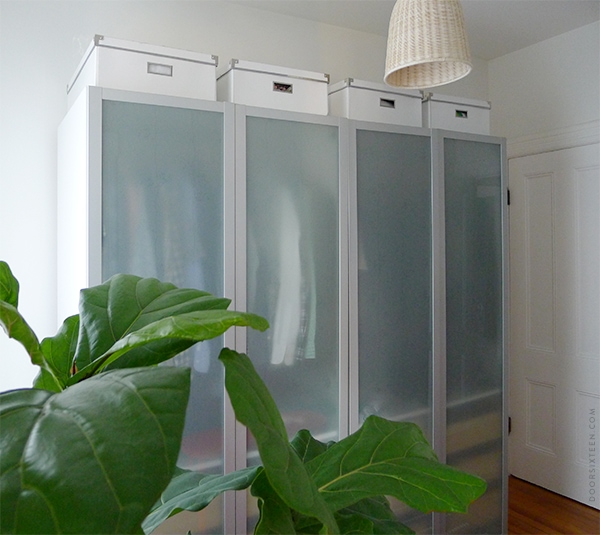 After 7 years of wondering if maybe we should have gone with glossy solid white doors on our PAX wardrobes instead of frosted glass, I think it's time to just accept them as they are. I think IKEA has since discontinued this door style, but the wardrobes themselves are the same ones they have now. The solid birch KOMPLEMENT drawers they sell for inside are really nice, and overall the amount of storage these wardrobes provide is more than enough for me and Evan. My first instinct when we planned out this room was to go with built-in open hanging rods, but because of the position of the closet door and the window, it just made more sense to use something prefab and contained. Also, old houses are dusty. We don't have off-season clothes storage, so some stuff will hang here for months on end without being worn — I didn't want to leave it all exposes. Thumbs up for PAX! Other than the fact that I'm still considering changing the doors (I'll never get around to it), I have nothing but good things to say about these wardrobes.