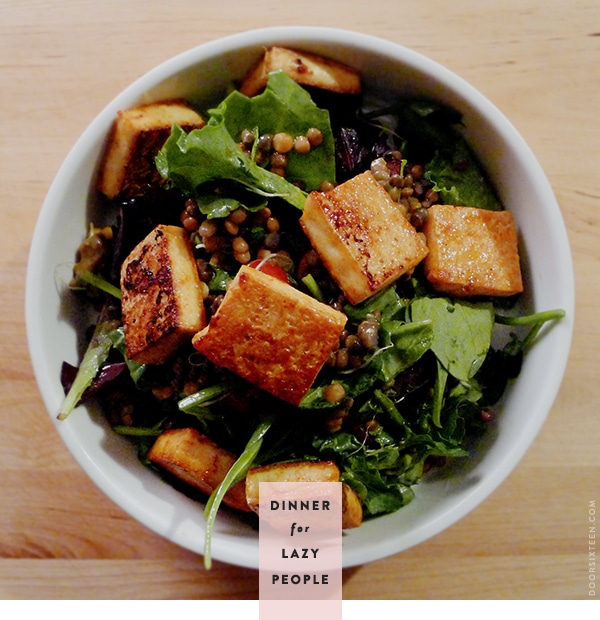 Once upon a time in the recent past, I cooked at least 6 dinners a week. On the weekends, I even cooked extra food to freeze for lunches at the office. And then something happened: We got an apartment in Brooklyn. Oh Brooklyn, home of M.O.B., Wild Ginger, Vegetarian Ginger, Britain Indian, Darna Falafel, Siggy's, Zaytoons and, of course, my beloved Hanco's, home of the best vegan pork banh mi sandwich imaginable. Brooklyn is a food paradise, and having so many awesome vegan options available — whether by walking a few blocks or ordering delivery — is kind of irresistible.
There are, however, some downsides to all of that delicious convenience:
1. PRICE. Yes, that's obvious. I know. Buying dinner out for two people night after night is stupidly expensive, and while I know that's kind of the New York way of life that everyone makes jokes about ("My oven? Oh, you mean where I store my off-season clothes!"), it's shocking how much it all adds up to week after week. I need to keep that in mind the next time I shake my head at an $8 bottle of olive oil — I mean, the oyster mushrooms I had as an appetizer last night cost $9. C'mon.
2. WEIGHT. As in, I have a lot of it to spare. That whole thing about vegans being skinny? That's a damn lie. Healthful eating and fitness are about a whole lot more than whether or not you eat animal products. If you eat giant portions of processed takeout food every night, guess what? You're going to feel (and see!) the effects on your body. It isn't even so much about size specifically as it just feeling slow and tired and knowing that the weight gain is the result of eating too much of the wrong stuff all the time.
3. STRESS. I don't know why it's so hard to remember this when it's 8:00 at night and I'm starving, but cooking and preparing food makes me feel really good. I'm a big fan of task completion even when it's on a really small scale, probably because I work in an industry where nothing ever really feels done. Having a sense of definable accomplishment is a huge motivator, and getting a healthy, yummy meal together is a huge stress reliever. The same goes for doing the dishes…but now I'm going off on a tangent. (OK, so this whole post is a tangent.)
To help curb my addiction to takeout, I'm assembling a small arsenal of simple recipes that I can fall back on night after night. Aside from being vegan, the only rules are that I have to be able to prepare the meal in less than 30 minutes, it has to be reasonably healthy, there can't be any ingredients that would require me to buy huge amounts of something perishable when I only need a tiny bit and, most importantly, Evan and I both have to LOVE the way the meal TASTES. It's going to take a little trial and error, but I'll post the successful recipes here along the way. (Please feel free to share your own favorite fast, cheap, vegan recipes in the comments, too!)