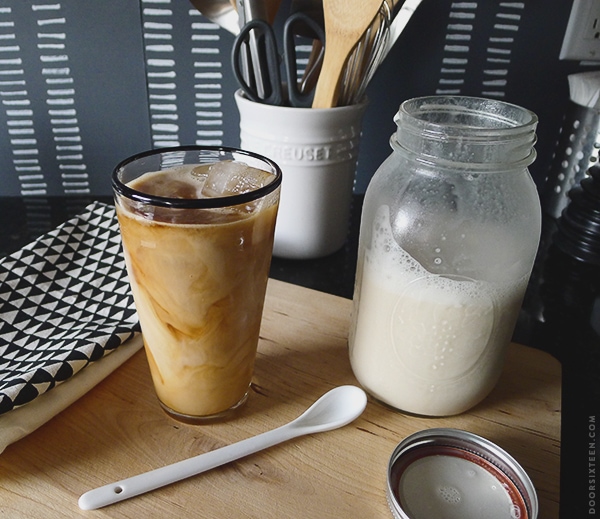 I've always kind of thought that making your own almond milk is a little like making your own crackers or shoes. If you have the time to do it, cool, knock yourself out! In the mean time, I'll be over here buying a perfectly nice carton of almond milk and a box of Triscuits. A few weeks ago, though, Evan and I were up in Kingston checking out Daniel and Max's new house (side note: OMG!!!), and we stopped in at a super-cute antique store/café, Outdated. As usual, I was on the hunt for an iced coffee, so I checked with the girl at the counter to see if they have soy milk. She told me no, they only have almond milk — and then added (surely noticing the look of disappointment on my face, because who likes almond milk in coffee?), "But it's homemade! It's really good!"
And so it was. Like, really, really good.
I put my trust in Angela's recipe for almond milk and gave it a shot. Incredibly, I already had a nut milk bag on hand and I just fixed our busted blender, so I didn't really have any excuses. IT WAS SO EASY, GUYS. I know people like ♥ Martha Stewart ♥ like to say stuff that isn't easy is easy just so the rest of us feel badly about our inadequacies, but making your own almond milk? EASY. Washing the blender is the hardest part, and once you quit being a baby and just wash the thing even that isn't so bad. If you need more convincing, watch Honey LaBronx — a.k.a. The Vegan Drag Queen — make almond milk. If she and I can do it, so can you.
Not only is it easy, it's also DELICIOUS. Wayyyyyy better than any store-bought almond milk. The nicest part is that you can control how much liquid you use, so you can make a thicker, creamier milk if you want. This could be the end of buying boxed soy creamer for me, which would be a huge plus given the price of that stuff — not to mention the iffy ingredients in some brands. I drink stupid amounts of iced coffee when it's hot out, so anything I can do to make that a cheaper, healthier and more delicious experience is worth it.
Speaking of iced coffee, YES, I still use my Bodum iced coffee press, and YES, I still love it.
(I just went over to Oh She Glows to get the almond milk recipe link, and I see that Angela is also writing about homemade almond milk with cold-brewed iced coffee. Hah! See that? I'm not lying — it's so good!)
Now I want to try making other nut milks. Cashew milk, definitely! Hazelnut milk?? Hmmm. What other nut milks should I try?