My last post about our back garden was 8 months ago, and something unfamiliar and weird seems to have happened: We're finished. I mean, nothing is ever really DONE, of course, and it's a garden so (hopefully) everything will continue to grow and change and need to be maintained, but I'm calling this a complete project. WOW. Clocking in at 7+ years, the world's longest landscaping project involving a tiny plot of land has come to a close. The garden is now officially a nice space where we can hang out and have guests over and not apologize for dirt mountains or dangerous holes waiting to break ankles or swallow Chihuahuas.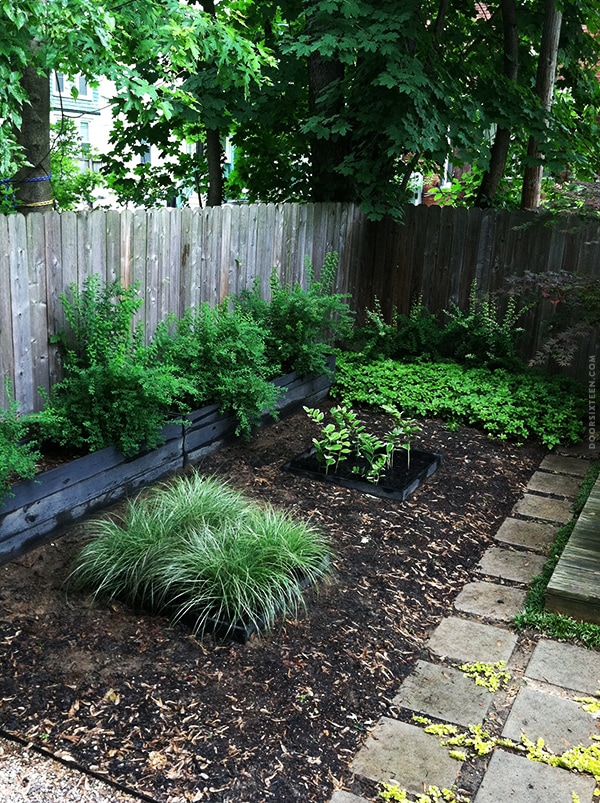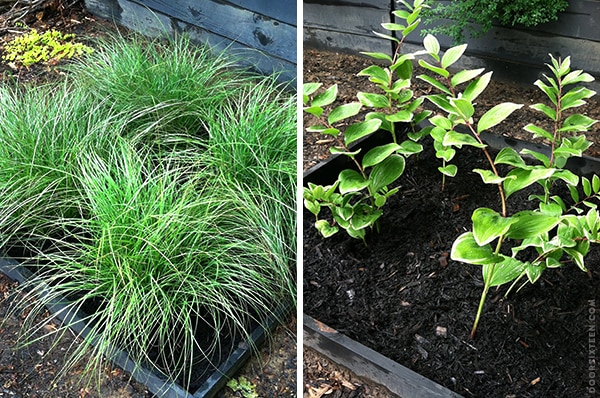 We finally got some plants into the recessed planters we built last summer (each is just four boards stained black and screwed together at the corners). I had some ideas about the types of plants I wanted to use based on Susan Welti's garden design for Carin Goldberg and Jim Biber, but I let my eyes and my wallet be my guide when it came time to buy. Fortunately, our local garden center was running a big sale on ornamental grasses, so we were able to pick up four large dwarf maiden grass plants at a good price. We also bought four variegated Solomon's seal plants, which we'll have to be patient with and allow a couple of years to fill out.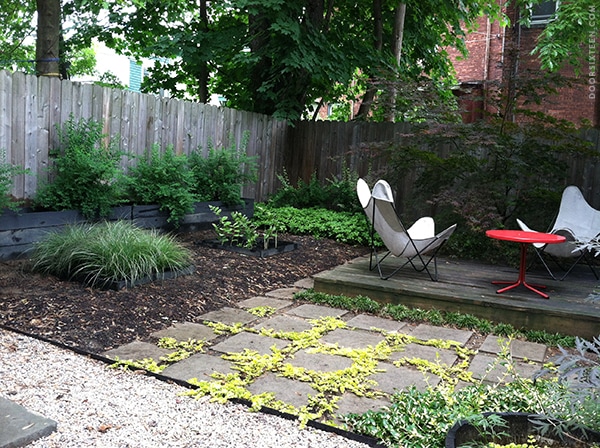 Check out those HUGE spirea bushes in the mega-planters!! They were so teensy when I planted them a couple of years ago. Everyone said they would die during the winter if we put them in planters, but my mother thought they'd be fine, so I went ahead and took a chance. I love them. I'll probably fill in the planter a little more with some annuals next spring, because the garden could really use a little color to break up all the green.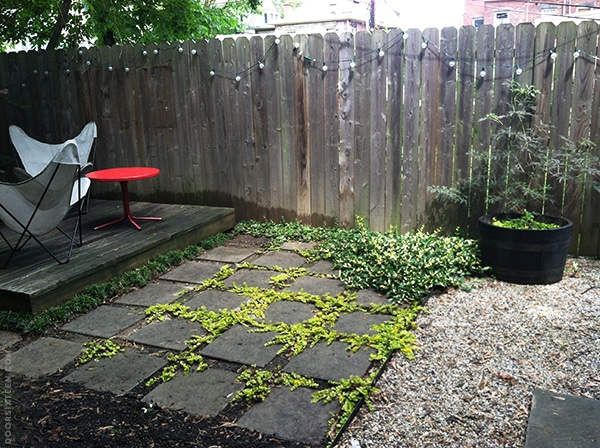 I wound up having to take down my homemade Woolly Pocket-style planter (I don't think I ever blogged about it, but you can kinda see it in these photos) because some industrious squirrels decided to turn the felt into nesting material. Oh well! I really liked having plants on the fence, though, so I ordered four of the new hard plastic Woolly Pocket planters to put to use in the spring! I could put them up now, I guess, but plants are expensive and I want to get a full season out of them.
And now for the time-lapse progress shots…