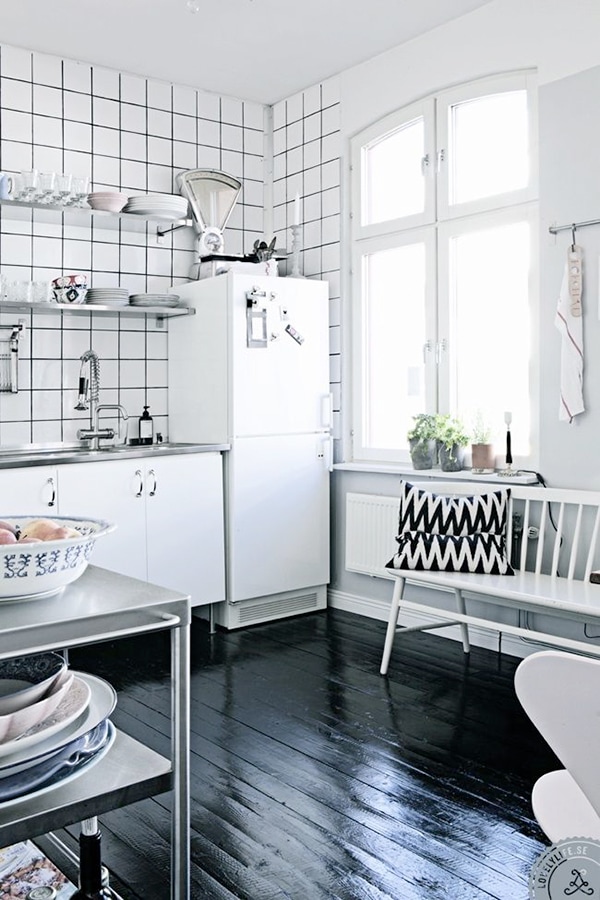 ✚ Photo by Lönngren/Widell for Lovelylife
Last weekend we had another plumber come to the house to take a look at the work we need done in the kitchen — removal of two steam radiators, re-routing of steam pipes and, eventually, re-installation of one of radiators (we're putting the other one in storage for now). While we're waiting for his quote to come in, we're trying to make a list of everything we need to get done once the radiators have been removed. It looks a little like this so far:
▶ Frantically tile the last two walls
▶ Frantically refinish one of the radiators
▶ Frantically pull up the existing VCT floor tiles
▶ Frantically remove the plywood subfloor, which was at some point used as a large snack for carpenter ants
▶ Frantically assess the condition of the original pine subfloor that's underneath the plywood
▶ Frantically do something so that there's a floor in place when the plumber comes back to re-route the steam pipes and re-install one of the radiators
But let me back up a little. A few months ago, amid all of the tiling chaos going on in the kitchen, I happened to notice that a few of our VCT floor tiles had come loose. One of them actually felt…squishy? Knowing that squishy floors are generally a bad thing (I learned that from watching This Old House), I peeked underneath the tile to see what was going on. ANTS! ANTS! ANTS!!!!! Yes, a swarming mass of carpenter ants. Ugh. The carpenter ants have since been eradicated (I may have a vegan diet, but, well, let's just say I did NOT rehabilitate, foster, and re-home each individual ant), but the plywood subfloor is looking pretty terrible. It has to go. We definitely weren't planning on replacing our floor — we installed it dirt cheap years ago (pre-blog), and I've always been happy with it — but it seems to be unavoidable.
I do know that the original pine plank subfloor is hiding under the plywood subfloor (which was already here when we bought the house — it was in decent shape, so we patched it up and tiled over it rather than replacing it for no reason), but I don't know what kind of condition it's in. In theory it's the same as the floor in Evan's studio (unfinished, dirty and rough, but mostly OK), but in reality it might have a lot of water damage, weird sections cut out of it from when the walls were reconfigured 50+ years ago, or any number of unknowns that might make it unsuitable to be exposed.
However it turns out, I know I want a painted wood floor in the kitchen. Tile just isn't in the budget, and love painted wood floors anyway — especially in kitchens. If we luck out and the existing pine is usable, I'll follow the same steps I did upstairs when painting them (probably black, but we'll see). If they're a total wreck, then we'll install inexpensive pine on top. We used the lowest-quality cheap pine flooring available on the walls in our upstairs bathroom, and it was CHEAP — like $1/square foot or something crazy like that. Once it's patched and painted, the knots and holes and stuff don't matter.
Anyway, here are some inspiration photos of painted kitchen floors that I've been squirreling away for when the time came to make decisions about the kitchen floor, and that time is officially HERE! Assuming the plumber's quote isn't totally insane, this is all going to start happening really soon and really fast. GULP.
What floor color would be best in the kitchen? Stick with black? I do love black floors. Would white be too crazy-bright in there? The same gray color as the walls??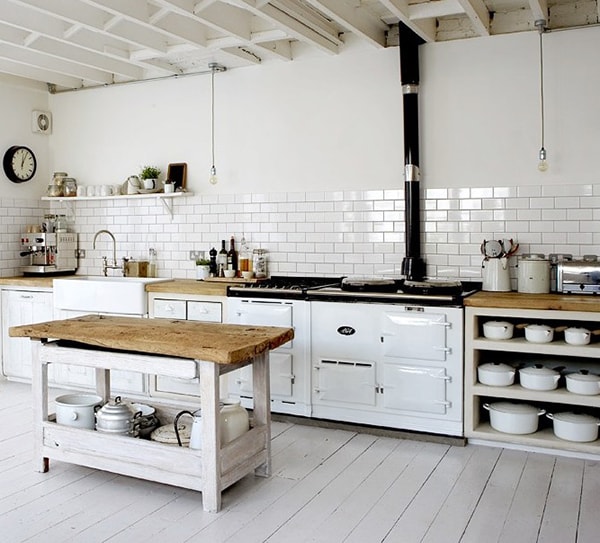 ✚ Photo by Paul Massey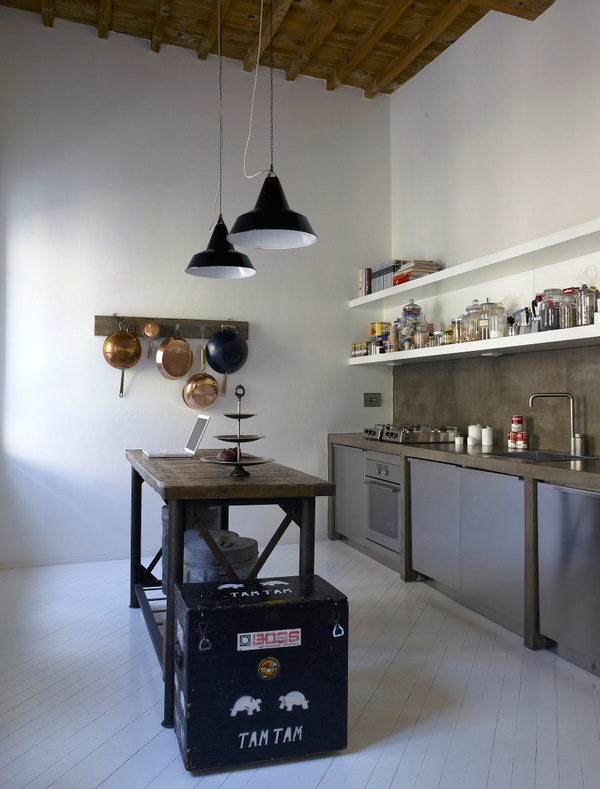 ✚ Interior by B-Arch Studio / via Remodelista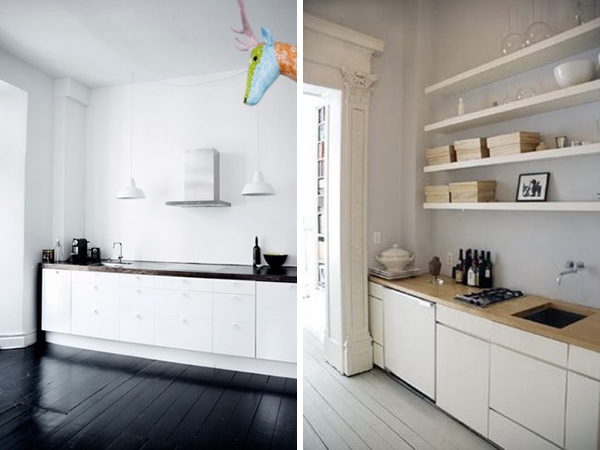 ✚ (L) Photo by Birgitta Wolfgang Drejer for Bolig / (R) Photo via Corcoran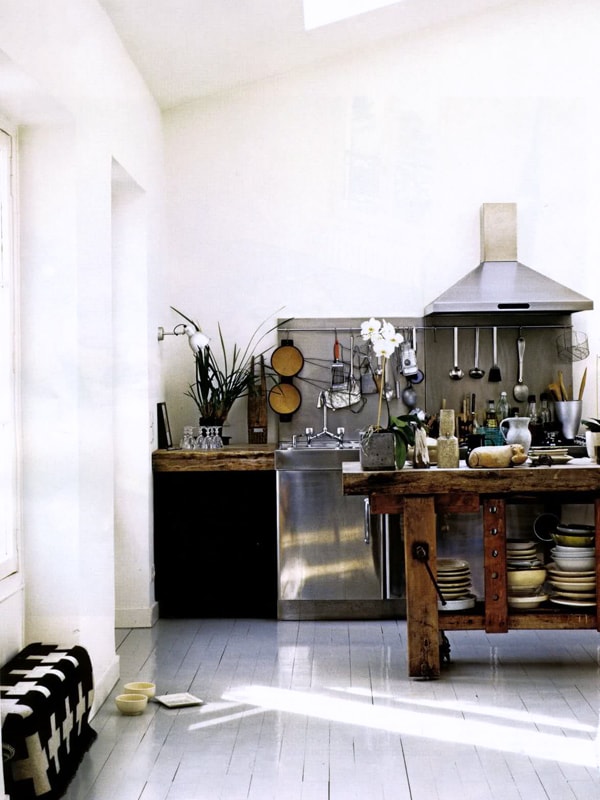 ✚ Photo from InsideOut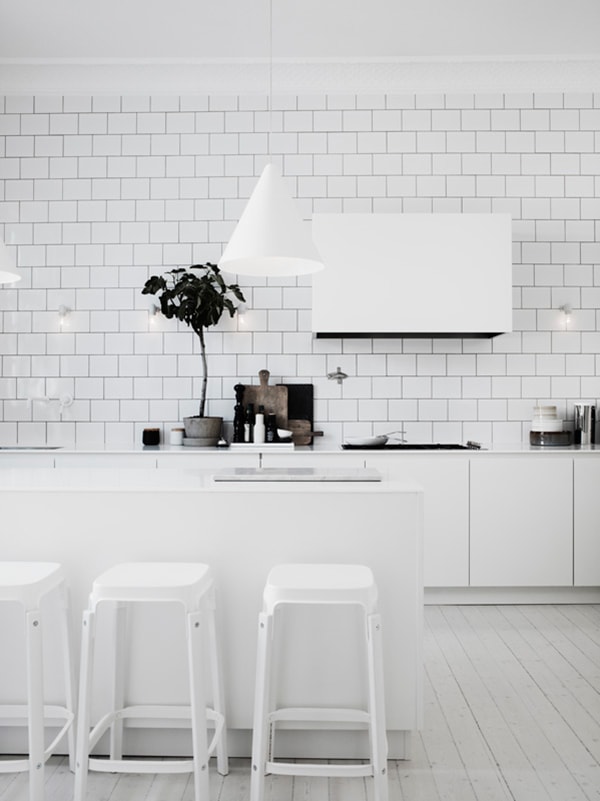 ✚ Interior styling by Lotta Agaton