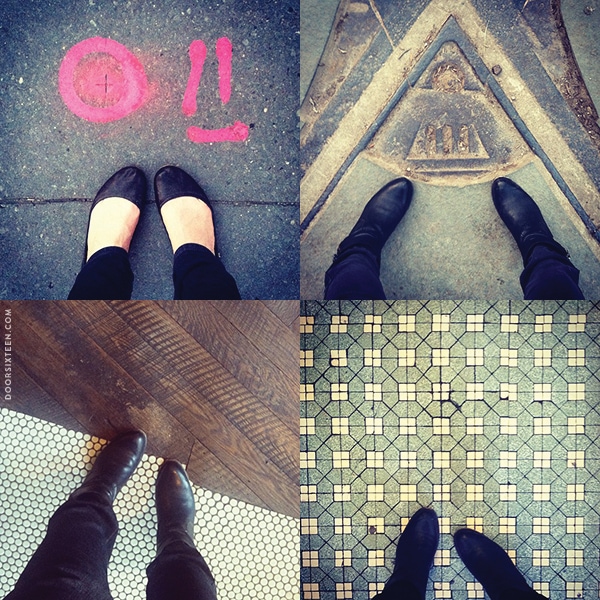 I struggled to find an appropriate photo to accompany this post, but I couldn't. Instagrams of feet are always a good fallback, so here are four of them. This post has nothing to do with feet or shoes or tiles or anything like that, though. It's about weight — gaining weight, losing weight, weighty weight.
About three years ago, I wrote a post called I'm OK. Sometimes I go back to read it so I can remind myself of exactly how I felt that day, because it's how I strive to feel all the time — that is, I strive to not have to think about how I feel; to not have to think about constant physical self-improvement.
I'm going to quote myself:
I'm 5′6″, I weigh 150 pounds, and I usually wear a size 8 or 10. This is the size that I am when I am eating healthy, well-balanced foods in normal quantities. I have weighed as much as 40 pounds more when I was eating enormous portions of unhealthy, prepared foods, and I have weighed as little as 30 pounds less when I was meticulously measuring every morsel of food that entered my body and obsessing over calories and fat grams and fiber content to the point that I wound up not really getting much pleasure out of what I was eating. Neither option was healthy, but not because of my weight at either end of the spectrum — it was unhealthy because my body wasn't getting the things it needs in the right amounts to function properly.
Yeah. That was me three years ago, which suddenly feels like a long, long time. I still believe in everything I wrote, but I'm not at that place anymore, physically or mentally. I've hung out in the ~145 pound area for most of the last 6 years without really thinking about it. I'd go up a few pounds when I was overworking and stressed, and I'd go down a few pounds when I was taking extra-good care of myself.
Last October, though, things started to get out of control. I know it sounds TOTALLY RIDICULOUS to blame Hurricane Sandy (because seriously, among all the things that were affected by that storm, my weight does not deserve to be mentioned), but that was kind of the turning point. I wanted comfort foods, I wanted to bake, I wanted takeout food, I wanted to feel safe and I wanted something to do while I waited for my apartment building to have electricity and for the subways to start running again. Unfortunately, my default activity when my regular routine is interrupted is EATING. Snacking. Eating. More snacking. Not much moving around. More eating.
Seven months post-Sandy (three weeks ago, to be precise), I forced myself to get on a scale. It wasn't like I couldn't see that I'd gained weight or that I didn't notice having to buy bigger jeans, but I wasn't prepared to discover that I'd managed to put on FORTY (40!) pounds. In seven months! Whoa. 5′6″, 180 pounds. That's only 10 pounds shy of my highest weight ever, a place I never thought I'd be again in my life.
Side note: I've never really understood why so many people (women AND men) don't like to reveal their ages or weights and that kind of stuff. Why is it such a big deal? Your age is what it is — who cares! The older I get, the less that makes sense to me. If I started telling people I'm 27 instead of 37, what would I accomplish? I get that those of us who are or have been overweight often (not always) have some degree of shame or embarrassment associated with scale numbers, but at the end of the day, what does being open about your weight change? How is it different than telling someone your height? Anyone looking at me can see that I'm overweight — being coy about numbers and sizes doesn't suddenly make me look like I'm thinner. I'm all about dropping the shame and other internal weirdness and just putting it out there.
Just so it's clear, I really don't think that height/weight-based metrics are particularly good indicators of a person's health. That said, I have a pretty good sense of where my weight naturally settles when I'm eating healthy, nutritious foods and taking good care of myself. I didn't go from 140 to 180 pounds in seven months by taking good care of myself. My health and well-being matters to me, and as I creep closer to 40, I know I really can't mess around with this stuff.
Also, vanity. Self-image. That stuff. It's real, and I'm not going to pretend it doesn't affect me. The week before I weighed myself, I was at my friends' wedding in San Francisco, and I spent a whole lot of time avoiding having my picture taken (and feeling ridiculously self-conscious when I couldn't avoid it). Who wants to feel that way? Not me.
So today marks three weeks since my first "scale moment," and as of this morning, I'm down to 170 pounds. Ten pounds might sound like too much to lose in a short period of time, but that's just because I went from eating like a teenage boy in a growth spurt (takeout food every night, chips every afternoon, multiple daily bagels on the weekend, etc.) to eating like a reasonable human being overnight — so the initial drop in calories consumed was pretty massive. I have no expectation of continuing to lose at that rate! Having lost a large amount of weight once before (I went from 190 to 130 in 2006), I know that about two pounds per week is normal for me. My goal weight (hey, I have some goals) is 145-ish, because I know that's comfortable and healthy for me.
I'm using Weight Watchers (online only, no meetings) to track what I eat. I am not an advocate of Weight Watchers' packaged/processed foods, and I really don't care about their meal suggestions or any of that stuff, but I do love their tracker tools (YAY for the iPhone app!) and the point system is very handy. It's worth the $15/month to me because I'm the kind of person who likes order and accountability and having a system. I also really like that Weight Watchers isn't about going "on a diet," it's about reinforcing health eating habits (hello, I sound like a commercial) through making smart choices every day. It's sustainable.
I just want to feel well, be healthy and not spend so much time thinking about my size. I want to feel like the person who wrote this post again. I'm not comparing myself to anyone else, I'm comparing myself to what I know I'm capable of. I can't be passive about this stuff any longer. Onward!