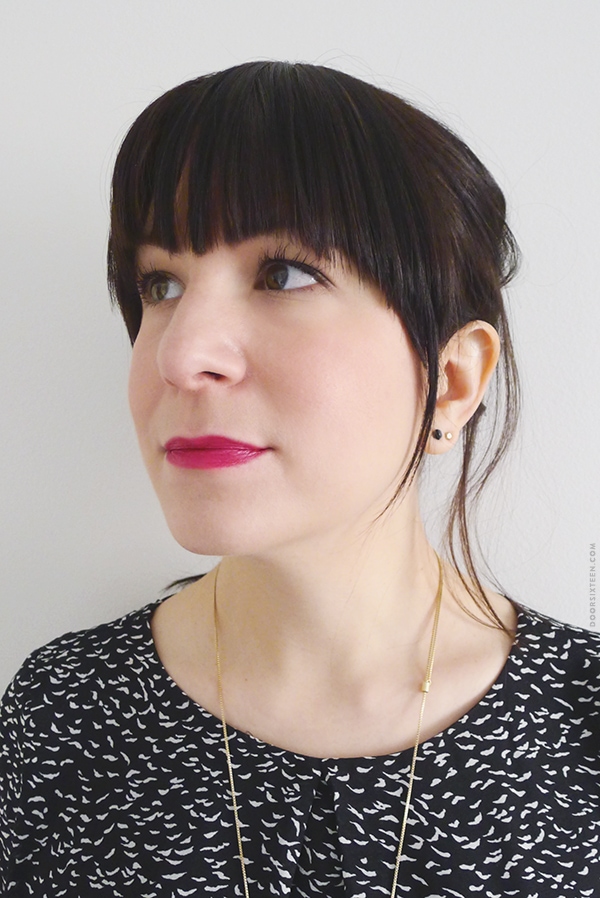 There's a giant photo of my head on my blog. Bye-bye, comfort zone!
I didn't start wearing brightly-colored lipstick until I was in my mid-30s. I was into deep reds in my teens and early 20s, and then I pretty much just moved on to sheer, pinky-natural glosses. The lipstick that brought me around was hot-orange MAC Lady Danger, which I wrote about in 2010. And for about four years, that was the only color I wore when I wasn't opting for a gloss. (By the way, I'm still on my first tube—that's how slowly I go through lipstick. Please don't tell me it's expired and that my lips are probably coated with invisible fungus. I don't want to know!)
Late last summer, I started to branch out…but just a little. After seeing Jenna wearing a beautiful shade of hot pink lipstick, I went for it: I picked up a tube of NARS Funny Face, and suddenly I had TWO brightly-colored lipsticks that I feel good in! I'm kind of shocked that it works with my skin color, since cool-toned makeup is usually Bad City on me.
I really like the texture of NARS lipstick. It doesn't wear quite as long as MAC's matte formula, but it's a little kinder and less drying to my lips. It's also a bit more forgiving during the application process. When I run out of my MAC Lady Danger, I may try NARS Heat Wave for the sake of the formula since it's a very similar shade.
I still only wear real lipstick once or twice a week, but it's fun to have two to choose from. I don't feel like I'm wearing a costume, I just feel…fancy. I guess that's the lipstick look that'll define my late 30s. (Hey, I still have a few more months before I have to say "my early 40s.")
Oh, and in case you're curious, here's a list of the rest of what's on and around my head today:
✚ Lipstick: NARS Funny Face
✚ Mascara: Ardency Inn (I wrote a review of this magical stuff a while back.)
✚ Dress: H&M (Looks like they don't have this exact print anymore, unfortunately.)
✚ Black earrings: & Other Stories
✚ Gold earrings: Madewell
✚ Necklace: Madewell (Oh hey, it's on sale! You can see much of it in my photo, but I love this necklace. I wear it almost every day.)
p.s. Semi-related, since this is the "vanity" category: This interview with Fran Lebowitz in Elle is so fantastic. I adore Fran.
(Giant photo of my head by John Vairo Jr.)