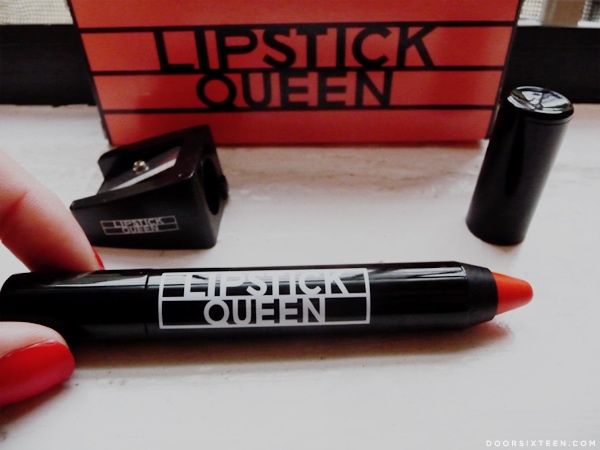 My obsession with hot-orange-red lipstick (previously well-documented here) has shown no signs of letting up over the past six months, and now that we're moving into warmer months, I've been determined to find a glossy, sheer substitute for my beloved MAC Lady Danger, which is very matte and very opaque.
Last night I was killing time wandering around Bigelow Pharmacy before meeting up with a bunch of awesome women (more on that later) for dinner, and I happened to catch sight of Chinatown Glossy Pencils (named for the incredible Polanski movie of the same name) from Poppy King's Lipstick Queen line. It was the Genre color in particular that drew my eye—a nearly neon, screaming-bright orange. I gave it a swipe on my hand, and to my surprise, it went on sheer and shiny, but with enough pigmentation to look more substantial than regular lip gloss. Exactly what was looking for.
It helps, of course, that the packaging for Lipstick Queen is top-notch. How gorgeous is that pencil? And the box is pretty, too. Because the pencil is so large, they include a properly-sized sharpener. I think that's a nice touch, especially since it would never have occurred to me to buy a sharpener separately, and then I'd have been sitting there with an X-Acto knife trying (and failing) to whittle it into a fresh point.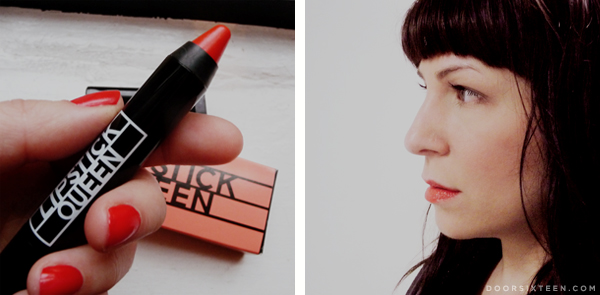 This morning I tried out my new pencil, and I'm really, really pleased. Because the pencil is so forgiving, there's no need to even look in the mirror when applying. The texture is smooth, flavorless and tasteless, and the color is buildable. Perfect, really. I can't say it's particularly long-wearing, but it doesn't disappear immediately or fade/dry weirdly, either.
Several years ago, I designed the cover for Poppy King's book, Lessons of a Lipstick Queen (it looks much prettier in person than it does in images online—I had it printed on gold paper, and the poppies that border the bottom edge of the book are rendered in a transparent glossy film), which was released just she was launching her Lipstick Queen line in 2008. It's an inspiring read if you have any interest in starting your own business or becoming any kind of entrepreneur, or even if you (like me) just enjoy reading about people who take initiative and believe strongly in what they do every day. Funnily enough, though, I'd never bought one of her products until yesterday. I already liked Poppy's voice, and now I like her lipstick, too.
Speaking of people who believe strongly in what they do, last night I had a wonderful dinner at Gobo Restaurant with really great group of women—Victoria from SFGirlbyBay and her friend Joni, Grace from Design*Sponge, artist Lisa Congdon and her partner Clay, Kelly Lynn from Little Paper Planes, Jaime from Design Milk, and Hijiri from Heartfish Press. It wasn't a "blogging convention" or a networking meeting or anything, it was just fun and food and laughter. I'm very lucky to have met so many amazing people online over the years, and it was a real treat to have a chance to hang out with a bunch of them in person. (And yeah, they're all as cool and pretty and nice as you imagine they are!)