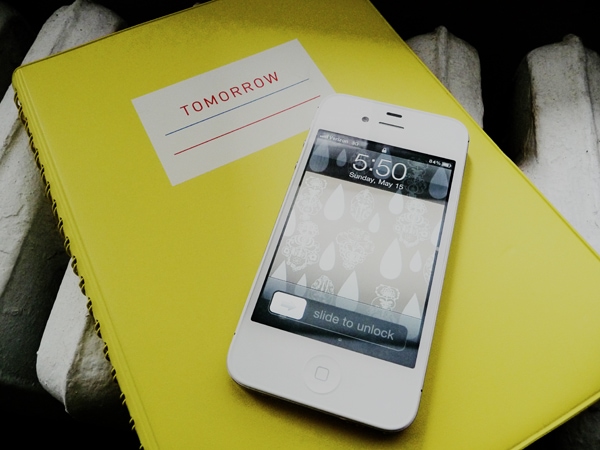 Hey! Look what I got! Crazy, right? Thanks to all of the amazing comments on this post, I came to (at least) two conclusions: (1) iPhones are great, and (2) I should just go ahead and buy that planner.
I feel a little weird about the iPhone, honestly. I was very late in even owning a regular cell phone, and phones in general make me uneasy. I find it hard to have verbal conversations with people when I can't see their faces or get a read of their body language. I also really don't want to fall into a "gadget cycle"—you know, where you start feeling like the thing you own is obsolete and you're behind the times so you'd better throw your thing in the landfill and buy a newer, better thing. You know I love me some Apple goods, but our friend Stevie J (yeah, he lets me call him that) is really good at releasing NEWER! BETTER! FASTER! products at just the right pace that you never really feel like you're caught up. I already feel like that about my desktop computers, my laptop, and my MP3 player. Do I really need to feel like that about my phone, too?
Apparently, the answer is now a resounding yes. I love my new white iPhone! I still kinda feel like a 3-year-old trying to handle chubby crayons, but it's great. (And yes, of course I joined Instagram. You can find me under an unexpected username…doorsixteen.) I'm particularly excited about having constant access to maps, since I have the sense of direction of a dizzy earthworm (head for the light!).
And the planner! I'm doing this! Yes! Okay, so I just got it on Friday, but the first thing I did was write down my plans for the night—dinner and an Echo & the Bunnymen concert* (yes, they were awesome) with Jenna. And then I did both things, so it must be working already! Plans! In a planner! With dates!
No, seriously. I'm excited about this. Tonight before I go to bed I'm going to make some loose notes for things I need to do this week and appointments I have to remember. Then I'm going to put the planner in my bag (with a pen!), and remember to look at it tomorrow. And the next day. Because that's how it works, right?
*EDIT: Want to know how the Bunnymen concert was? Jenna wrote a funny synopsis that says it better than I could!