If you're alive and in New York City right now, then you know we are in the midst of a rather grueling heatwave. If you're alive and you follow any New Yorkers on Twitter or Facebook, then you also know about the heatwave, because complaining about the weather to anyone who will listen is really what we do best. Temperatures have been hovering around 100°F for the past couple of weeks, and it's just insanely humid. We walk a lot (and fast) here in NYC — most of us don't get around in cars, so we're walking several miles a day on the hot pavement, plus up and down the stairs into subway stations (which are not air conditioned, by the way). AND IT'S ALL UPHILL, BOO HOO. I know, I know, I'll give it a rest, but seriously, we're melting here right now. For those of us who wear black on the outside 'cos black is how we feel on the inside, these are trying times. To take my mind off the fact that my hair is plastered to my head with sweat, I put together a couple of outfits that resemble what I've been wearing during the heatwave.
"The color for today is BLACK. That's right, black! So you can absorb some of these rays and save that heat for winter. So you want to get on out there, wear that black and be involved!" That's the truth, Ruth.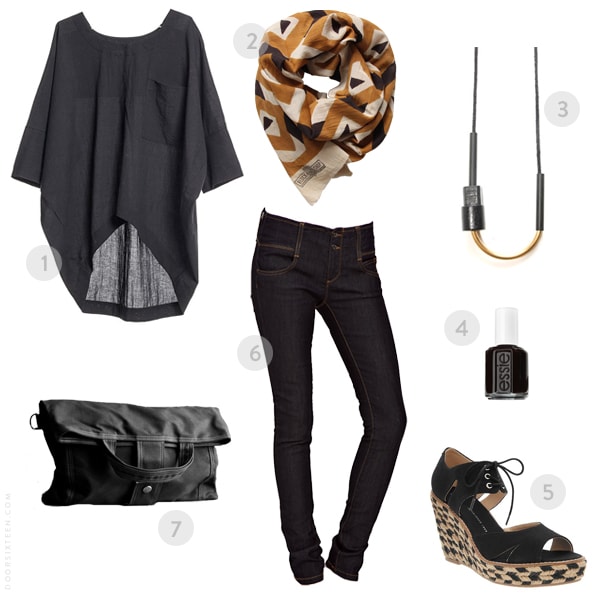 1. Boycott shirt, Kowtow
2. Mosaic scarf in marigold + black, Blockshop Textiles
3. Chock A Block necklace in black/brass, Maslo Jewelry
4. Licorice nail polish, Essie
5. Lace-up espadrille wedges, Gap
6. Sexy Skinny Jeans in dark indigo, ASOS (also in plus size!)
7. Paperback bag in black waxed canvas, Moop
I know it might seem silly to include a scarf, but it's something I always keep in my bag, even on the hottest days. You just never know when you're going to wind up in a store or office or apartment with the AC on full-blast, and you can go from sweltering to shivering in minutes. I do realize that skinny jeans probably also seem insane in hot weather, but that's just how I roll. I at least make sure I'm wearing sandals with them to let some of the steam out! By the way, those espadrille wedges look amazing on, but I can't walk five miles in them. One mile, sure. Then my feet hurt. They're great for days when you don't have to walk a million blocks, though!!
These ASOS jeans are great for my fellow high-hip-to-waist-ratio girls. Since I've been losing some weight I've needed to buy a couple of inexpensive pairs of "transition size" jeans, and I love the deep, even color of these and the way they fit. Very comfortable! (They come in plus size, too.)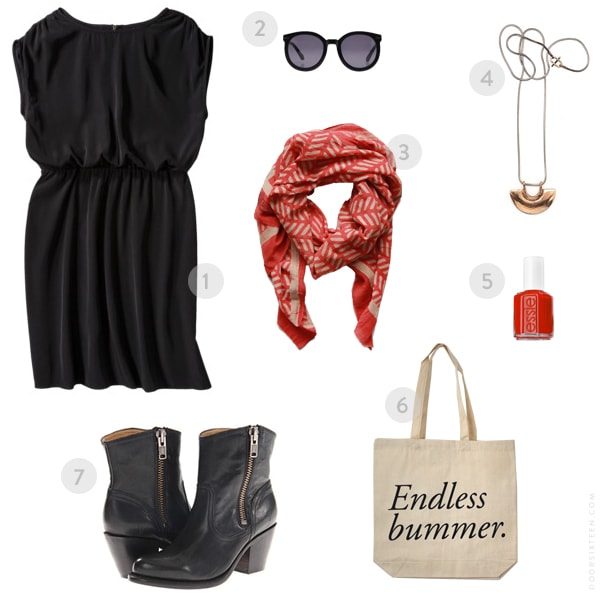 1. Short sleeve black dress, Target
2. Super Duper Strength sunglasses, Karen Walker
3. Herringbone scarf in papaya, Blockshop Textiles
4. Tempus necklace, Stone & Honey
5. Geranium nail polish, Essie
6. Endless Bummer tote bag, Fieldguided
7. Leslie Zip Booties, Frye
YES, I have been wearing dresses! Well, one dress. I bought this guy on impulse for $25 at Target last month, and I've actually worn it a bunch of times since then. I wish it wasn't polyester, but it gets the job done. The fit/length of the sleeves is flattering, and who doesn't love an elastic waist? I have to admit it is nice to have bare legs in summer, but I'll only do it if I'm wearing boots. I wrote about my intense love for these side-zip Frye booties back in December, and my feelings remain just as strong. They go with EVERYTHING. True four-season footwear. I even wore them to a wedding. They are so beautifully-made, too, and incredibly comfortable. I can walk in them for hours on end. I think they might be the smartest shoe purchase I've ever made.