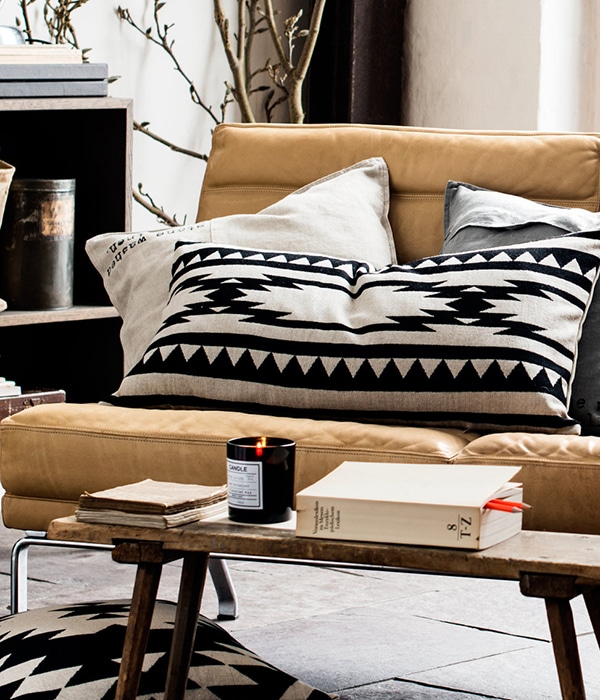 I've been taking quick peeks here and there over the past week at H&M's home collection, which until now was unavailable to the US market. I can't figure out whether they're planning to eventually offer home goods for sale in stores here as well, but the online shop is up and running! (You can buy H&M clothing online now as well, by the way, though I doubt I'd ever need to order clothes online from them — there are now 11 H&M stores and counting in Manhattan alone, which is just bananas.) Anyway, this morning I finally took some time to really look at the entire collection, and I'm surprised by how much of it I like. A lot of it does tend to run the more gimmicky route — like all of the fake-old-timey NYC subway-themed things, which I'm really not a fan of — but much like digging through the clothes in H&M stores, there's good stuff mixed in with the t-shirts that say DO IT LIKE THE '90s (what does that even mean?!). And, of course, the prices are crazy-low.
The wide jacquard-weave cushion cover in the photo above is probably my favorite item, which I'm sure is really shocking (hah). For $18 plus a $7 FJÄDRAR insert from IKEA, you'd have a pretty sweet dog bed with a removable, washable cover. Nice! I do wonder what happens if you put an IKEA pillow inside of an H&M cover, though. Is the Swedishness exponential? Actually, I just realized H&M sells inserts, too. So there you go.
Here are some more of my favorites…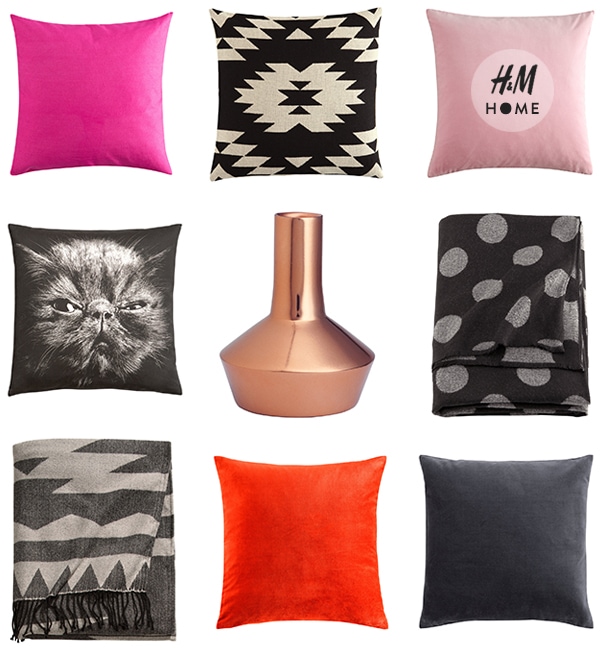 ✚ Canvas cushion cover in cerise / Jacquard-weave cushion cover / Velvet cushion cover in pink
✚ Cat cushion cover / Copper candle holder / Dotted blanket
✚ Jacquard-weave blanket / Velvet cushion cover in orange / Velvet cushion cover in charcoal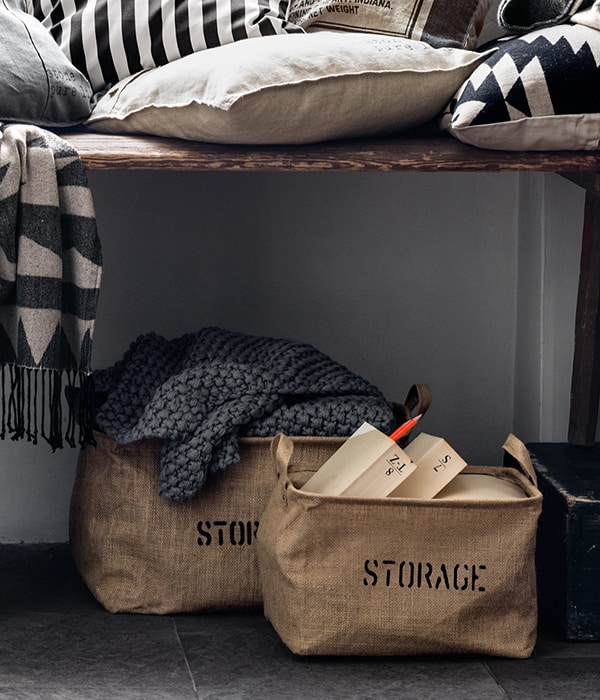 And finally, who can resist a burlap storage tote (larger size, too)? Not me! Yeah, I do kind of wish it didn't say STORAGE on the front, but I bet the back is blank — and even if it's not, it's still cute and it has a wire-framed top, which is nice.
OK, I'm going to go and try to order a few things before they all sell out, because they've literally been disappearing while I write this post. I've been snoozing, and now I'm losing!