For the past six months or so, we've been trying to get a plumber to our house to disconnect the kitchen radiators and do some related pipe work in the basement that goes beyond what we're capable of doing ourselves. You'd think it would be easy to, you know, give someone a bunch of money to do the work they're trained to do, but contractors are a special bunch. Long story short, we've had three enthusiastic and friendly plumbers come to our house to assess the situation and prepare a quote, but after five months of phone calls/voicemail messages (from us), we had yet to see even a single quote from any of them.
You know things aren't going well when you can't even get a quote.
So now we're back with the plumber who worked on our upstairs bathroom in 2008 and our downstairs bathroom a year later. It took yet another month to get a quote from him (and then a couple more weeks to schedule the work), but…IT HAS FINALLY HAPPENED. Evan and I both had to be in the city so we haven't seen it in person yet, but my friend Ilenia was wonderful enough to both let the guys in and sneak a few iPhone snaps while they worked. This is SO exciting!!!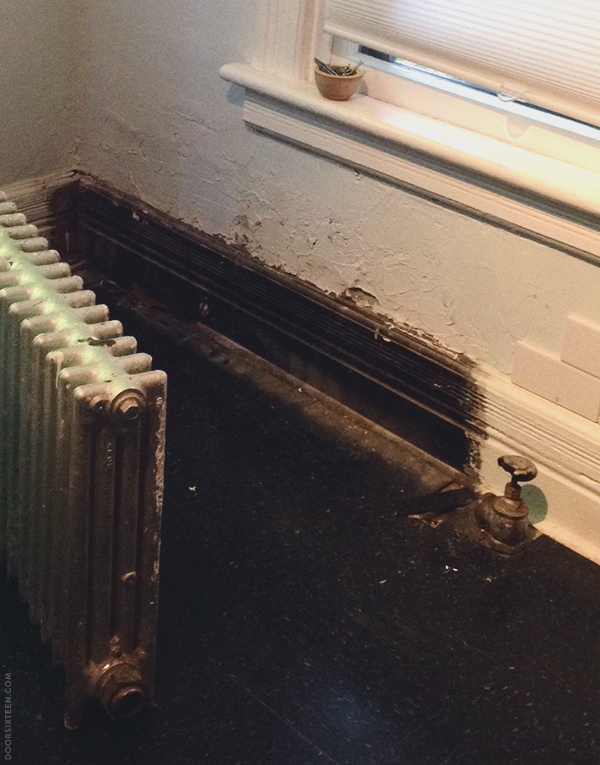 EWWWWWWW!! Gross. I'm guessing this part of the room hasn't seen the light of day in the better part of a century. I cannot even express how much I am looking forward to CLEANING that baseboard molding (and painting it!!) and repairing the wall above. There was zero clearance behind and under the kitchen radiators, so it's impossible to clean and maintain properly. This is going to be soooooooo very satisfying.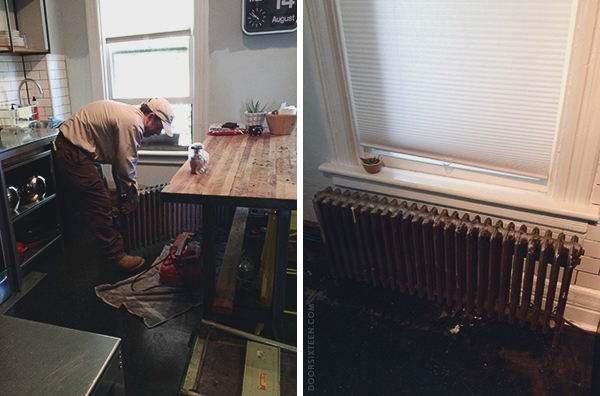 The radiator next to the sink was removed, too, and I'll bet it's even grosser back there. We're actually not going to replace that one. We had the plumber cap the steam pipe at basement level. We've been getting by just fine heat-wise with only a single functioning radiator in the kitchen, so we're going to put this one in storage (in case we ever want to reconnect it).
The other radiator was in a really weird spot before, so we also had the plumber move the steam supply pipe over about a foot so that it can be centered under the window when it's reinstalled. The photo on the right is the new position — it's not connected yet, they were just figuring out where to drill a new hole in the floor.
Hmmm…I think this also means we're going to have to move an electrical outlet. Hmmm.
Now that the radiators are OUT, here's what's on my kitchen to-do list for the next couple of months:
▶ Frantically tile the last two walls
▶ Frantically refinish one of the radiators
▶ Frantically pull up the existing VCT floor tiles
▶ Frantically remove the plywood subfloor, which was at some point used as a large snack for carpenter ants
▶ Frantically assess the condition of the original pine subfloor that's underneath the plywood
▶ Frantically do something so that there's a floor in place when the plumber comes back to reinstall one of the radiators
I feel a little sick thinking about it because I've been SUPER busy with work lately, but between summer hours (I get every other Friday off) and a few vacation days Evan and I have both scheduled, I think we can make it happen before heating season starts. The floor is just a huge unknown because we have no idea what's happening under the plywood, but at least now we can actually start doing the demo work.
I'm just going to try not to think about the fact that we also need a major repair done to our boiler. Sigh. This is why our renovation projects drag on for years — there's always something urgent to deal with that sucks up our entire budget. House stuff is expensive. All of it. Even the stuff that's not expensive is expensive. I am mystified by blogs that document entire home renovations that take less than a year. We're going on eight years of renovation with no end in sight. Is this normal? Sorry, I'm digressing too much. Ignore me…
On the agenda for this weekend: TILING. And more tiling. And tiling some more. It's going to be total tiling madness. I can't wait!!