Well, I didn't get everything on my Sunday to-do list crossed off, but I made a decent dent. Daniel came down from Kingston for lunch (we went to Tito Santana Taqueria in Beacon — really good food and tons of vegan options!), and I decided it was probably more fun to hang out with my friend than to organize my pantry for the millionth time. It was.
I did manage to make some progress in the dining room, though! It had kind of become a dumping ground for a long time while we worked (and worked, and worked…) on the kitchen, and once we finished carting all of the tools, construction debris and other crap down to the basement, I could see the room really needed a freshening-up. Nothing major, just a little nip/tuck here and there.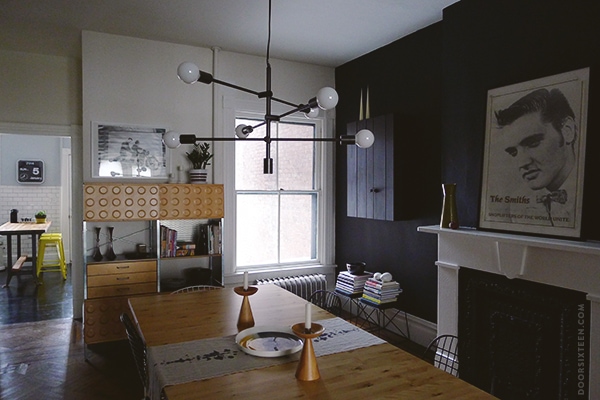 The first order of business was addressing the lighting. As cute as it was, I never felt like the pendent I had hanging over the table previously was substantial enough. I picked it out before we'd moved any of our furniture into the house, and before I had a good understanding of the scale of the rooms.
A while back, I ordered the Mobile chandelier from West Elm. (Yes, it's on back order until April, but is April really that far away? It's not like you're going to get around to hanging it before then, anyway.) I wasn't sure if I wanted to put it in the kitchen or the dining room, but they were having a sale and the pictures on the site looked nice, so I just went for it. And then it sat on the dining room table for a couple of months.
BUT! Behold! Look what Evan and I did…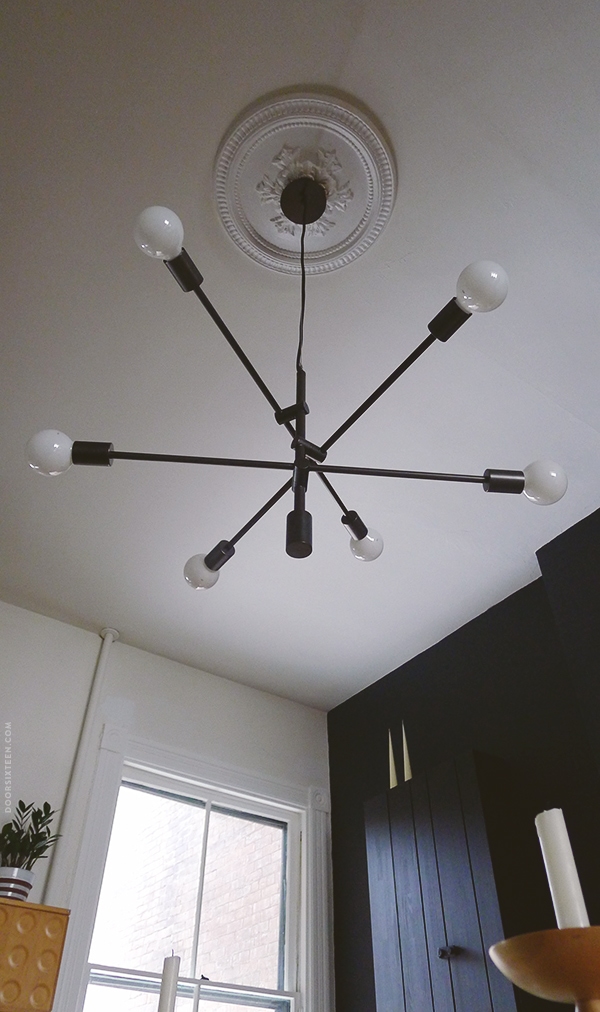 Ahhhhhhhh!!! I'm in love with this lamp. Love, love, love. It took me a day to get to full infatuation point, though. I initially positioned the arms at varying angles (like in the primary photo on West Elm's site), which looked really clunky and jaunty and whimsical and Sputnik-ish and just not at all what I like or what looks good in my house. I was ready to take it down and either sell it or hang it in the bedroom.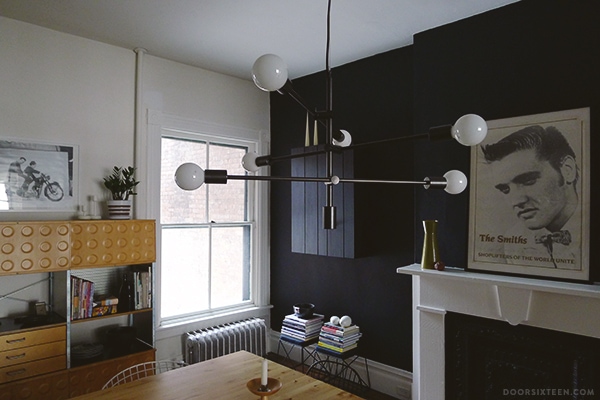 But then I straightened the arms out so they were all level and parallel with each other, and it was like a whole new lamp. Really! I'm so glad I didn't take it down right away. It's PERFECT. I decided to go with plain, white G40 bulbs (25W each), and I'm just going to cross my fingers and hope that energy-efficient lightbulbs are nicer by the time low-wattage incandescents are phased out. (For what it's worth, there are current no plans to ban 25W bulbs in the US. The phase-out stops at 40W.)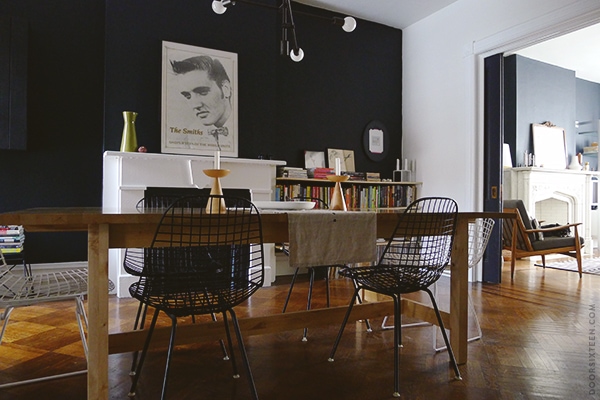 To give you an idea of the scale, the Mobile chandelier is about 30″ in diameter at its widest point (excluding bulbs), and my dining table is 95″x40″. The ceiling in the dining room is about 10.5′ high.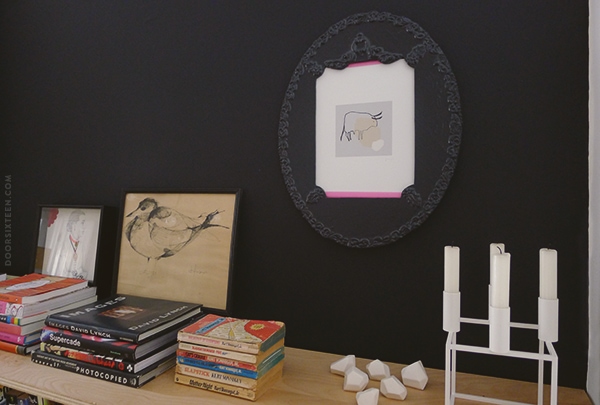 I straightened up the still-incomplete bookshelves next to the fireplace. The three drawings are by Lisa Congdon, my dad, and Jen Ray. The faceted knobs are from Pigeon Toe (I've been holding onto them for a project for ages…) and the Kubus candle holder is by Lassen. Some of the best books ever written are by Kurt Vonnegut.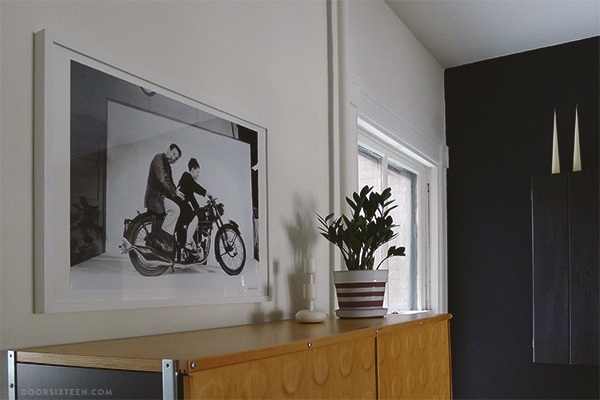 I picked up a fresh ZZ plant to replace the withered, dying ZZ plant that formerly graced the dining room, and I put my Charles and Ray Eames poster in a frame that I actually hung on a nail that I hammered into the wall! Getting things done, folks.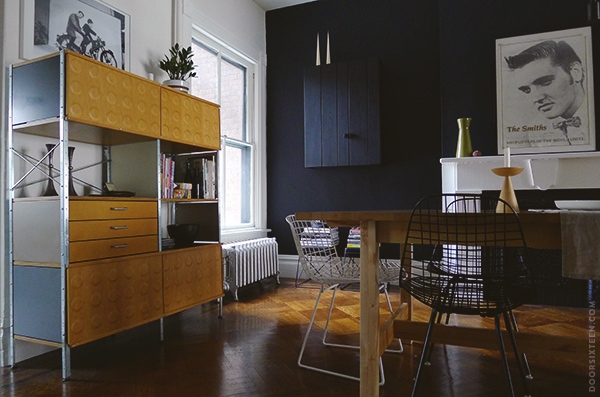 Did you notice that big black thing next to the fireplace? That's the new OLOFSTORP wall cabinet from IKEA, and it is glorious. I had a hard time taking good photos since the light in my dining room is kind of difficult, but you can see it a little better in IKEA's press photo.

Click to enlarge! (Photo courtesy of IKEA.)
It's very nice — definitely one of IKEA's all-time top-ten products, which is a major accolade coming from me. The OLOFSTORP storage unit/cart is great, too. Both pieces are solid, stained pine with steel hinges. They look, feel and function like simple farmhouse furniture. Very Shaker-ish. Of course, since they're great pieces that are built to last, IKEA will probably discontinue them within the year. That's always the case, right? Consider yourself tipped-off and warned.
Anyway, the cabinet!! It's just right. That space was kind of dead before because the window extends all the way to the corner of the room. The OLOFSTORP is less than 8″ deep, so it doesn't obstruct the light flow or interfere with the view in any way. I'm a sucker for black-on-black, too.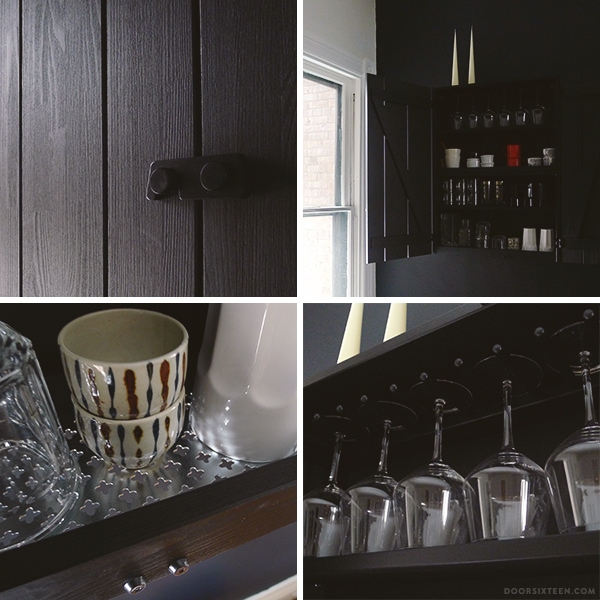 The best part is that it holds a TON of stuff. I've got all of our wine glasses, highballs and extra mugs in there, plus vases and various dishes I don't use often but like to have on-hand. Moving all of these things into the cabinet freed up an entire shelf and a half in the pantry, which means I can finally sort out all of my baking dishes and get my spices in order since I'll be able to spread out a little more.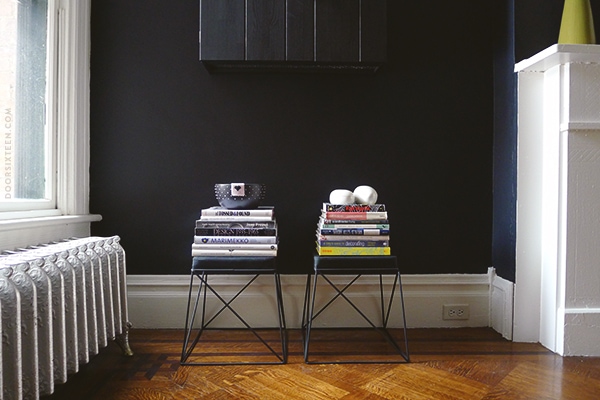 The last little dining room update I made was to add these two stools under the cabinet. I bought them at Target's dorm room furniture line in July. I don't remember how much they were, but definitely well under $20. At the time I thought I'd make them into a bench or coffee table, but I only got as far as spray-painting the bases matte black. They started out glossy charcoal gray, which didn't look too terrible — but matte black is nicer.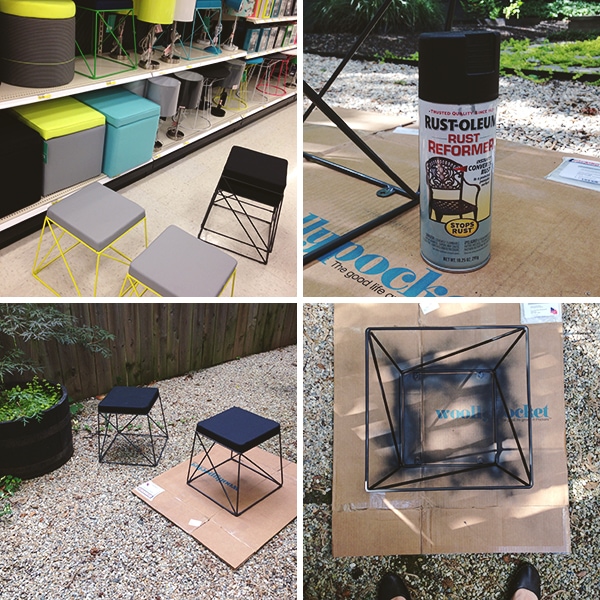 See how sunny and nice out it is in these photos? That's how long ago I bought and spray-painted the bases. Sigh. Then they just sat and sat and sat, disassembled, in the dining room, for six months. I was sick of looking at them and feeling guilty about yet another project unrealized, so over the weekend I screwed the tops back on and called it a day.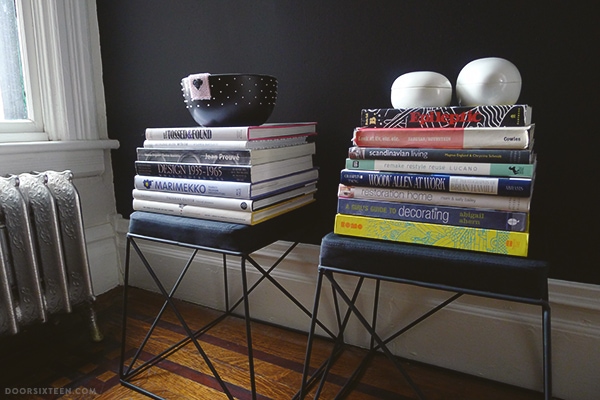 So cute! They fill out the space nicely, and I was able to get a couple of stacks of books off the floor. This makes me feel a little less guilty about not having finished the bookshelves yet. (Note that there's still one corner of the dining room not shown in these photos. That's the corner currently filled with stacks of books waiting to be shelved! Someday…)
Unfortunately, because Target's product turnover is so rapid, these guys are long gone from their website. There's a chance you could find them on clearance in a store, of course, but I haven't seen one in my local Target for months. Hey, if you want mine, buy me a couple of Eames LTR tables and we can swap!! HAH. Heh.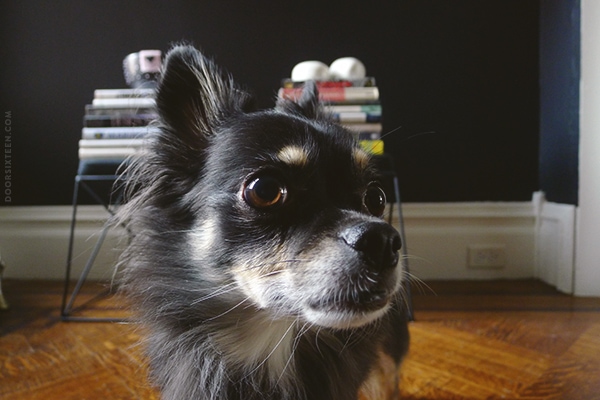 Fritz was pretty distressed about all of the changes in the dining room for some reason. Lots of dramatic crying and staring at the table. I can't figure this dog out — he's a Martian mystery. I love him.