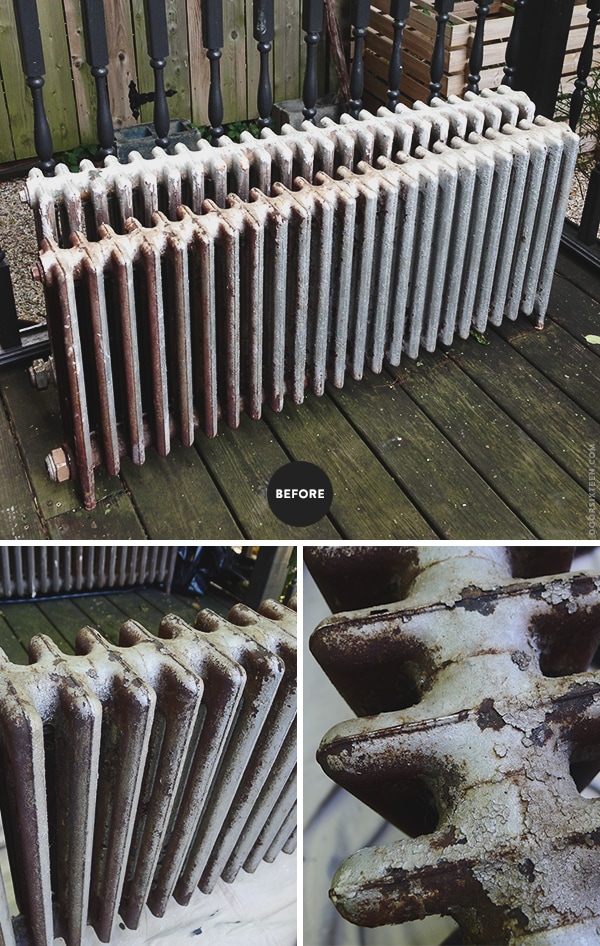 There are ten cast iron steam radiators in our house, most of which are in varying stages of rusty, paint-peeling horribleness. We've sent a couple of them out to be sandblasted and powder-coated (I've never really written much about that, but I get a lot of questions — I'll put a post together soon!), but that's wayyyyy out of our budget for the kitchen renovation. As I've mentioned, we're only putting one of the one of the two radiators back after the tiling and the floors are complete. Over the weekend, I went ahead and gave my best effort to rehabbing the one that's in better shape.
And no, the back porch isn't painted green, that's all algae. Yes, it would be very nice to have a roof on the porch, and maybe even screening. Someday…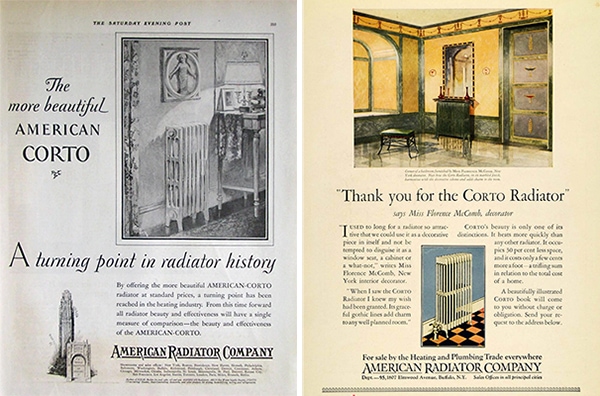 The kitchen radiators don't have any of the ornate, Rococo elements that the others in our house do, so I'm assuming they're a little newer. They were manufactured by the American Radiator Company (ARCO), for whom one of New York City's most beautiful skyscrapers was built in 1924. A little internet sleuthing tells me that ARCO patented a similar style called "Corto," named for French industrial designer Louis Courtot. According to Miss Florence McComb, a decorator who endorsed Corto radiators in a print ad from 1925, its "graceful Gothic lines add charm to any well-planned room." Indeed, Florence, indeed! I need to do a little more digging into old ARCO catalogs to compare more closely and look at later models, but I think it's a safe guess that they were put in sometime in the 1930s, which, based on the style of the bathtub, is around the same time we believe the downstairs bathroom was added.
But enough about that stuff! On to the dirty work…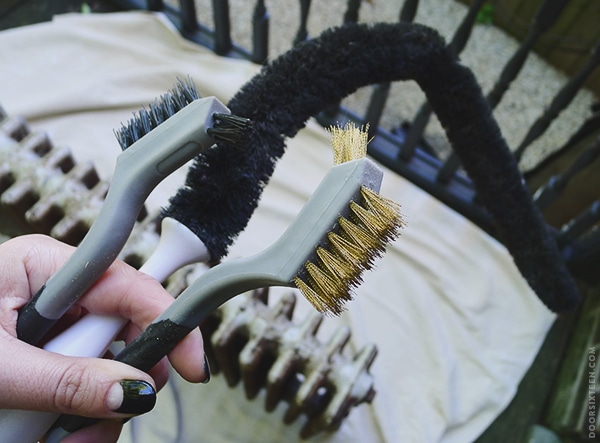 I've mentioned this before, but if you have cast iron radiators in your home, then you NEED a dryer vent brush. Trust me on this — it's the only way to really get between the fins and keep them dust-free inside. Mine is from Casabella, but I'm sure they all work just fine.
After giving the radiator a very thorough cleaning inside and out with the vent brush, I moved on to a copper wire brush and hard-bristled nylon brush. That got most of the flaking paint off, but there were a few tougher chunks that I had to hit with a chisel. I gave whatever surfaces I could reach a light sanding, then did another round with the vent brush to get get all of the rust dust and paint bits out. The final preparation step was a through washing with TSP substitute and a good, long hose-down. I don't have a power-washer, so I just did the best I could with my hose nozzle on the "jet" setting.
Did all of the existing paint come off? No, of course not, but everything that was loose or peeling did, and that's good enough for me.
Then I went to the Dutchess County Fair in Rhinebeck and let the radiator dry completely overnight. (You could probably leave out the fair part, but that does make everything more fun. Friends! Fried dough! Rides! Waves of nausea!)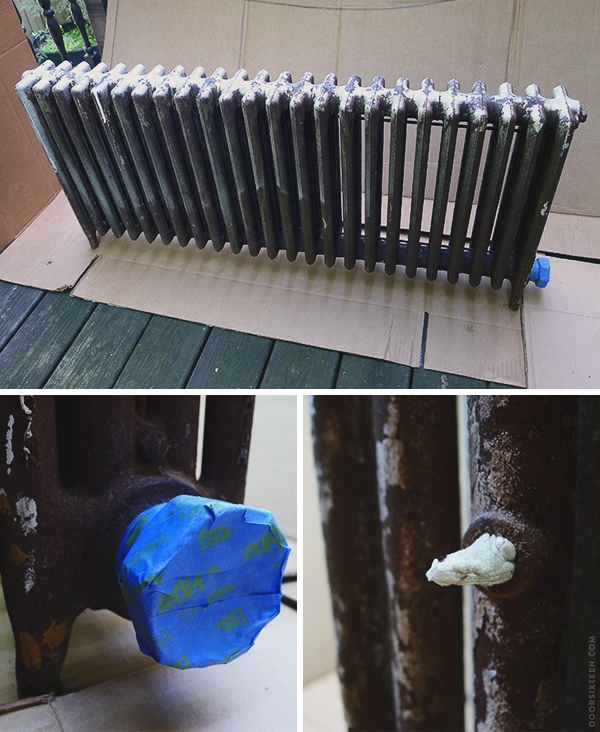 Before busting out the spray paint, I very carefully taped up the new brass nut and pipe fitting that my plumber put on (he was supposed to wait to do that, but he forgot). I took the vent off of the side and rolled up a little wad of paper towel to stick in the hole so paint wouldn't get in there and affect the threading.
Side note: RADIATORS ARE REALLY HEAVY. I mean, obviously, but you don't realize quite how heavy until you actually try to move one. If I had to guess, I say this thing weighs at least 300 pounds. My lower back — unhappy even in its best moment — hates me right now. I keep hearing Joe Garagiola shilling for Doan's in the back of my head. Be careful. I should have asked Evan for help every time I needed to move the radiator, but I get sort of temporarily bionic when I'm working on house stuff, and I feel like I can do everything myself. I'm paying for it now. Owwww.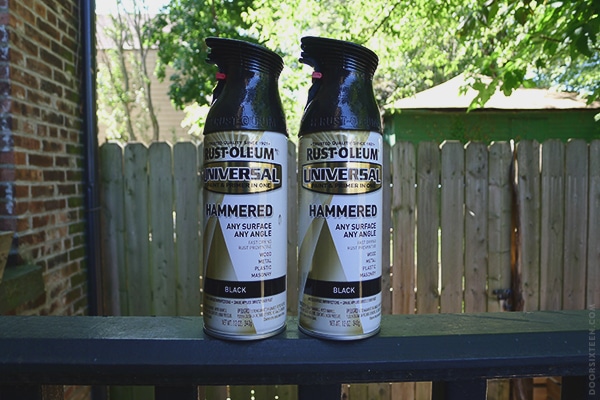 Cast iron radiators don't get hot enough to require that special high-heat paint they make for stuff like barbecue grills* (see edit note below), so you can really use just about any paint that's rated for use on bare metal and rust. I am a Rust-Oleum devotee when it comes to spray paint. I initially thought I'd need to use a separate rusty metal primer first, but Rust-Oleum's two-in-one Universal line actually advises against using a separate primer. I didn't want to take a chance with screwing up the adhesion, so I did indeed skip the primer.
I decided to go with the hammered-finish spray paint in glossy black. As lovely as I know a flat black would have been, I want the radiator to be as easy to clean as possible. High gloss finishes tend to accentuate flaws, so I figured the hammered effect would help to counteract that. I wound up doing three coats of paint to make sure everything was totally and evenly coated — about four cans' worth in all.
As easy as the actual spray-painting was, I really can't imagine doing this indoors unless you're not living in your house or if you have the most amazing ventilation ever. The fumes were horrendous — I even apologized to my neighbors. I guess if you could REALLY mask off everything super well (spray paint goes everywhere), open all of the windows and then leave the house for the rest of the day it would be alright, but given the option…do it outside.
*EDIT, one year later:
Since a lot of people have asked in the comments, I have now gone through a full winter with this radiator in use, and it has held up just fine without any issues at all. That said, if you know that your radiators reach surface temperatures higher than 200°F, you should probably pay attention to the directions on the can and not use this kind of paint on them. Rust-Oleum makes High Heat and Ultra High Heat spray paints that might work better for you. I have no personal experience with either product.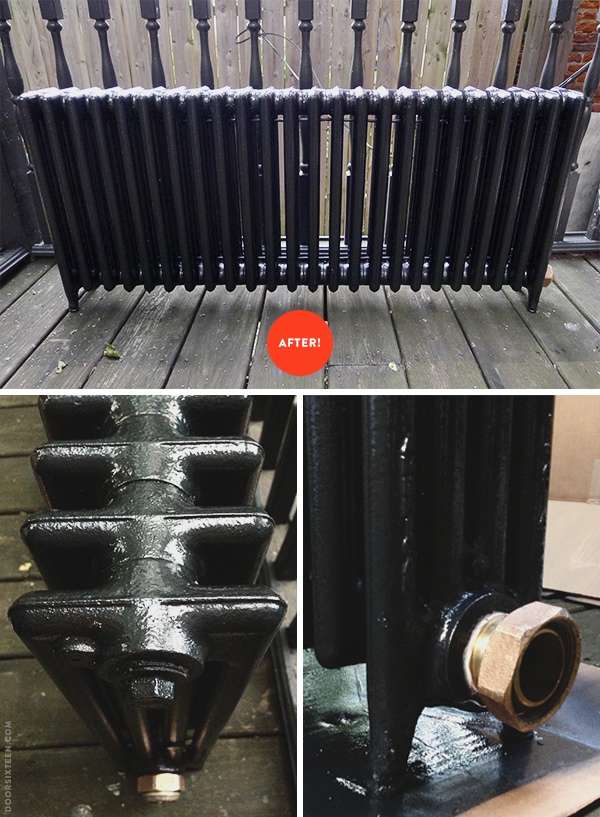 Goooooooorgeoussssss!!! I'm really, really happy with how the radiator came out. For $28 worth of spray paint, this is a very good result. Sandblasting and powder-coating would have been upwards of $500. Yeah, in ten years I might need to do some touch-ups, but really…it's fine. Better than fine. For a while Evan and I had been considering replacing these radiators since they're not as "pretty" as the ones in the rest of the house, but now? No way! I love the way this looks. (Just wait until you see it in place with the subway tiles!! LOVE.)