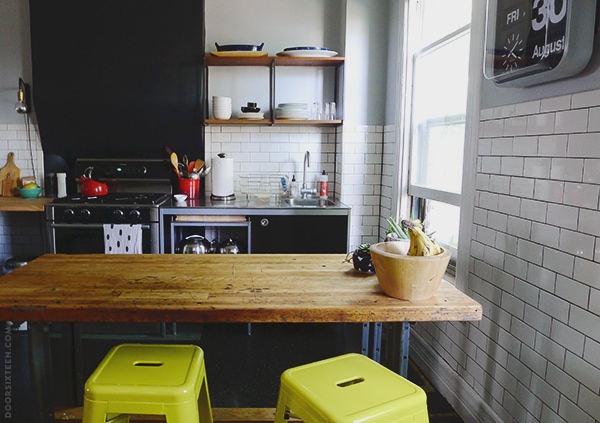 Nine long months after I started tiling the kitchen, I'm am extremely happy to say that I am DONE! Well, I still have to caulk around the window casings and along the tops of the baseboard moldings, but other than that? COMPLETE! FINITO!
(Done with the tile, that is. Not the rest of the kitchen.)
Man, what a relief. I think I've gone through 11 boxes of tile, and who knows how many batches of thinset and grout. So much black grout. Black grout is the messiest thing on the planet. My arms are tired and I've got a pinched nerve in my neck and I am over all of it. I love tiling, I really do, but there are limits. My limit seems to be about 10 hours at a stretch, and then I need to take a break for a day or two. Or six months.
This is what I worked on for that last couple of weekends — the entire back wall and rear half of the right wall. It feels really good to see tile here instead of half-painted bare walls. I'm so glad I didn't just do a tiled backsplash or anything. This is the kind of kitchen that needs tile everywhere.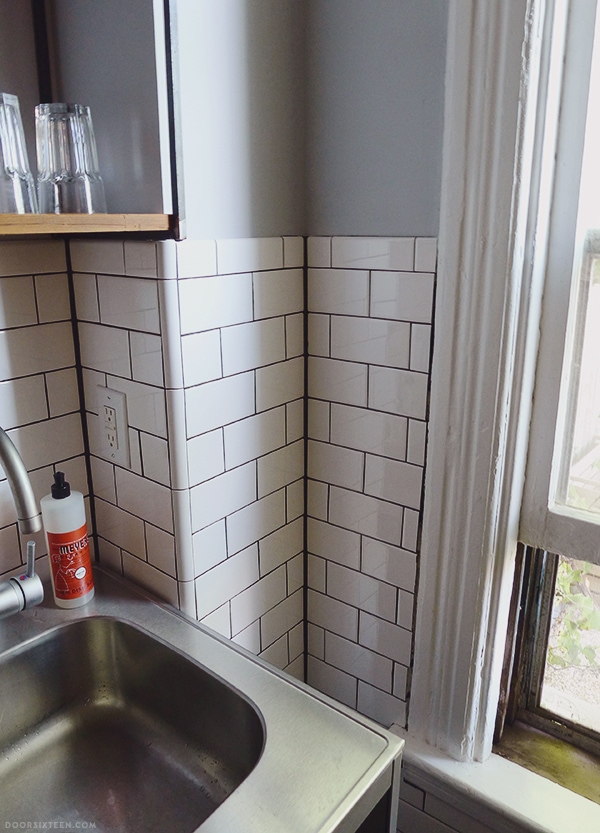 Oh, and a beauty shot of my favorite corner, of course, all angles and lines…I love it.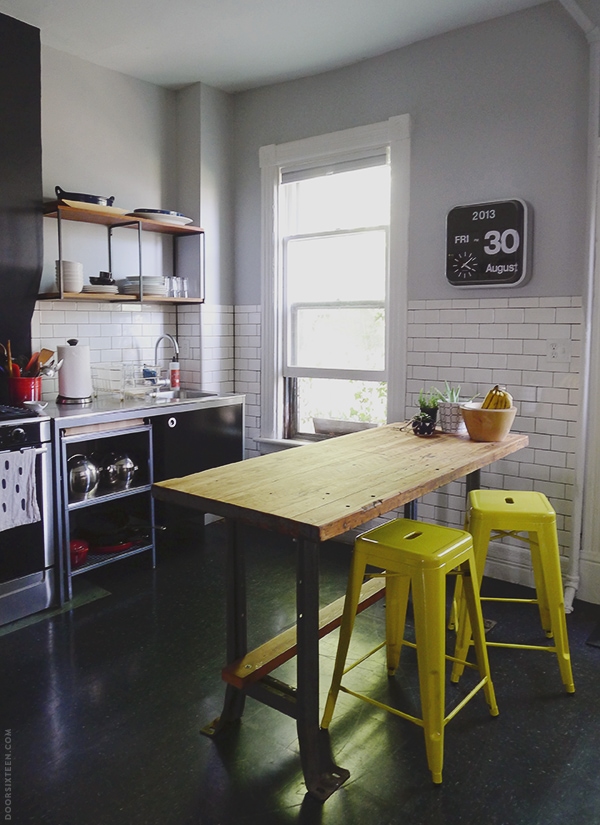 This is now my favorite spot to sit in the house. Evan and I have stopped using the dining room for meals unless we have friends over for dinner, and I camp out there for hours in the morning on the weekends. I don't know why we never put an island or table in the kitchen until now, but it makes a huge difference.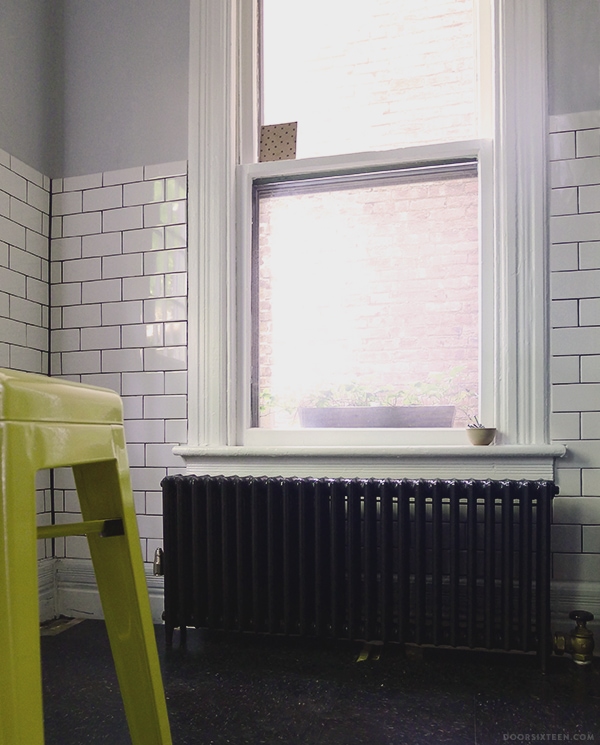 Here's the newly-refinished radiator in place! It's not actually connected to the pipe yet since we still have to rip up the floor, but it's very exciting to see it looking so fresh and non-rusty. I still don't understand why it was originally installed all the way over in the corner? It's literally exactly the same width as the windowsill, so centering it underneath looks a million times better. Moving that pipe was worth every penny.
As good as it feels to have the tiling finished, there's still so much left to get done before the cold weather comes…
Kitchen renovation to-do list:
✚ Disconnect sink, remove all cabinetry and refrigerator
✚ Spray paint island legs
✚ Build shelf for bottom of island
✚ Floor demolition (remove VCT flooring and plywood subfloor)
✚ Assess condition of original pine subfloor; repair if possible
✚ Paint existing pine subfloor OR install new pine flooring and paint
✚ Paint ceiling
✚ Run conduit for surface-wiring new lighting, which means…
✚ I had better figure out what light fixtures I want
✚ Gaze sadly at giant refrigerator and wish it would magically turn into a cute little SMEG
✚ Eventually: Replace exterior door
I'll be getting back to work on this list TOMORROW! I plan to use every available minute of this Labor Day weekend to get that floor demo work done. If the existing pine can't be salvaged, we're going to need to put in an order for replacement tongue and groove. Fingers are tightly crossed that it doesn't come to that, though!