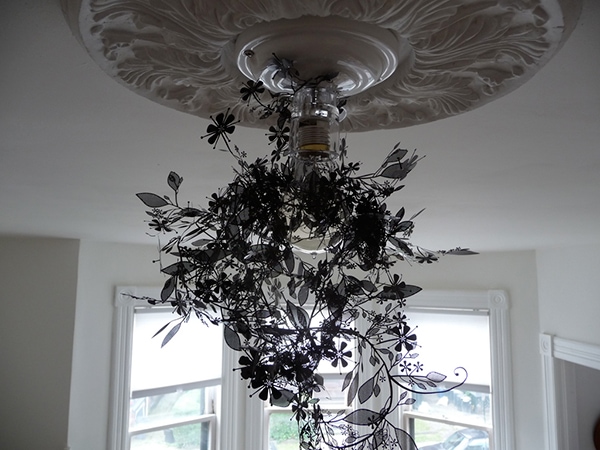 I've had a Tord Boontje Garland light (this is the black chrome finish) for several years, but for the most part it's just been sitting in a tangled clump in a box since we moved into the house. The standard way to hang it is on a bare bulb suspended by a cord, but with our high ceilings, the proportions wind up looking really skimpy and just too dangly.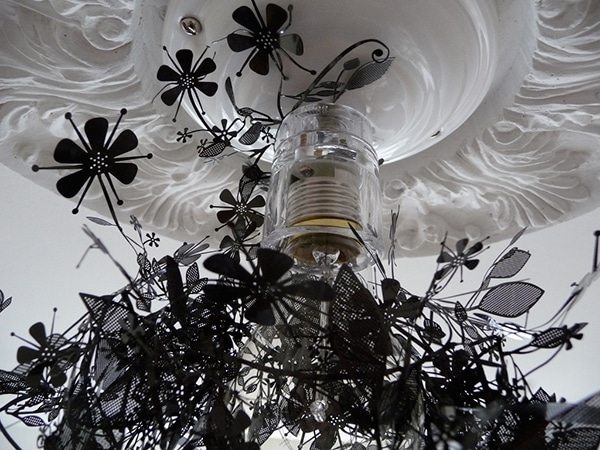 After spending a solid hour detangling the thing last night, I decided to try wrapping it directly around the bulb on a flush-mount fixture in the bedroom. This is the white porcelain Benedict light from Schoolhouse Electric. The glass socket is really beautiful, so I wrapped the Garland just low enough that it's still visible.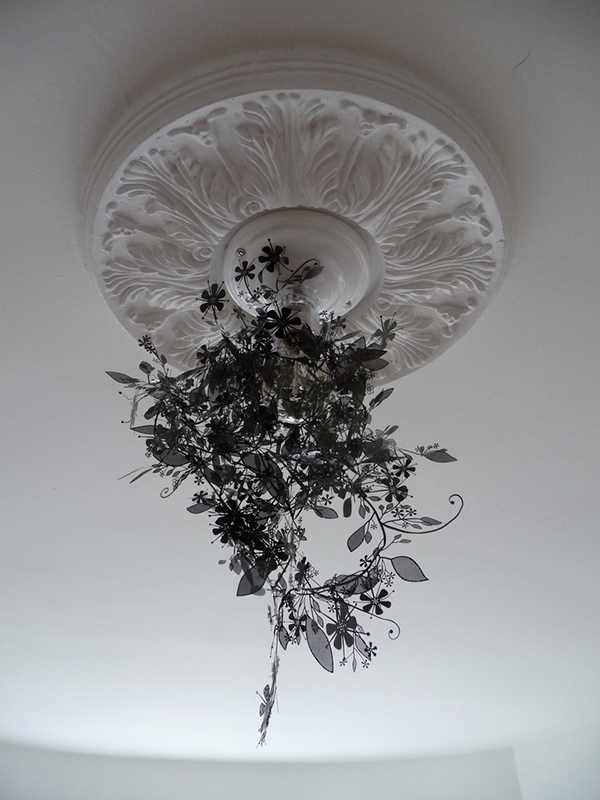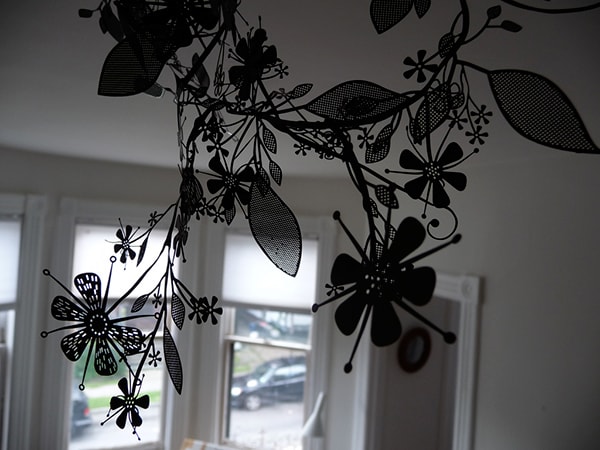 I'm really happy with the result, and I can't wait for it to get dark enough to check out the shadows it casts on the ceiling! I used an Edison Double Loop bulb for added effect (the light cast by Edison bulbs is very warm, dim and soft, and the bulbs themselves are beautiful—they're perfect for mood-lighting in fixtures that have visible bulbs). The Garland itself is quite affordable, and I think it's worth upgrading the light source to something more elegant than the standard plastic cord set that comes with it—in fact, you can even order the Garlands by themselves ($76 with cord/$64 without); you're not obligated to order the cord set. If you want the effect of a hanging pendant, the Lewis fixture from Schoolhouse Electric (with a cloth cord!) would look fantastic.
By the way, "arranging" a Garland light so that it looks like the product photos is a total nightmare. It takes FOR-EV-ERRR. This post (which I found in a fit of frustrated Googling) sums up the experience quite accurately!
EDIT: Oooooh, nighttime shots! I'm in love. The shadow effect is so dramatic with the Garland this close to the ceiling! The moth-to-flame feeling of this light is perfect for summer nights, isn't it?